Description
60 x 500mg Tablets
BioVitamin is the world's first ecological and bio-certified multivitamin, supplied in a natural reusable cork container that you can refill when you run out of tablets. The multivitamins are plastic-free, vegan and organic as well as being suitable for children.
Each capsule is gelatine free,  gluten free and vegan.
BioVitamin is organic, plastic-free and toxin-free! A totally natural daily supplement, made from 100% plant extracts.
Vegan and gluten-free, there are 19 essential minerals and vitamins in each VegeCap. Each Capsule contains all natural and purest BIO quality plant extracts and essential minerals and vitamins.
There are 60 Capsules in each pack so that's one whole month's supply. The container is both 100% natural and has an attractive ergonomic design, promoting recycling and up-cycling. It comes in a 100% recycled cardboard box, both vegan and organic, promoting environmental awareness.
They're great for making sure you meet your dietary requirements - especially for people that are pregnant, young, old or nursing.
Manufactured in Switzerland
Packaging - Natural cork bottle with recycled card box - Refill box is a plain white card tube.
Suggested uses to up cycle the cork bottle, remove lid and store toothbrushes or use to plant seeds.
How To Use
Recommended daily intake - 2 capsules at the beginning of a meal once and day.  Do not exceed recommended daily intake.  Keep out of direct sunlight.  Store in a cool dry place.
Ingredients
Cellulose, Amla fruits (gooseberry), Curry leaves, Guava fruit, Holy basil, Lemon, Broccoli, Spinach, Kombu algae.  Minerals (magnesium, zinc, copper, chromium, manganese, potassium, selenium, calcium, iodine) Vitamins (B1, B2, B3, B5, B6, B9, C, E, biotin).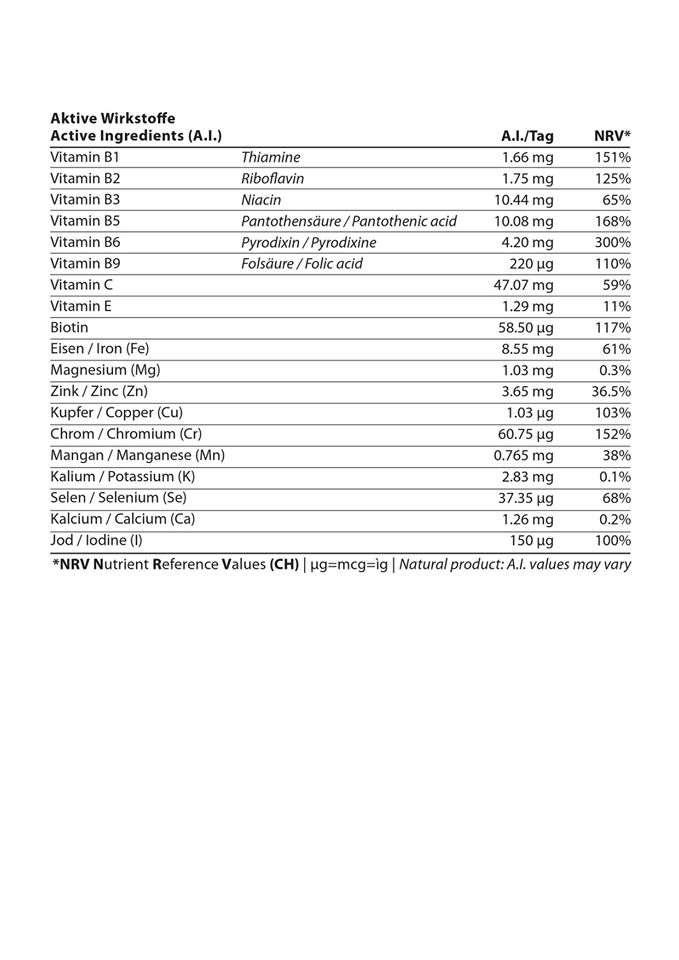 Materials
Natural Cork bottle.  Outer packaging recycled cardboard.