Here at Peace With The Wild, we absolutely adore Turkish Towels. These soft, absorbent, pretty pieces of material can be used for so many different things (not just towels at all!) and sit firmly at the top of any packing list, too!
Whether you're jumping on a last-minute holiday to Europe, hunkering down to embrace our British autumn or planning a long-distance escape for this winter, Turkish Towels are one item you have to have!!
What are Turkish Towels?
Handwoven on looms in Turkey, Turkish towels were first crafted in the 17th century, originally to dry off after enjoying a relaxing Turkish bath.
Considered by many to be the first towels ever invented, Turkish towels traditionally come in a variety of colours, including tassels and white lines for simple detailing, and go by many names, such as hammam, peshtemal and foutas. At Peace With The Wild we often call them hammam, as it's our favourite term for these versatile items.
A few top Turkish Towel facts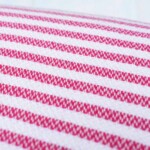 HIGH ABSORBENCY – Longer cotton fibres give Turkish cotton its amazing absorbency, meaning Turkish towels are a fab choice for the beach, swimming pool, hot springs or bath!
QUICK DRY-TIME – Thinner than traditional towels, hammams air-dry very quick. No need to tumble dry (taking a little less stress off this planet of ours!)
LIGHTWEIGHT & SPACE-SAVING  – Yeessss! Compared to a traditional bath or beach towel, a hammam weighs less and packs smaller.
NICE AND SOFT – Regular use actually increases softness – meaning your Turkish towel only keeps on getting better!
HANDCRAFTED – supporting Turkish artisans and an age-old craft.
PRETTY LITTLE THING – Often coming in earthy hues and pastel-ly colours, the simple design also means hammams go with almost anything.
and, last but not at all least …
MULTITASKING – possibly the absolute best thing about them! Turkish towels are hands-down one of the most useful items I own.
Why we love Turkish Towels
Effectively a large piece of highly-absorbent, pretty cotton, the hammam can be anything from a bath towel to a nursing sling! The fact that one item can do so many things is brilliant, could mean buying less fabric items, cutting down on excess/waste and leading a lighter, brighter lifestyle.
Fifteen things Turkish Towels can be used for:
1. Towel – bath, beach, hair, travel, and, as they are so soft, baby towel.
2. Sarong/beach wrap – tying the hammam in different ways can give you anything from a makeshift dress to a skirt, sarong or cover-up. Perfect for the beach!
2. Modesty veil – need to cover up? The hammam can be wrapped over the upper arms, shoulders and head for those occasions where modesty is appreciated.
3. Shoulder wrap/poncho – making it an essential day-to-night holiday item, festival throw-on or much-appreciated layer on, say, a brisk coastal walk!
6. Nursing sling/baby wrap – wrap around you to keep your baby secured and happy. The absorbency is handy here, too.
4. Scarf – winter is coming…
5. Picnic blanket – for when summer comes again!
6. Yoga mat cover – feel the softness and keep your feet from slipping! Use it to dry off afterwards, too.
7. Blanket – I've used my hammam on several flights, wearing it as a scarf or poncho when boarding and throwing it over my legs for the ride. Of course, aeroplanes are only one place a blanket comes in handy – Turkish towels are brilliant blankets anywhere from painting on a moody beach to reading at home on the sofa!
8. Throw – hammams are low-key and pretty enough to go with a wide range of interior styles, whether draped over a sofa corner, hung from a decorative ladder (country-style) or as a nice hit of colour at the end of the bed. They also look great hanging in the middle of the headboard as a finishing touch.

9.  Privacy screen – ever shared a bunk, maybe in a dorm room, and needed a little privacy to get changed? A hammam can be tucked under the mattress edge above to create a fabric screen, as well as hung from any bare window, too.
10. Pillow – folded up, a hammam makes a comfy headrest …
11. Seat cushion – or cover! Particularly useful if you need to drive home after getting caught in the rain and don't fancy sitting on a wet seat the whole way!
12. Chair cover – one of our favourite ideas for storing a number of hammam towels is to hang them on the back of chairs, especially if they're all different colours.
13. Table cloth – especially lovely if eating outside at a picnic bench or garden party.
14. Wall hanging – going for a boho/beachy look?
15. Item Wrap/Bag – tied in different ways, the hammam can be used to wrap and carry items or even turned into a sling-style bag, contributing to your zero-waste journey!
There are so many uses for this one piece of beautiful material. Just make sure to look after your hammam, which is easy –
Three easy steps to caring for your Turkish Towel:
1. Wash at 30 degrees or 40 tops (we'd recommend the former) and avoid, if you can, using fabric softeners as these can clog the fibres and decrease absorbency. Oh – and don't forget to wash the hammam before the first time you use it, as this awakens the natural absorbency of the cotton.
2. Some Turkish towel makers recommend that every few washes, you chuck in a tablespoon of white vinegar to strip any clogging and restore the softness and absorbency of the fabric.
3. Air dry as much as possible – tumble-drying is not only bad for the planet, but also bad for the fibres in the towel. Hammams are quick-drying, so no need to worry about musty smells! We love to dry ours over an airer with some scattered herbs – our home version of a Greek method of scenting pillowcases, which they sun-dry over lavender bushes. Go for the lavender bush if you have one and it's warm out! Rosemary works well too.
Although one towel can happily and easily fulfil many different roles (it's what we love most about them!) grabbing two or three and using one for body, one for home and one for carrying things will ultimately prolong the life of each amazing product. Rest assured, though: Turkish towels typically have a long lifespan and regular washing leads to the softest texture – they age well!
And remember……
Only buy 100% Turkish cotton hammams. Ours are from EbbFlow Cornwall and handmade in Turkey by Turkish weavers, with 100% Turkish cotton.
Turkish towels also make amazing gifts and presents – so versatile, soft and lovely to look at! We sell two different thicknesses and five different colours (all currently on sale at a lower price) in our shop – check them out here.
Which one is your favourite? We love them all!