So you're interested in cutting down on plastic with eco-friendly alternatives, but not sure where to begin?
Well, the bathroom is a great place to start and here's why…
You'd be pretty hard pressed to find any products NOT in plastic when taking a walk down the bathroom isle at the supermarket. Everything from toothpaste to shampoo is packaged in plastic bottles and tubes. Of course all these items are consumables, so it's only a matter of time before it's time to dispose of the packaging.
Toothpaste, mouthwash, dental floss, shampoo, conditioner, body wash/soap….the list goes on…and it's all plastic – and we use most of them everyday!
We think one of the best changes you can make when you are trying to be more eco-conscious, is to find sustainable alternatives to the products you use in the bathroom, as these are your 'daily drivers' and where the some of the biggest plastic savings can be made right away.
Especially at scale when you consider everyone else. But let's not focus on the negative but rather focus on the small positive changes we can do together.
If you've already heard enough and just want to see some eco-friendly bathroom products already! You'll find the full plastic-free bathroom range here…
Browse All → Plastic-Free Bathroom Products

However, if you're still interested in reading on! Here's our take on the 7 best plastic-free bathroom products you can swap and start using today, that will make a big difference in reducing your use of plastic consumption in the bathroom.
---
1. Shampoo Bars
Shampoo bottles → Shampoo bars or cubes
At a guess, I would say the shampoo bottle is one of the biggest culprits when it comes to checking the bathroom bin for plastic. We're using it daily in most cases, and it really doesn't last that long – especially if you've got some serious locks!
On top of that, it's quite a large bottle. However there are tons of eco-friendly brands out there now who have made it their mission to create top notch haircare products without the plastic.
Options include solid shampoo bars, dissolvable shampoo cubes or even liquid shampoos/conditioners in glass or aluminium bottles, if that is more your thing.
Shampoo bars also go a long way, you'd be surprised at how economical they really are!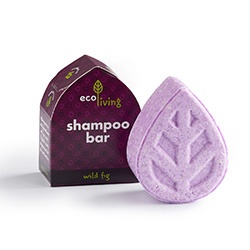 Browse our full range of plastic-free shampoo here: Plastic-Free Shampoo
---
2. Soap Bars
Body Wash bottles → Soap Bars
Actually, I take that back thinking about it…body wash bottles, that's my guess at the biggest contributor. You may skip a hair wash, but we're not skipping a body wash! I should have thought this through better, anyway…
Just like shampoo, we're dealing with big plastic bottles that we're soon to be done with as they just don't last that long.
The good thing is no sacrifices have to be made in the suds department.
Introducing….the soap bar. Yes I can already hear you saying, this is nothing new? And you're right, but now we're talking zero-waste, plastic-free and only natural ingredients.
Once you switch to using lovingly handcrafted natural soaps with zero plastic packaging, you won't be in any rush to go back to plastic bottle of shower gel.
These natural soaps look amazing, smell divine and lather/work flawlessly. All of us at PWTW are big fans of the natural soaps we stock (can you tell?😊) and I am sure you will also!
P.s. If you're going to miss shower gel, don't worry, we also stock sustainable options in glass or aluminium bottles.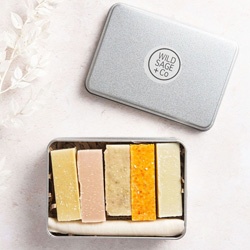 Browse the full collection of natural soap bars here: Plastic-Free Soap Bars
---
3. Toothpaste Jars / Tablets
Toothpaste tubes → Toothpaste jars / toothpaste tablets
Next up on the list is toothpaste. How can toothpaste be supplied sustainably? Glass jars and aluminium tins that's how! Both super easy to recycle or repurpose.
There's a bunch of different brands in the UK who have made it their goal to create plastic-free toothpaste alternatives including Georganics and Truthpaste. Between them you will find a range of different flavoured natural toothpaste in glass jars – they rock!
If you're interested in trying something different, check out toothpaste tablets. They also come in a handy glass jar, or even in paper refill packs when it's time to top up. Toothpaste tablets are also perfect for travelling or camping to save space. Just dissolve and then brush as normal.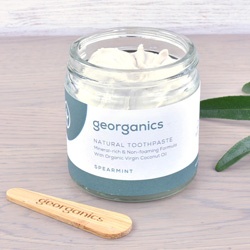 See all our natural toothpaste and toothpaste tablets here: Plastic-Free Toothpaste
---
4. Dental Floss
Dental floss → Bamboo floss picks, silk floss
If you've been to a dentist in the last 100 years, you'll know they love to recommend flossing – a lot. And they're right, it's important! But, flossing with what?
With bamboo dental floss sticks, or bamboo interdental brushes, or corn starch floss in refillable stainless steel dispensers – that's what!
A recurring theme by now, but a bunch of awesome eco-conscious brands have been hard at work creating these alternatives for us, we just need to get the word out about them! Truthbrush, Hydrophill, Eco-Living, Organically Epic…just to name a few.
So whether you like using floss straight off the roll in a dispenser, or you're a fan of using the dental harp style, we have a eco dental floss alternative for you!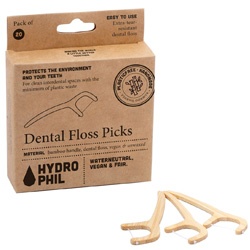 Check out all our eco dental floss here: Plastic-Free Dental Floss
---
5. Mouthwash
Mouth Wash bottles → Glass or Aluminium, or tablets
Don't worry, we've got mouthwash covered also.
Yes you guessed it, available in glass or aluminium bottles. We also stock mouthwash tablets, in glass bottles and also with cardboard refill packs for when it's time to top up.
Mouthwash tablets are effective and are very economical! Simply dissolve into a cup of water and you're good to go. Another good one for when travelling or camping to save space.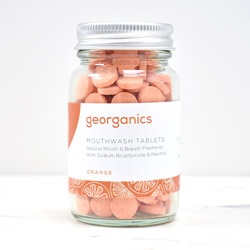 Checkout the full range of natural mouthwash here: Plastic-Free Mouthwash
---
6. Toothbrushes
Plastic toothbrush → Bamboo Toothbrush
Another quick and easy swap is to start using a bamboo toothbrush.
Exactly the same as it's plastic counter part, except made of bamboo instead. Simple! (except the head/bristles, they are to be disposed of separately as are not biodegradable, only recyclable)
Available in a bunch of different styles including children's size, with various bristle types including soft and firm etc. If you're used to electric toothbrushes, there are bamboo replacement heads available also for selected models, so all good there too! 🙂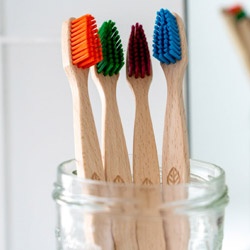 Check out the full bamboo toothbrush range here: Plastic-Free Toothbrushes
---
7. Cotton Swabs
Cotton swabs → bamboo cotton swabs
Last but certainly not least, Cotton swabs.
I'll cut to the chase. We've got them, they're bamboo instead of plastic, and they're bloomin' awesome. There is absolutely ZERO difference compared to their ugly plastic cousins, and now absolutely ZERO waste.
Turns out that small stick can be bamboo instead of plastic, who'd have thought?! So now we've a 100% biodegradable alternative on our hands.
Oh, and they look lovely in a jar in your bathroom. Now that is a win-win! 😊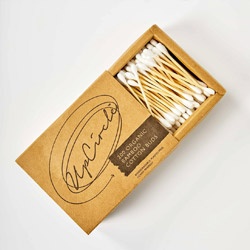 Browse all our bamboo cotton swabs here: Plastic-Free Cotton Swabs
---
So there you go, 7 plastic-free bathroom swaps available to help you cut down on plastic in the bathroom.
If you've got this far, thank you for reading and considering your choices and the alternatives available.
With a few small changes, together we can make a big difference.
---