When you start to add up all the nappies, baby wipes, pacifiers and toys that you get through, there's no question that having a little one can really have an impact on the environment.
But there is an alternative!
These days many companies and brands are creating eco-friendly, sustainable products made using natural materials.
Whether you are conscious about chemicals in plastics such as BPA, or the impact of environmental pollution – With the huge selection now available, now has never been a better a time to consider looking into eco-friendly alternatives when caring for your baby.
Here's some of our favourite eco-baby products that you can buy to help create a kinder, eco-friendly environment for your little one:
Totsbots Reusable Cloth Nappies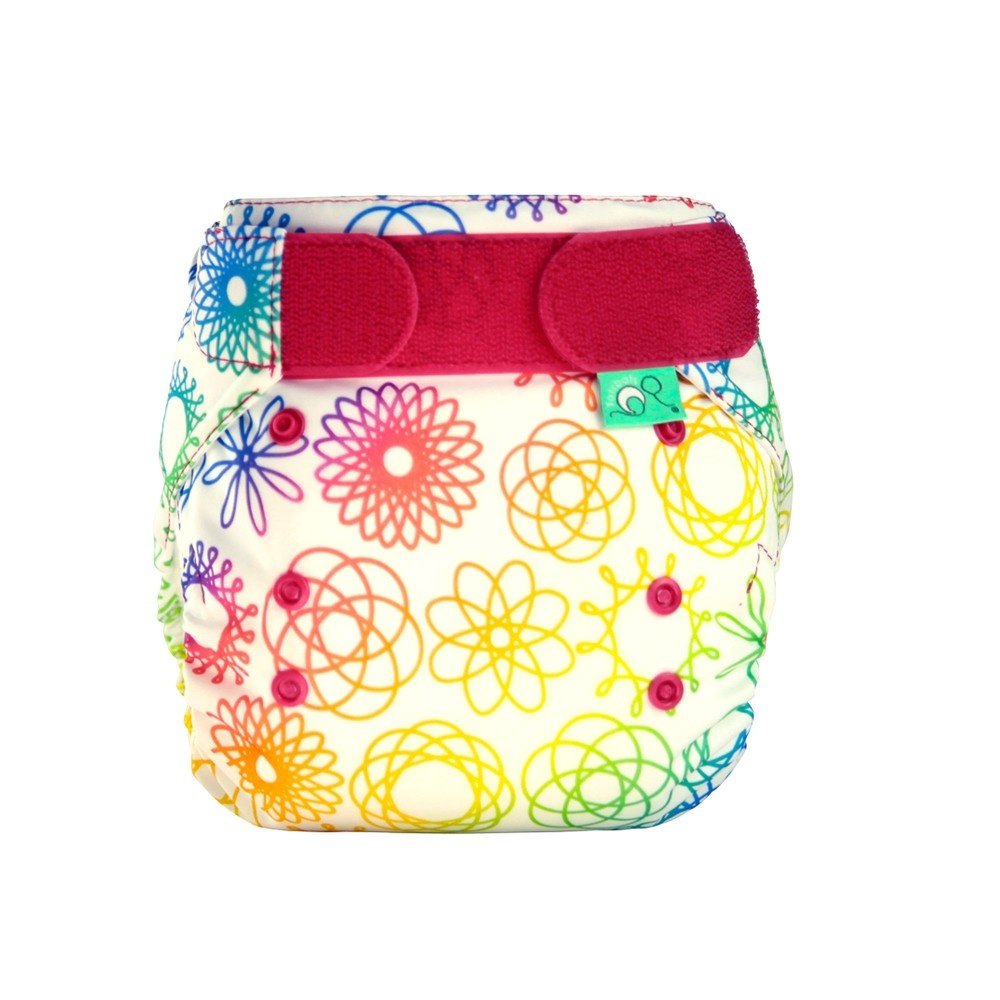 Cloth nappies are the eco-friendly answer to plastic containing disposable nappies. Washing and reusing your little one's cloth nappies will help save on the massive amount of waste from nappies that goes to landfill, all while saving a few pounds in the process.
Made here in the UK by Totsbots, they come equipped with a super absorbent bamboo core which is soft and gentle next to a baby's bum, with clever stitch-free seams – so no leaks!
2-in-1 Glass Baby Bottle Natural Rubber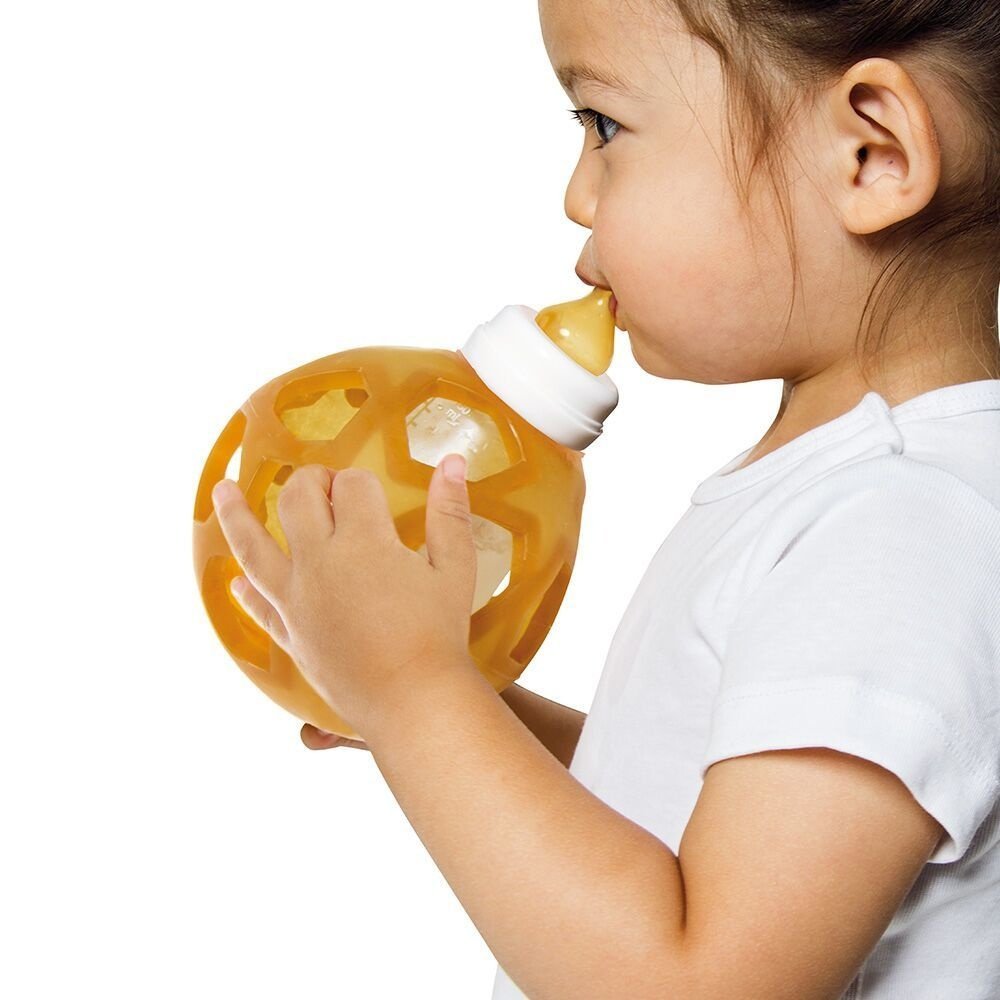 There was a time when glass bottles were all the rage, and they are coming back again in a safer fashion. This glass bottle has a removable natural rubber exterior that can be used as a toy ball in between feedings.  The natural rubber prevents this bottle from breaking if it accidentally gets dropped and it provides a non-slip grip for whoever is holding it.  The nipple is also non-toxic and made from sustainable materials, so you can feel safe letting any little one drink their milk or water from it.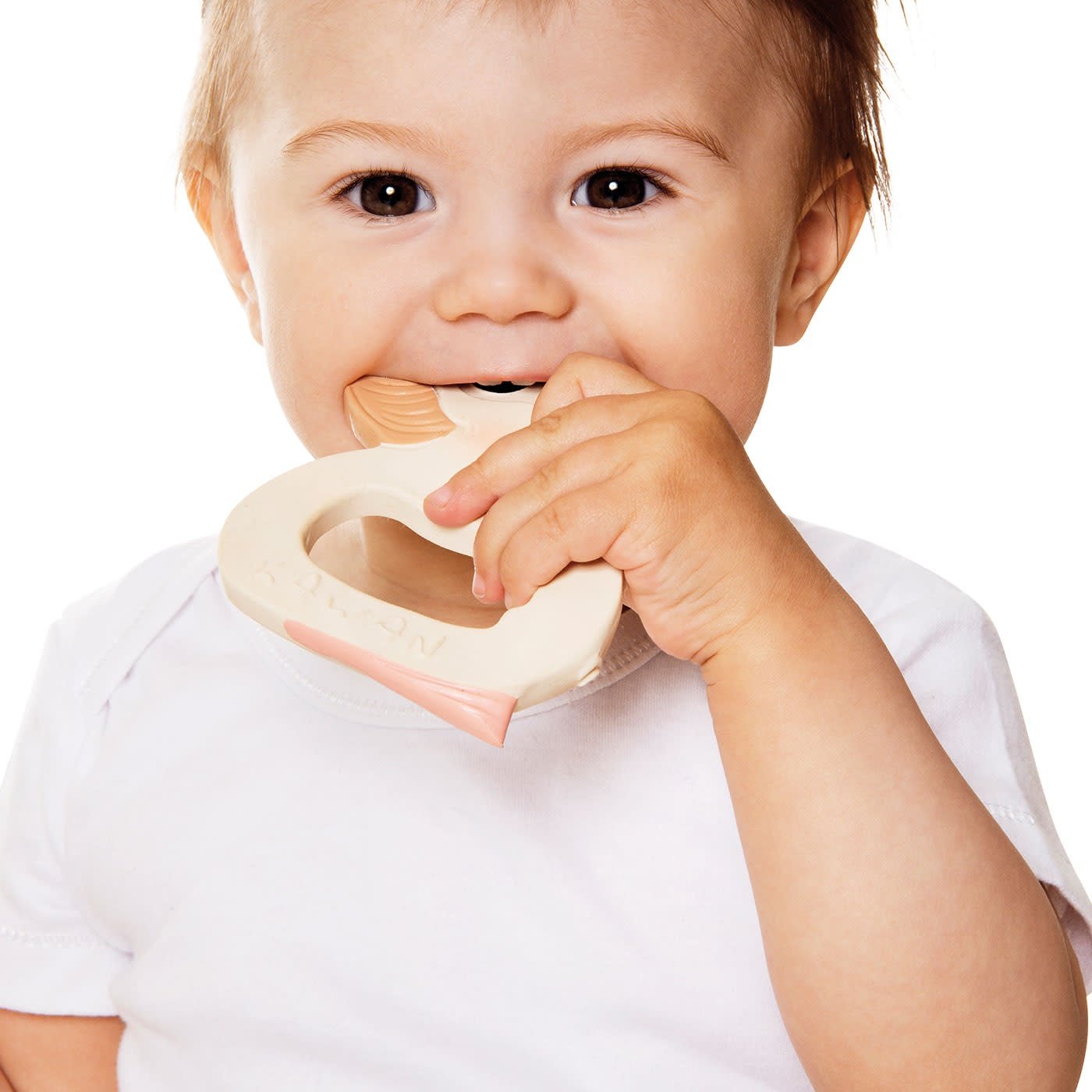 There is no doubt in our minds that you have experienced a miserable teething baby at some point in your lifetime.
And if you haven't, you must have had this adorable natural rubber duck teether!  Okay, so maybe not, but if you haven't been with a teething baby before, you most likely haven't spent much time around babies!
This teether is the perfect size and shape for any baby's mouth, plus it is so soft and gentle.  A little one can hold this easily and you will never need to worry about germs, bacteria, and mould building up anywhere on it, because it is simple to thoroughly clean.  While this little ducky is precious and colourful, you can rest assured that the natural plant pigments used for the colouring is a healthier alternative.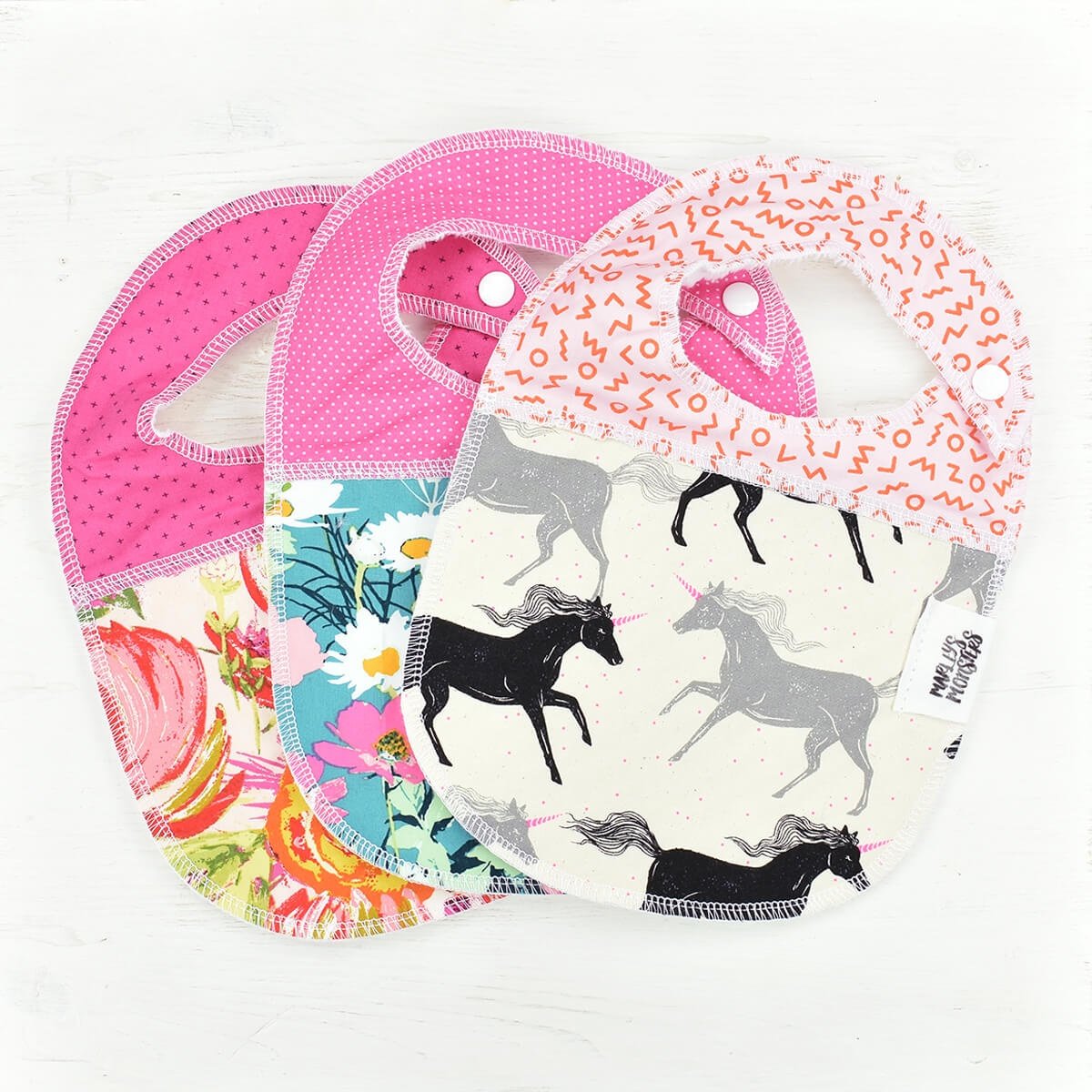 These cute baby bibs are one of our favourite eco-baby products on the market, due to the fact that they are easy to clean in between feedings.  The front of these bibs will catch anything that your baby drops or spits out, while the soft backs can be used to wipe off their faces and hands.  Talk about double duty!
Once mealtime is over, simply toss it in the washer and dryer and it will be ready for the next time the baby is hungry!
Babies Moon Salve – Fat and the Moon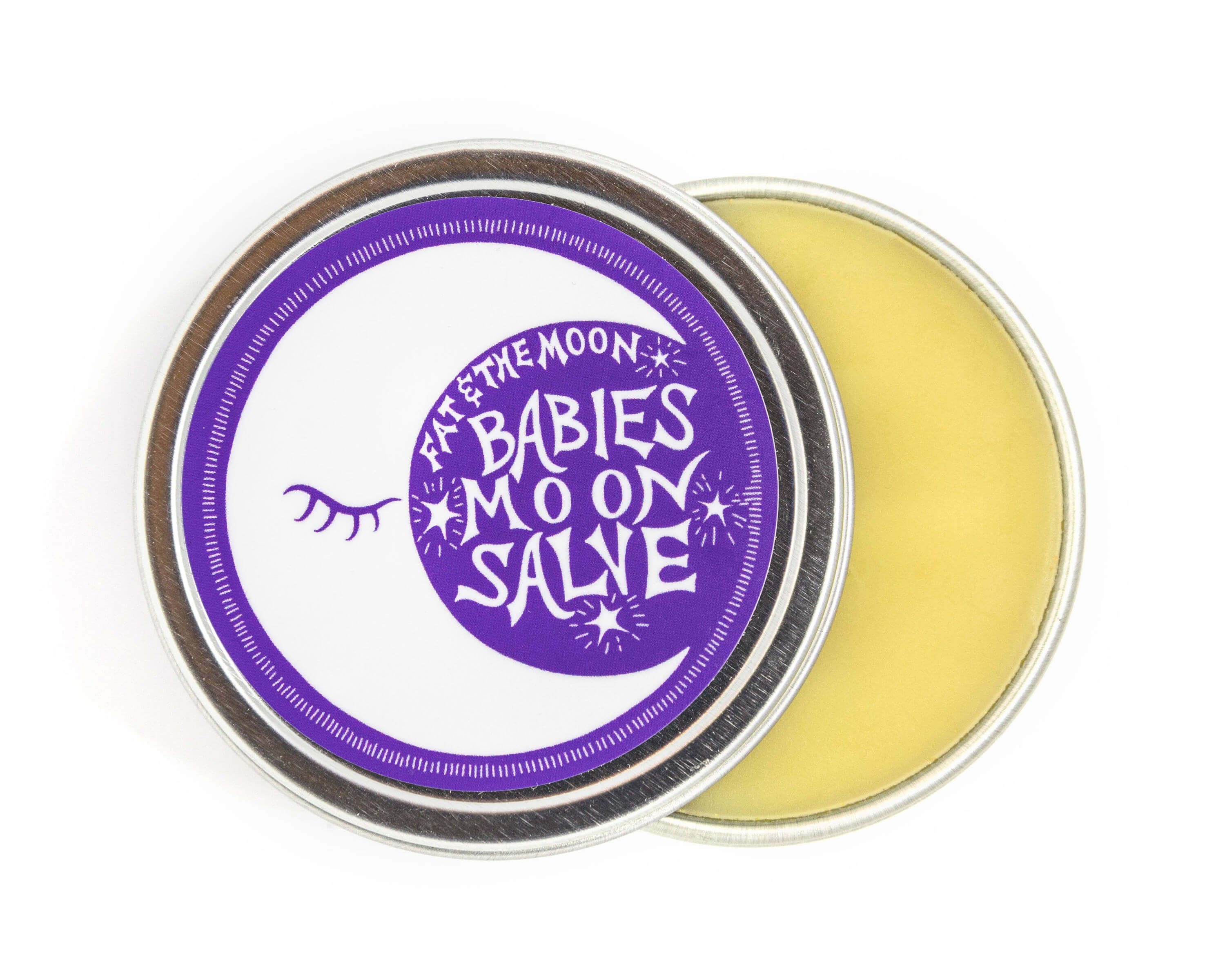 Babies of all sizes can suffer from eczema, diaper rash, and little scrapes.  However, that doesn't mean that they need to be slathered with lotions and creams full of chemicals.  Instead, we recommend that you give this Babies Moon Salve a try.  This eco-baby salve is one hundred per cent natural and organic. The calendula and chamomile will soothe the pain of little cuts and rashes, while calming the baby at the same time.  There is no need for any extra fragrances either, because this salve smells fabulous on its own.
Oh, and do not think that you can't enjoy this salve on your scrapes and dry skin, because you can!
Toiletry Wet Bags – Marley's Monsters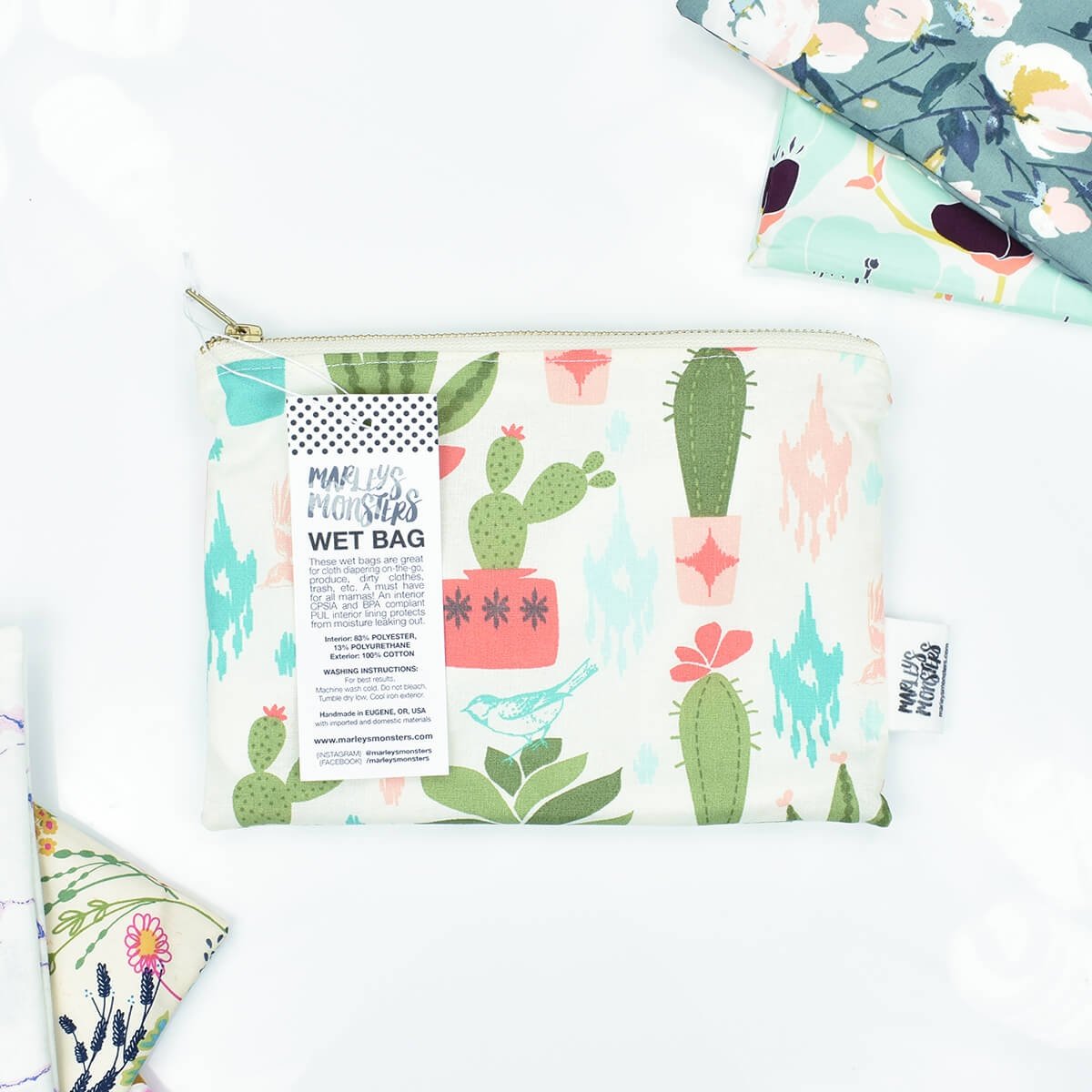 These wet bags are perfect for those moms, grandmas, aunts, and caregivers when out and about with the little one.  These leak-proof wet bags are wonderful for storing reusable wipes or even dirty cloth pads that will need to be laundered back at home.  Of course, when those items are no longer needed, these small bags turn into phenomenal places to stash makeup and other toiletries for those on the go moments.
As you can see, these eco-baby products are fabulous for baby, mom, and everyone else in the family.
If you have been searching for a way to make your environment eco-friendlier or know of someone else who wants the same thing, we encourage you to let them know about the various eco-friendly alternatives now available.  Created with your baby and the environment in mind, they will exceed your expectations in so many ways and you will wonder what took you so long to make the change.