Valentine's Day is quickly approaching, which means that you need to find the perfect gift for your special valentine!  There are so many different products out on the market, as well as so many directions that your gift-giving options can go!  We want to make this entire shopping experience much easier for you, so that you can spend most of your time with your valentine instead of in the stores.
Since Valentine's Day is known for its language of love, you are definitely going to want to choose only the best gifts that will make that special someone feel loved, cherished, appreciated, pampered, and more.
If your special someone is interested in vegan cosmetics, we have quite a few products that will delight her immensely.  All the vegan Valentine's Day gifts that we have fallen in love with are perfect options for your gift-giving needs, and once you purchase them and give them to her on that special day, you will be known for your thoughtful and inspiring gift choices.
Here are our favourite vegan Valentine's Day gifts that you will want to consider purchasing this year for the love of your life, or your mom, sister, aunt, or another special person:
Pampering Inspirations
This fragrant body butter has the scents of rose, sandalwood, and vanilla, from essential oils, which is perfect for calming and relaxing a person.  The shea butter in this vegan formula will moisturize and nourish your loved one's skin, either directly after a shower or bath, or any other time that she smooths it on.  All the ingredients that are used within this product are natural and sourced sustainably, which is perfect for those who are conscious about the ingredients in the products they use.
The Kaolin clay in this face mask is the primary ingredient, although a small amount of bentonite clay is also included to ensure that the person using it gets the full benefits of the mask.  The scent comes naturally from pure calendula, chamomile, and lavender petals, which offer a relaxing and soothing experience.  Since there are no essential oils in this product, she won't need to worry about their skin becoming too oily at any time.
Cosmetic Inspirations
This extraordinary eye shadow palette can be refilled when it's gone, reducing waste now and in the future.  There are ten different shades, which means that the valentine in your life can change up her look every day and night.  Each colour is made from all-natural vegan ingredients, which gives them a silky texture when they are applied.  The castor oil will moisturize the eyelid, while the silica will regenerate that same skin to make it plumper than ever before.
ZAO Mascara Volume & Sheathing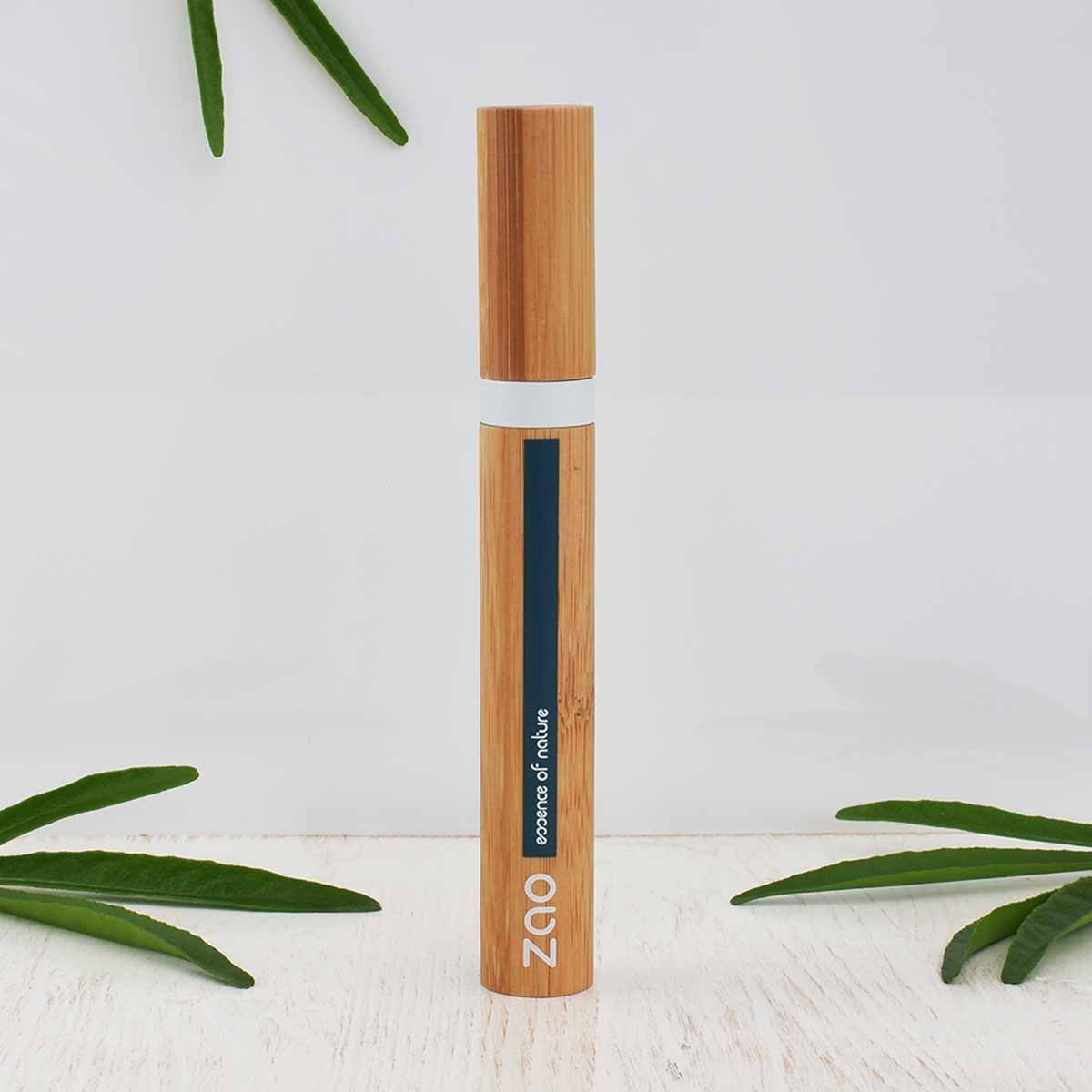 Every woman who loves eco-friendly and vegan cosmetics will love this fabulous mascara that will not only increase the thickness of their lashes, but the length as well.  The cocoa colour is actually a chocolate brown that pairs well with any eye colour, but it really makes green and blue eyes stand out the most.  The fact that this mascara can be refilled is a perk that every eco-friendly makeup lover will enjoy, as they will know that they are keeping their makeup waste to a minimum and helping the environment at the same time.
Easy Solutions for Those Difficult Choices
This kit comes with everything that a woman will need on her eco-friendly journey, which is why it makes the perfect eco-friendly Valentine's Day gift.  Inside, she will find a bamboo toothbrush, tasty coconut oil toothpaste, solid shampoo and soap bars, a natural deodorant, and even biodegradable cotton swabs. The deodorant, soap, and shampoo will have your special someone smelling fabulous all day long, while the packaging has been made with the planet in mind.
Of course, there are always the times when you are going to have no idea which Eco Valentine's Day gift is going to be the best one.  In those scenarios, it can be a good idea to purchase a gift card voucher, so your special someone can make their own choice and purchase everything that they love.  This is also perfect if you forgot that Valentine's Day was so close, as it can be emailed to her in minutes, relieving you from needing to purchase extra gifts last minute!  You can purchase this gift card ahead of time too, and then schedule it to be sent via email on the day of your choice, so you do not risk forgetting about it in the meantime.
Valentine's Gift Sets For Her
To save you time and make purchasing your Valentines gifts fast and easy, we've put together our own collection of Eco-friendly Valentine's gifts for Her.
All our gift boxes are supplied in a Peace With The Wild stamped gift box, ready for giving! Check them out below…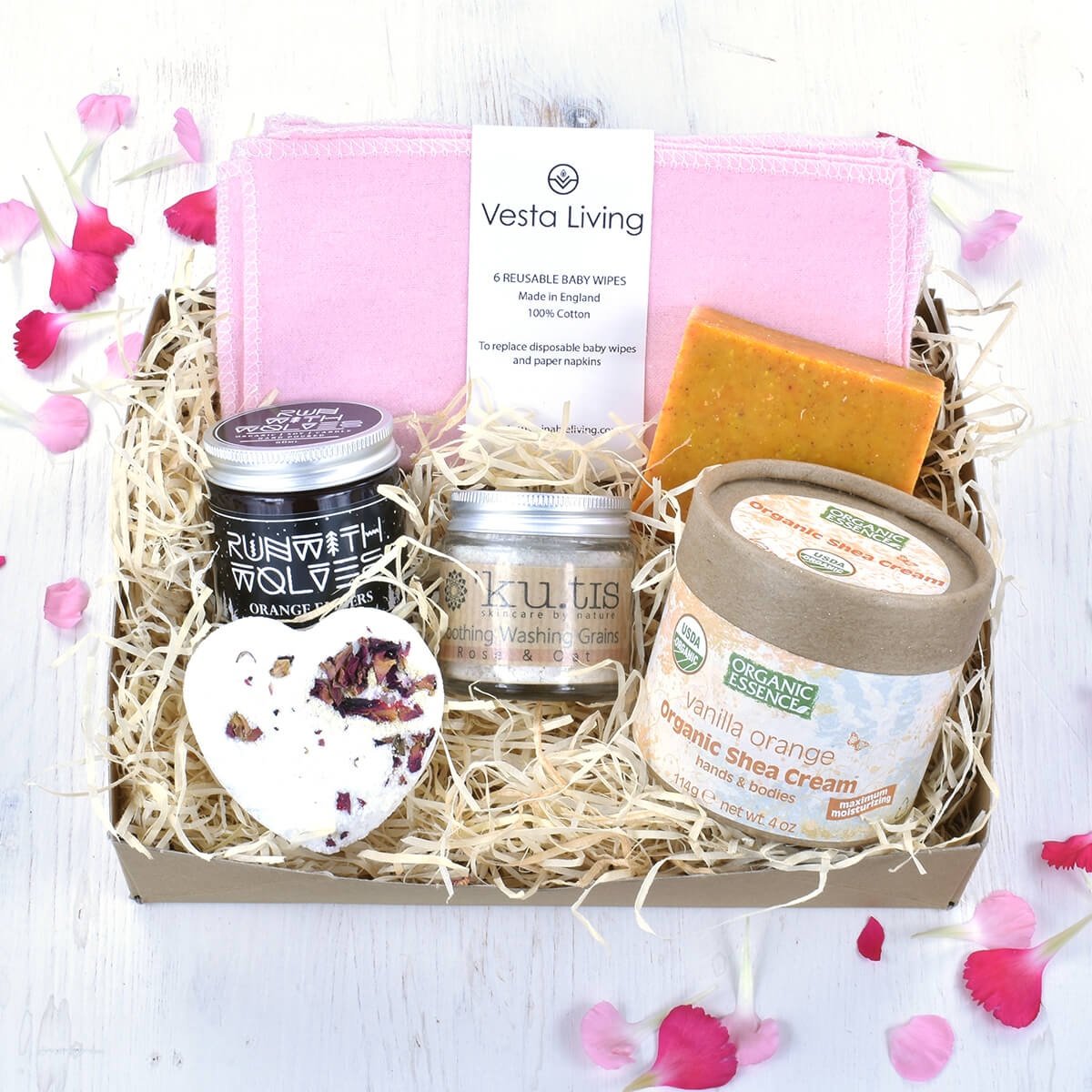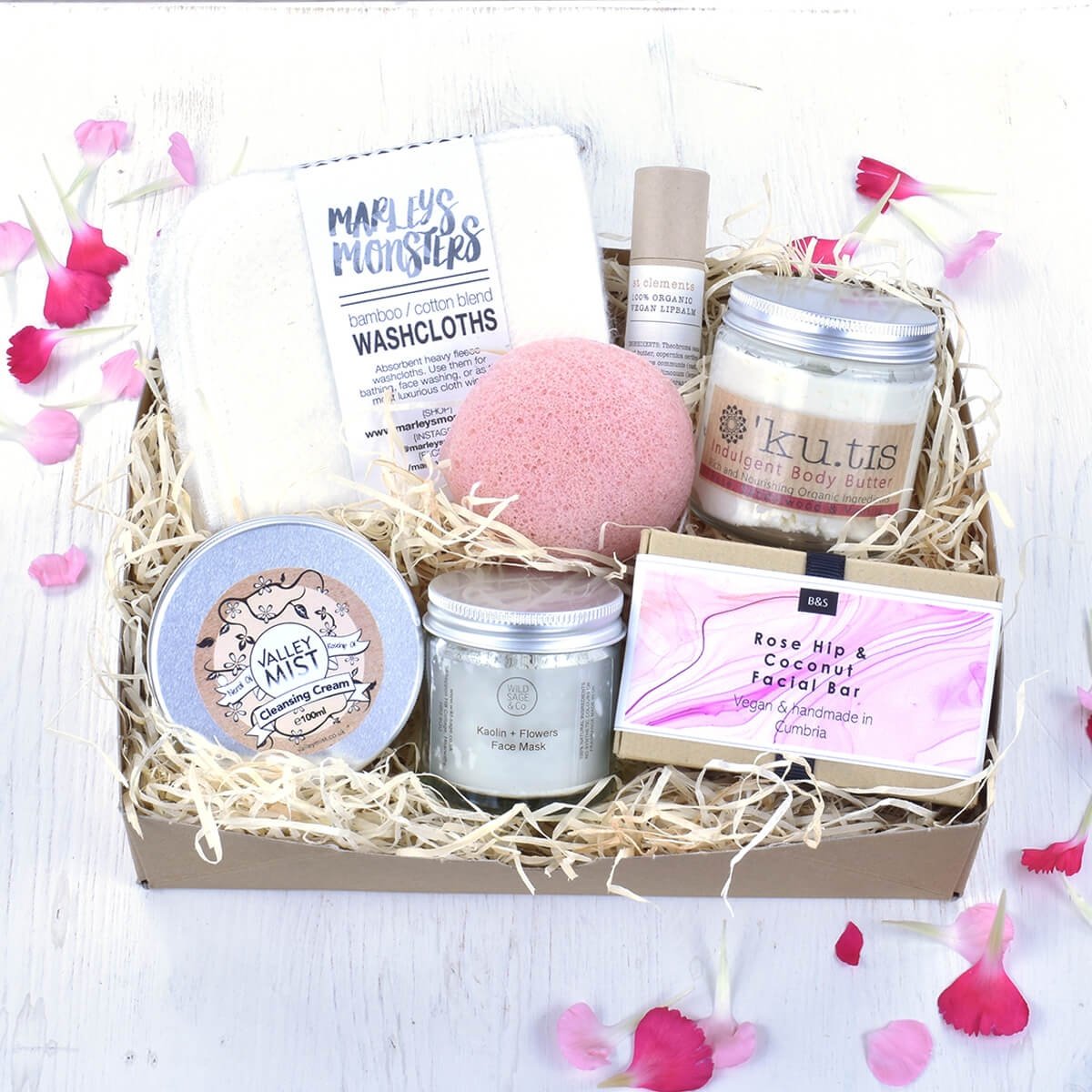 Valentine's Skincare Gift Set
This gorgeous luxury gift set is full of natural, eco-friendly products ideal for those seeking healthier and more sustainable alternatives. Make this Valentines extra special for your other half by introducing them to luxury natural and vegan skincare.
Valentine's Bath Time Gift Set
This gorgeous bath time gift set is full of natural, eco-friendly products ideal for those seeking healthier and more sustainable alternatives. Make this Valentines extra special for your other half by treating them to a luxury bath time set.
There is nothing better than purchasing Eco-Friendly Valentine's Day gifts for that special someone in your life, because they will get to experience pure bliss when they use them.  Since each of the above products are made from all-natural ingredients, they each have special qualities that make them extraordinary.
Once the gift is opened, you should expect the woman in your life to rush to use the products immediately, because the natural scents emitting from them all will be so enticing.  Of course, that means that you will get the joy of those scents to, after she uses them, as she leans into you to give you the thank you that you deserve.
You will definitely be getting some major kudos when you use any of these items for your gift this Valentine's Day.