There is no doubt that shopping for Valentine's Day gifts for men is almost next to impossible, and yes, it can be even more difficult than shopping for a woman!  However, there are so many eco-friendly and vegan options out there that the man in your life will love just as much as you do.
As you are considering your Valentine's Day gift options, we want to encourage you to consider the impact that your gift choices could make on the environment once Valentine's Day has been and gone.
After all, we all know how much healthier our planet can be if we choose to be resourceful in our purchasing options, using only those items that will either natural biodegrade or be easily recycled.
Here are our favourite eco-friendly Valentine's gifts for him:
Shaving Inspirations
This safety razor is the crème de la crème when it comes to shaving and the man in your life will love the soft smooth face that he gets after using it every time. Made with a solid wooden handle and durable stainless steelhead, you can rest assured knowing it's going to last him a very long time.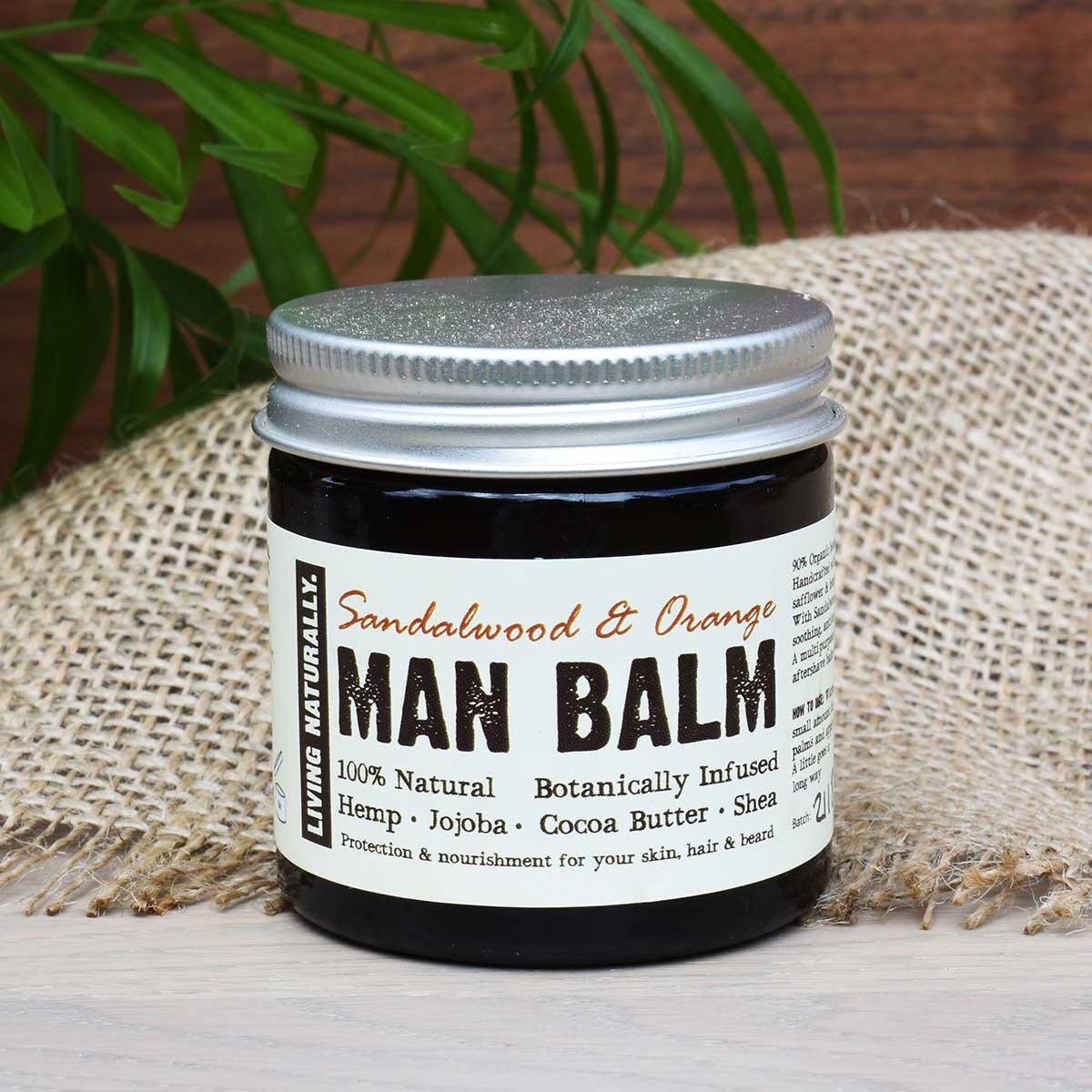 Living Naturally Man Balm Moisturizer
This balm moisturizer is made from all-natural ingredients, which is perfect for those men who want a more natural way to soften their skin.  There are no parabens or synthetic fragrances in this balm, making it perfect for the man in your life who is conscious about the ingredients within the skincare products he uses.
This traditional shaving brush is perfect to use with traditional shaving soap, as it allows a person to apply the soap more evenly.  The synthetic bristles are quite soft, so it will feel like feathers gliding over the skin.  Men will want to utilize this brush by massaging their skin with it, as it will reduce the amount of ingrown hairs they have.
Moisture Rich Shaving Soap and Dish Set
This complete set is perfect for the man in your life that likes all his stuff neat and organized.  The soap is made from all-natural ingredients and it sits in the dish when it is not being used.
Crafted from wood, the natural soap dish really helps build up a good lather for the perfect eco-friendly shave!
Bamboo Washcloths – Marley's Monsters
More and more men are stepping foot into spas around the world, so why not bring that spa feeling to their home with these soft bamboo washcloths?  The material is a blend of bamboo and cotton, creating a super soft cloth that is both dense and absorbent.
Essentials Inspirations
Swigging mouthwash from a huge bottle will be a thing of the past with these extraordinary natural mouthwash tablets.  Each tablet is made from natural ingredients and all a person needs to do is place one in a glass of water to dissolve and then swish.  While they are perfect for travel, there is no reason why the man in your life cannot use them on a daily basis for fresh smelling breath that lasts!
Plastic bottles of shampoo can quickly take over a person's shower (not to mention landfill!), which is what makes these shampoo bars so amazing!  Instead of struggling with a bottle of shampoo each day, the man in your life can simply grab this bar and wash his hair.  Plus, he will know when he is out of shampoo, because the bar will be gone!  No more stepping into the shower to realize there is no shampoo when it is too late!
Consisting of only natural ingredients, this natural toothpaste from Georganics is a great alternative to the toothpastes you'd find in the supermarket supplied in plastic tubes. Delivered within a glass jar with a bamboo scoop, it's a great eco-friendly alternative that can be easily recycled once used. A lovely gift as part of his eco valentines set.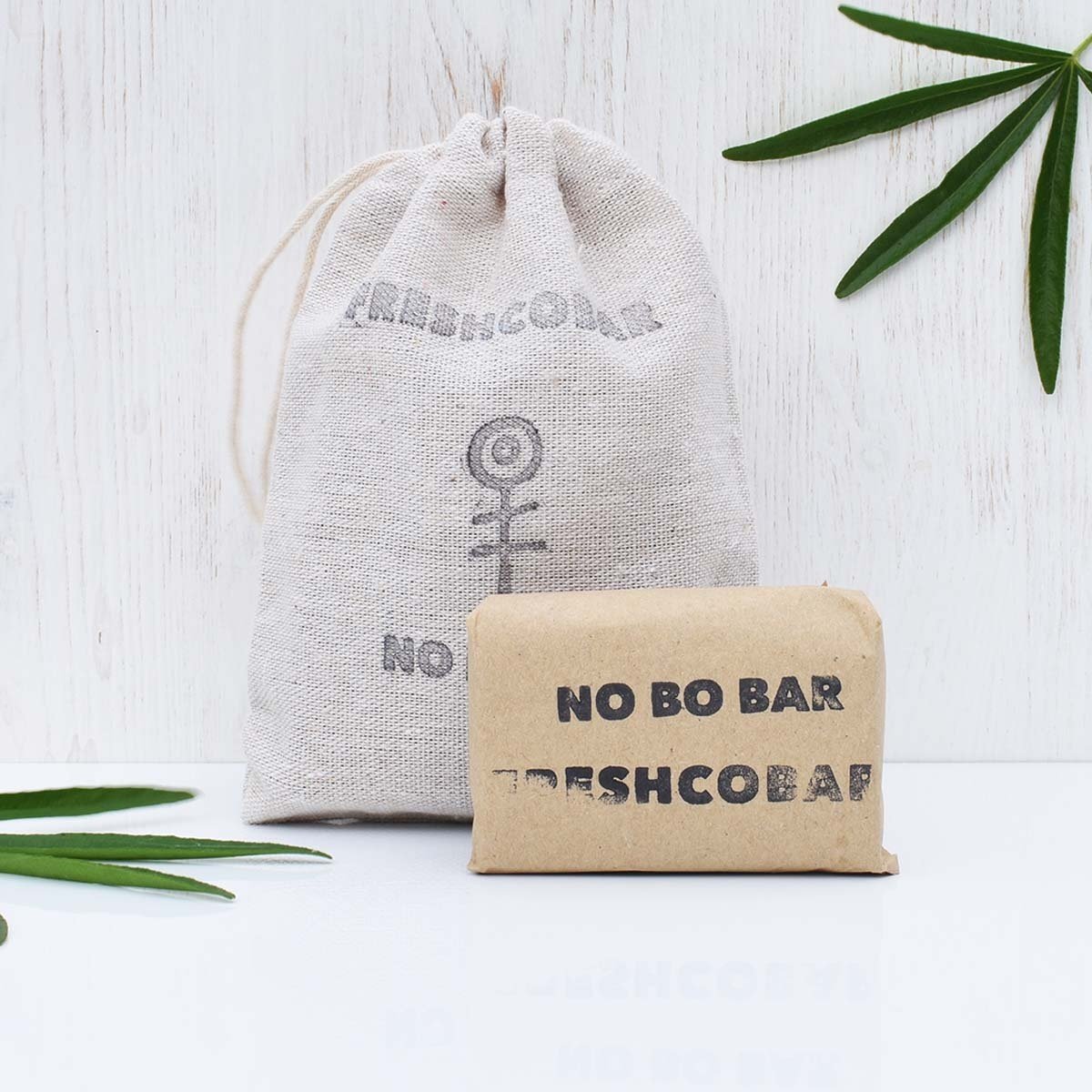 Primal Suds Vegan Deodorant Bar
Some deodorants quit working after a few hours, but the combined essential oils, aloe vera, shea butter, and coconut oil keep this deodorant going strong from morning till night.  This deodorant bar is the perfect eco-friendly Valentine's Day gift for the man in your life, as they can apply it once during the day and smell wonderful for a long time afterwards!
Perfect Lunch Inspirations
No man is going to be upset about receiving one of these glass reusable coffee cups as an eco-friendly Valentine's gift, as it is the perfect solution for those rushed mornings.  This cup is lightweight and is super easy to refill anywhere that a person goes to get coffee.  And since the man in your life will never need to use disposable cups again, they will be helping the environment at the same time!
It is always better if a person can take their lunch in reusable containers instead of plastic bags, but this stainless-steel lunch box is an even better option.  The food-grade stainless steel will keep food tasting its best from the time it is made until the time it is eaten, which means no more tossed lunches due to poor taste quality. Plus, they look great!
Beeswax Wrap Gentlemen's Lunch Pack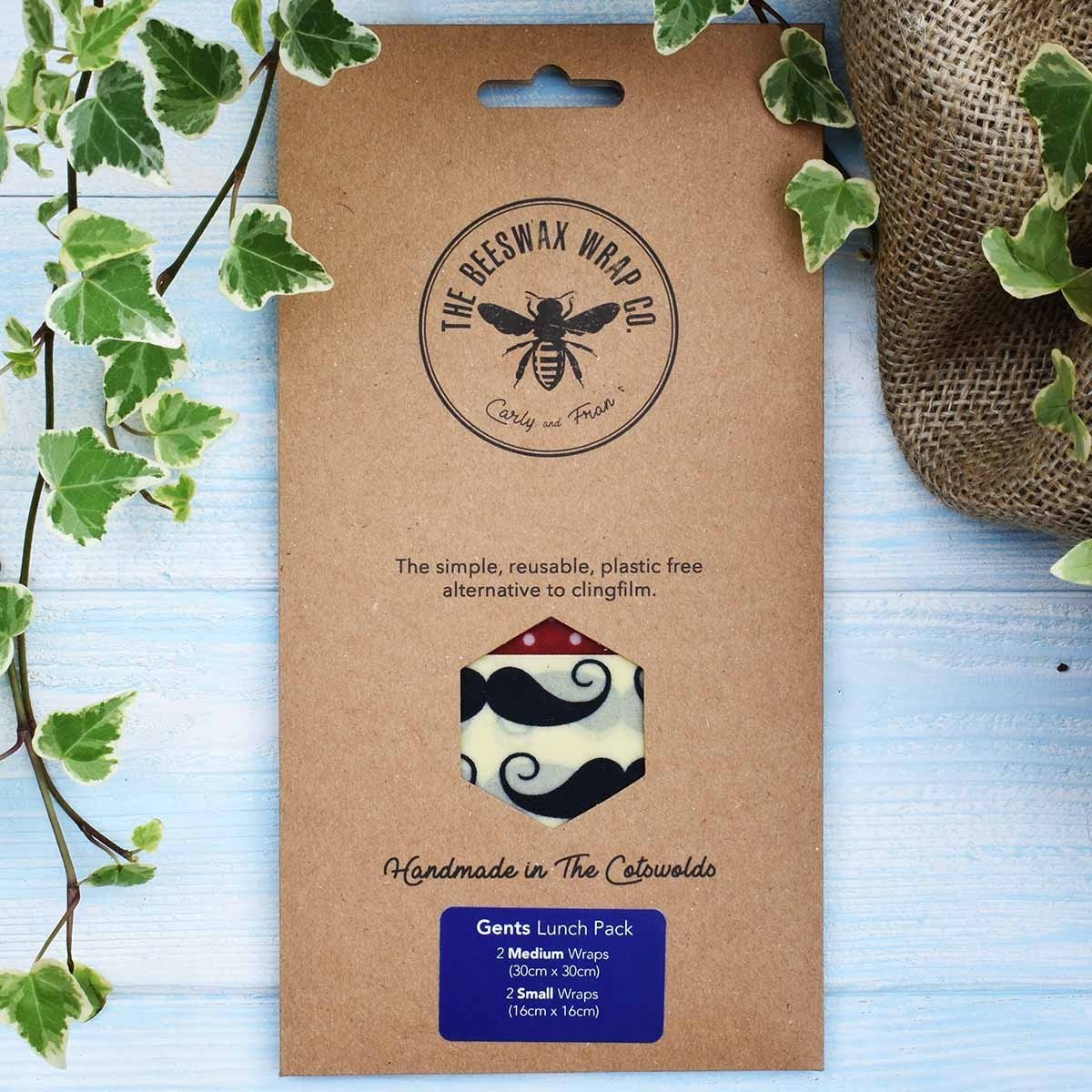 There are times when your man doesn't need to lug around a lunch box and that is when these Beeswax Wrap Gentlemen's Lunch Packs will come in handy.  They are very compact, can be reused after washing every day, and will keep the food inside tasty and fresh using its natural beeswax seal.
The man in your life will never experience stale bread or mushy foods again once they start using these for their on-the-go eco lunches.
Valentine's Gift Sets For Him
To save you time and make purchasing your Valentines gifts fast and easy, we've put together our own collection of Eco-friendly Valentine's gifts for Him.
All our gift boxes are supplied in a Peace With The Wild stamped gift box, ready for giving! Check them out below…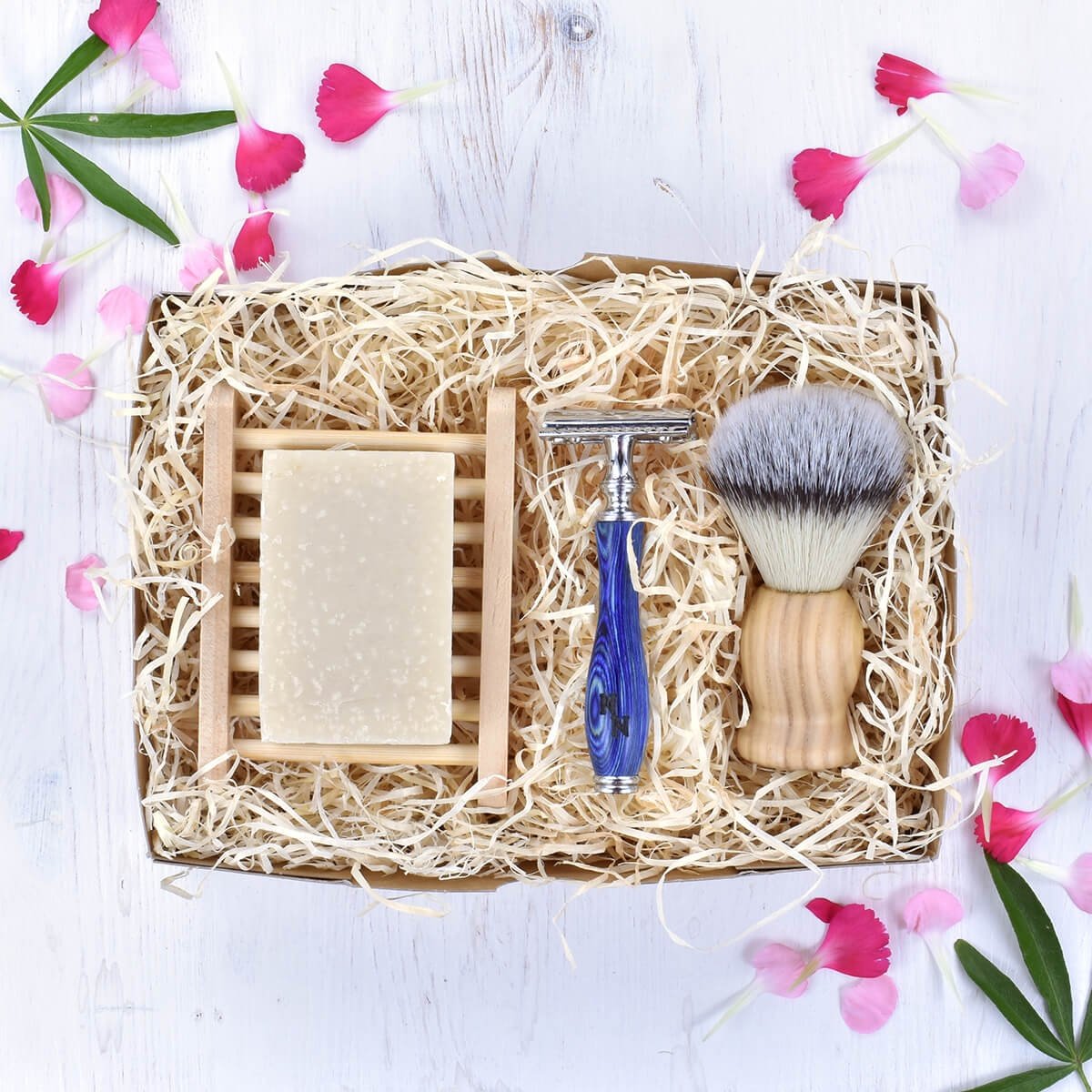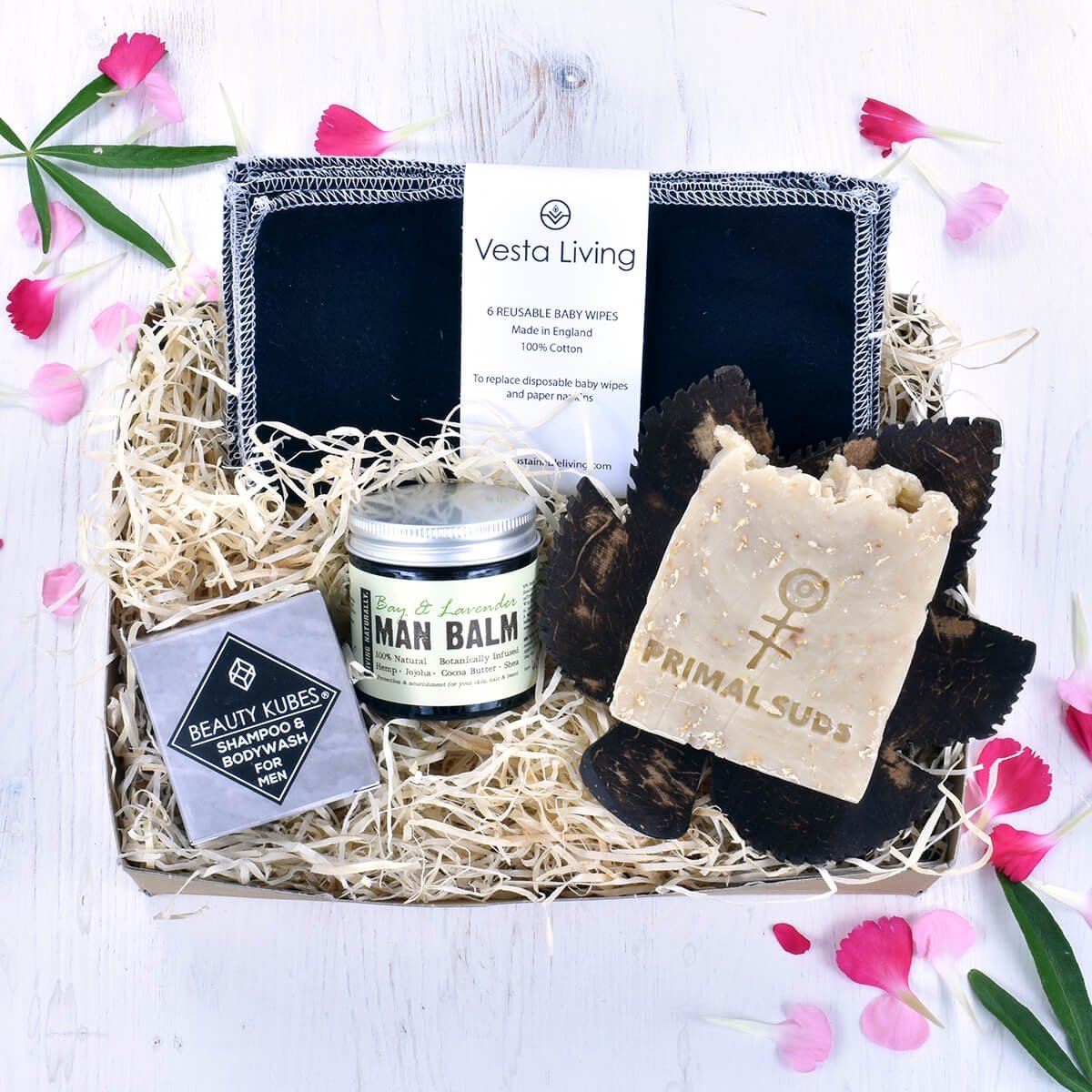 Men's Skincare Gift Set
Treat your man to a natural vegan skincare gift set this Valentines. Included in this lovely gift box is vegan man balm, handmade soap bar, coconut soap dish, reusable cloth wipes and Beauty Kubes shampoo & body wash for men.
Men's Shaving Gift Set – Naked Necessities
Our men's shaving gift set is perfect for introducing eco-friendly and plastic-free shaving to a loved one. This gorgeous gift set includes a double edge safety razor, replacement blades, vegan shaving soap, vegan shaving brush and a soap rack.
You are going to be given a little extra love this Valentine's Day when you purchase any of the above gifts for the special man in your life.  Each one of these eco-friendly Valentine's Day gift options will melt the heart of your special someone and show them that you care about them (and the planet!) in so many ways.