Observing the annual event of Earth Day on 22nd April is not only a celebration of our awe-inspiring planet, but a stance on protecting it. 

First marked in 1970, by climate action demonstrations that both raised awareness and provoked the creation of the Environmental Protection Agency, Earth Day is now an internationally-recognised event.
This year's theme, Restore Our Earth, redirects focus away from the damage that has already been done, and instead considers what can be done moving forward. Concentrating on natural processes and emerging green technology, Earth Day 2021 is all about looking to the future, reminding us of the possibilities that lay ahead.
This gives us the perfect opportunity to shine a spotlight on just a few of the many businesses we admire and could all take inspiration from, that make a conscious effort to ensure sustainability remains at their core. Their businesses may be small, but their climate action is mighty…
Moo & Yoo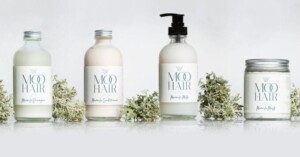 When hair stylist and salon owner, Suzie, struggled to find haircare products that were kind to her skin and the environment, she decided to create her own. And so Moo Hair was born, using only natural-derived, vegan and palm oil-free ingredients in sustainable packaging.
Equipped with the knowledge that, unfortunately, packaging isn't widely recycled or reused in the hair and beauty industry, the company's commitment to using recyclable materials is uncompromising, and they are changing the industry for the better. 
"We care deeply about the planet and creating a business that gives back to nature. As a family, we always try to make a conscious effort to be more mindful of our consumer habits and the impact we have on our planet. This is why at Moo & Yoo, we constantly strive to be as sustainable as possible. Making small changes really do add up and make the world of difference."
An integral part of their business model, Moo & Yoo have partnered with One Tree Planted to plant a tree for every online order that they receive, to offset any carbon emissions created in transportation. This Earth Day and during the whole week, they will be doubling this number. In addition, they are joining the Earth Day Clean Up and dedicating time to collecting rubbish from their local East Lothian beaches.
PLAYin CHOC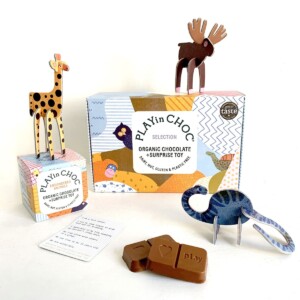 The team behind sustainable chocolate brand, PLAYin CHOC are firmly on board with this year's Earth Day theme 'Restore Our Earth', passionate about developing and using new, planet-friendly technologies. 
"Every day is Earth Day at PLAYin CHOC. We take our responsibility to preserve and sustain our planet seriously, but still make it fun! As well as sparking joy through play and chocolate, we hope to inspire the next generation's passion for the Environment."
They've honed their creamy, vegan chocolate recipe to taste delicious and to meet their high ethical standards. Keeping it simple, they only use three organic ingredients, all of which are fairly traded and grown on small, family-owned farms – which are slave, child and animal labour-free. 
Right down to the paper tape used on their boxes, their packaging is biodegradable, recycled and recyclable, and their plant-based film can even be home compsted. But keeping things fun is a priority too, with each box containing a slot-together, collectable toy – from woodland creatures to  endangered animals – along with a fun fact card about the creation. There really isn't another brand like it!
"PLAYin CHOC fuses play and creativity with learning about the importance of saving the planet, and then adds a little treat of delicious chocolate. Here's to motivating the next generation to love and action, and here's to this year's Earth Day."
Valley Mist

Always aiming to be part of the solution, not the problem, Valley Mist started with a passion for a natural, eco-friendly lifestyle. The sustainable  skincare company has achieved so much in so little time, donating 8.5% of lip balm and candle profits to green cause charities, including local Wildlife Trusts and The World Land Trust. 
"Valley Mist has been built from the ground up as a sustainable company since our dream began in 2014 and launched in 2016. This year's Earth Day theme of the preservation and restoration of Our Earth is right at the heart of the ethos of Valley Mist."
Amazingly, the business is closing the 'waste loop' on their manufacturing processes and aiming for a circular economy, reusing any oils, butters and waxes generated from cosmetic production to make their aromatherapy candles. Meanwhile keen composters, their packaging is biodegradable, reusable, compostable or endlessly recyclable, and much of it encourages customers to have a go at home organic waste.
Behind the scenes, the team reuse boxes and packaging from suppliers to send out wholesale orders, explaining that they may "sometimes look a little higgledy piggledy, but it's all about reusing resources as we don't want to send to landfill."
Ingredients are consciously sourced from suppliers who work with sustainable commitments, and every order is sent out plastic-free. Plans for the future include a local shop, more refill options and growing their own ingredients to replace those that would otherwise be imported.
"A variety of locally-grown and manually-harvested ingredients will not be particularly high yield, but will not be burdened with transport miles and are the scourge of wildlife diversity. We desperately want to be part of the regenerative farming revolution that is gathering pace in the world."
Loofco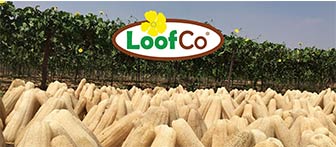 Over 20 years ago, Lois and Matthew Clark founded NatBrands with the sole purpose of sourcing and distributing natural, sustainable household and personal care products. They excel in their high-quality, affordable ranges including LoofCo, a unique range of cleaning products that celebrate two eco-friendly and versatile resources: loofah and coconut. 
"Our mission has always been to seek out and develop unique lifestyle products that we can use ourselves and recommend to others. Products must be ethically and sustainably produced, emphasising natural plant-based ingredients and traditional methods and respect for the planet and all who inhabit it."
Their respect for suppliers and customers alike demonstrates their attention to building strong and lasting relationships, and this is mirrored in their consideration towards the earth. Proudly never wasting resources on air travel and freight, that cost in more ways than one, the team behind LoofCo is committed to making a positive impact on the environment. 
Reducing plastic pollution is a priority and NatBrands strives to develop and champion products that make this easy, giving consumers the opportunity to switch to an eco product that is safer for people and planet.
Made For Drink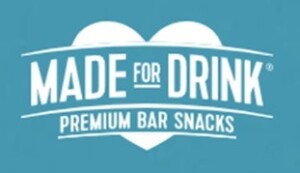 Made For Drink may be more commonly known for delicious bar snacks inspired by different drinking cultures around the world, but the business is making waves in the industry for its sustainability efforts too. Two projects are at the heart of this: becoming plastic free and carbon neutral. 
"Our central ambition is to build a business that we're all incredibly proud of, one which helps to build a better world."
Working hard towards a plastic-free supply chain, Made For Drink launched a new outer packaging this year which is plastic-free and home compostable. This was the result of a year-long project into finding the right materials that gave the same performance as the old packaging. In doing so, they became one of the first snack suppliers in the UK to achieve this significant feat.
As well as this, the company launched the Exmoor Carbon Project in 2020 by purchasing 26 acres of ancient woodland.  Alongside the 30-year project to protect and restore ancient woodland, of which only 2% remains in the UK, Made For Drink are committed to promoting biodiversity and supporting local employment. 
Truthbrush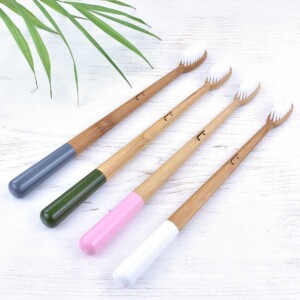 Similarly placing huge emphasis on offsetting carbon emissions are Truthbrush, who have been championing this since day one of trading. Leading the way, the bamboo toothbrush brand uses recyclable and recycled packaging and materials where possible, sustainably sourced bamboo which is FSC certified, and castor oil bristles. 
For every wholesale order, the company plants a tree which has resulted in a Truthbrush forest of nearly 1000 trees! Involved in local community projects, including setting up a local plastic free group, co-ordinating the successful application for their town to be a Surfers Against Sewage plastic-free community, and managing the local Terracycle collection point, there is no end to Truthbrush's climate action efforts.
"Very excitingly, we were recently accepted onto 1% For The Planet, which means that we pledge to give 1% of our annual turnover (not profit) to environmental causes! We are so excited to be a part of this but are continually striving to do more."
_______________________________________________________________________
The list of inspiring, eco-friendly brands who continue to prioritise the environment, not only on Earth Day but every day, is endless. Our hearts are full when we discover their continuous efforts in making the world a better place. Why not shoutout your favourite sustainable, small business in the comments below?