So many of you are curious about soapnuts and that is because they are such amazing curious little things! I wanted to do a guide on how to use soapnuts and tell you a bit more about them and where they come from.
What Are Soapnuts?
Soapnuts or soapberries are dried fruit shells harvested from soapberry trees in India.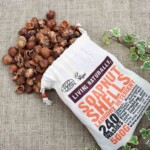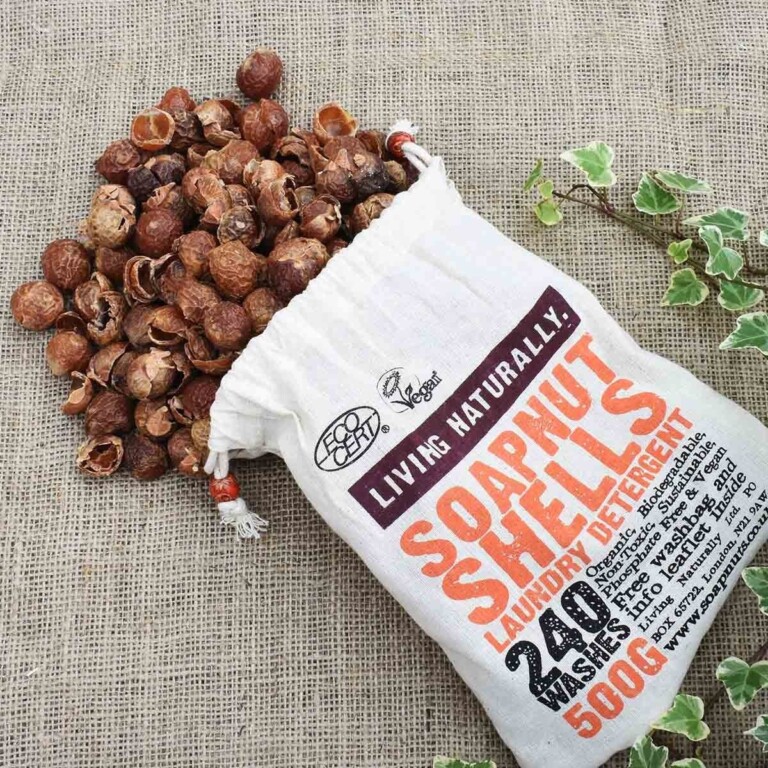 These soapnuts contain natural soap called saponin which is released when in contact with water. They have wonderful cleaning properties, all without the use of chemicals such as phosphates and SLS! Natural soap that actually grows on trees, you can't get more eco-friendly than that!
Our USDA certified organic Living Naturally soapnuts are harvested from organically wild-crafted (free from pesticides and not contributing to deforestation) soapberry trees from rural forests.
Soapnuts are 100% biodegradable, vegan and natural, they are ideal for sensitive skin as they are hypoallergenic, odourless and come from pure nature. Unlike commercial soaps, soapnuts won't harm your skin or the environment making them the perfect natural alternative to conventional detergent and synthetic soaps.
These soapberries are so fascinating, they have natural anti-fungal and anti-microbial properties while naturally softening, which is why they make such good skincare and laundry soap. Soapnuts are completely sustainable as the seeds can be replanted, it is only the shells that are used and during collection, the trees are not harmed or damaged in any way!
So What Do You Do With Them?
Putting it simply you clean with them, but you can literally use them to clean everything including your hair and body!
Our Living Naturally Soapnuts come specially designed for laundry detergent but you can use those same soapnuts to make multipurpose house cleaner, shampoo, body and hand soap, dog shampoo and even natural pesticide for your plants!
Soapnuts are 100% natural and biodegradable so once they are spent (looking a bit grey and dull) then you can pop them in your compost.
Soapnut Laundry Detergent
Let's start with the basics on how to use them to clean your clothes…..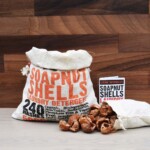 Our refillable Living Naturally bags come with a mini muslin bag to pop your soapnuts in, they also come with a full instruction book but I'll run through it here too.
1. Place 4-6 soapnut shells into the small muslin bag (heavily soiled clothes use 6-8 shells)
2. Place your laundry and the small soapnut bag into the drum of your washing machine
3. Wash clothes as per fabric instructions.
4. Save the used shells because they can be used again for up to 4 more times!
Tips:
You can presoak your soapnuts for a few minutes to activate the soap before putting them in the washing machine drum.
Add 15-20 drops of essential oil into the small muslin bag to add your favourite scent, soapnut shells don't have a smell.
To Treat stains during wash add 2 tablespoons of bicarbonate of soda to the washing machine draw.
To treat stains before wash use our Living Naturally stain remover stick and/or soak in cold water.
Making Your Own Soapnut Liquid Detergent
This can be a base to make a multipurpose cleaner, hand soap, natural pesticide and much more.
1. Pour 2 litres of water and 50 grams or approx 15 soapnut shells into a pan.
2. Boil for 10 minutes, turn off the heat and cover.
3. Once cooled, strain the liquid and pour into a bottle or jar to store in the fridge.
4. You can reuse the same soapnuts and repeat this process at least three times so keep them in the fridge too!
Tips:
Add 1 cup of soapnut liquid detergent to your washing machine drawer and wash clothes as normal. Use 2 cups for really dirty clothing.
Add 1 cup of bicarbonate of soda to brighten whites.
Soapnut Multipurpose Cleaner
You can use this to clean all surfaces in your home, even floors, sinks, baths and kitchen tops.
1. Mix 400ml of your soapnut liquid detergent, 100ml of white vinegar and 10ml of your prefered essential oil.
2. Pour into an empty spray bottle and use all over the house for general cleaning.
We suggest using naturally anti-bacterial essential oils such as lavender, orange, rose, tea tree, lemon and eucalyptus.
How To Make A Foaming Wash
Once you have exhausted your soapnut shells from your laundry you can make a foaming wash for cleaning dishes, pet shampoo, hand wash, body wash and even to clean surfaces with.
1. Put the soapnut shells into a blender with 500ml of water.
2. Blend well, then pour the mixture into a jar or soap dispenser.
Soapnuts are naturally antifungal and naturally repel pests such as fleas and lice which is why they are so great for cleaning your pets with!
How To Make An Organic Pesticide
Soapnuts can be used as a natural organic pesticide for your plants! They really are amazing and can't be used for almost anything.
1. Fill a spray bottle with 500ml of your pre-made soapnut liquid.
2. Add 10 drops of neem oil, lavender, rosemary and peppermint.
3. Shake well before each use and spray directly onto your plants.
Soapnuts are fantastic and a great way to reduce waste, chemicals and help you achieve a simpler and
more sustainable lifestyle. Because they can be used for multiple things you can save so much space and waste just by using soapnuts instead of masses of cleaning agents and chemicals.
Keeping a bag of soap nuts and a few boxes of bicarbonate of soda is pretty much all you need for a minimalist approach to cleaning! If you want to try zero waste and eco-friendly living I highly recommend grabbing some soapnuts, they are so easy to use, work incredibly well and they are 100% natural.
What Do I Do With Them After Use
Once you have finished with your exhausted soapnuts just remember you can pop them in your food waste, compost, green recycling.
You can even throw them in your garden as they help to fend off snails and slugs. They are also great for the soil and make a lovely organic, natural fertiliser for your plants.
Or you can make a foaming wash.
Do let us know how you get on with your soapnuts or if you have any other tips on how to use them.