Looking to make a sustainable, eco-friendly change in your kitchen? Here are 10 of our top zero waste, eco kitchen products to help you on your way, from home baking supplies to natural washing up powder!
There are so many ways we can reduce plastic waste in and around the kitchen, it's just a case of knowing where to start! A change as simple as the containers we store our food in might look small, but if we all partake in this, positive strides will be made.
Once you've finished making something scrumptious to tuck into, you'll want to ensure your kitchen surfaces are clean and pots and pans sparkling, but have you ever stopped to consider the steps you carry out to achieve this? Chemicals, packaged in aerosols and plastic bottles might have been a staple essential in your household, until now!
Below we've put together what we think is the ideal collection of eco kitchen products that you can purchase today to transform your kitchen into something of an eco friendly, natural, plastic free paradise!
---
Switch up your plastic dish brush and make the Coconut Dish Brush by Ecococonut a staple plastic-free essential of your eco kitchen cleaning utensils! An essential when it comes to plastic-free washing up and ethically produced in Sri Lanka, eco dish brushes are a great way to enhance your non toxic, eco-friendly and zero waste living lifestyle. The eco dish brush itself is made using coconut coir which is made from the husks of FSC sustainably farmed coconuts which is what makes it 100% natural!
---
Robust and tough, Rowen Stillwater has created a, eco selection of self-sudding squeeze sponges, so you can get to work on those pots and pans in an eco-friendly, sustainable fashion. These natural and eco dish sponges are the ultimate alternative to traditional plastic containing sponges, as they're tougher, last longer and are 100% biodegradable! Plastic-free washing up never looked so good (eco).
---
#3 – Natural Dish Washing Soap Bar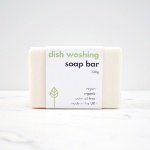 Much in the same vein as our Natural Dish Washing Soap Powder, this natural dish soap provides another zero waste, eco alternative to plastic washing-up bottles – cutting through grime and grease on dishes, pots and pans in the process. Made using plant-based, vegan, natural ingredients that are gentle to your hands, the natural dish soap is 100% biodegradable, plastic-free and also contains no palm oil. They are an essential when it comes to plastic-free washing up, leaving dishes sparkling clean every time!
---
#4– Natural Dish Washing Soap Powder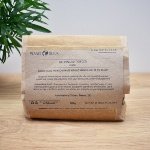 A large percentage of us will have placed our faith in the leading high street washing up liquid for many years, but we're here to inform you that there are eco-friendly and plastic free-washing up alternatives! Take our Natural Dish Washing Soap Powder for example – using only natural sodium minerals and essential oils, this foaming washing up powder will clean your dishes and kitchenware the chemical free way without harming you or the planet.
Browse All Natural Dish Washing Powder
---
#5 – Stainless Steel Food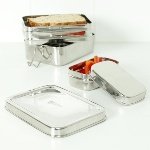 Containers
As we eluded to in our introduction to this article, storage swaps are one simple way which we can all make a straightforward, but significant difference to the environment. A Slice of Green have created their range of Stainless Steel Food Containers, which we think are great and, with the ability to last you a lifetime if cared for, there'll be no need for plastic Tupperware boxes any longer! Available in a wide selection of styles and sizes. All plastic free, reusable and sustainable!
Browse All Eco Food Containers
---
Excellent as a plastic free alternative to cling film, Your Green Kitchen's range of Cotton Bowl Covers will protect your food and have a positive impact on the environment too! Handmade using only GOTS Certified Organic Cotton and Water Based Ink, these vibrant cotton bowl covers come in a variety of colours, styles and sizes. They work an absolute treat and they look so good on the eco kitchen worktop!
Browse All Reusable Bowl Covers
---
#7 – Vegan Wax Wraps & Beeswax Wax Wraps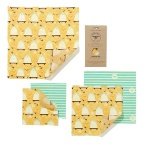 Cling film has long been used as a means of maintaining your food's freshness, however, reusable Wax Wraps are a great starting point on your plastic free journey and an amazing alternative. Made with only 100% organic cotton, beeswax, pine resin and jojoba oil, if looked after properly these wraps will last up to a year or even longer. Better still once it's reached the end of its life, they are completely biodegradable/compostable!
Browse All Vegan Wax Wraps & Beeswax Wax Wraps
---
Making the adjustment from plastic to bamboo kitchen utensils is not only one which will help reduce waste on our planet, but from your bank balance too! Bambu's products are known for their pure natural strength, meaning there's no need to repeatedly purchase plastic alternatives, which have a far shorter lifespan. Sustainable and longer lasting, without the impact on the environment, what's not to love?
Browse All Bamboo Kitchen Utensils
---
Supermarkets and many stores are awash with plastic bags nowadays, but that doesn't have to be the way when storing your produce which you've purchased there. A prime example of this is our Bread Swag Bag, which is made from 100% unbleached and unseeded cotton materials. Take with you to the supermarket and bakery and, when needed, you simply turn inside out, empty crumbs and cold machine wash preferably with a plant-based washing powder.
Browse All Reusable Bread Bags
---
We're sure you like baking something scrumptious in the kitchen, well so do we! With that in mind, we've made sure we stock all the supplies you need to make sure your baked goodies also share your eco-ethos! From compostable baking cups, baking paper, aluminium foil, paper bags and more. We've tried to cover all of the eco kitchen essentials for baking so you don't have to sacrifice your cookies to live an eco-friendly lifestyle.
Browse All Eco Kitchen Essentials
---
And there you have it – 10 eco kitchen products to get you started on reducing plastic waste in and around the kitchen and start living a more zero waste, eco friendly lifestyle.
We hope these chemical free, plastic-free, sustainable, natural, reusable, eco kitchen products have inspired you to consider your current kitchen routine and see if you can make any improvements.
Thank you for reading! 💚