Interested in making the switch to natural, handmade and plastic-free haircare products? Great! Then this guide will be right up your street.
Changing up your haircare routine is a big deal, especially the products we rely on daily such as shampoo and conditioner. Who doesn't want a nice looking wig?!
The problem today is that almost all haircare products are supplied in single-use plastic packaging, from shampoo bottles, conditioners, hair waxes, brushes – you name it – it's not sustainable.
Whether it's the ingredients or the packaging used, there must be a natural haircare solution out there – without all the waste? Spoiler Alert: there is.
So let's get into it…
---
Shampoo Bars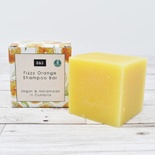 Switching to a shampoo bar is how many people get started on their eco-friendly journey. Probably because of how often they are throwing away the plastic bottles! And the cost. Well, shampoo bars are not only plastic-free and zero waste, but they also last forever! Well, not quite forever…but still a long time in comparison to bottled shampoo!
So they're eco-friendly and economical.  How do you use a Shampoo Bar?
First, use a shampoo bar for your hair type: normal, dry, oily etc.
Thoroughly wet your hair and the shampoo bar
Create a lather using your hands, using the bar directly on hair works but can cause build up if not rinsed well
Work the lather throughout your hair and scalp, combing through if needed to help distribute evenly
Rinse hair well
Many new users of Shampoo Bars also quickly notice they don't need a conditioner anymore, due to the naturally higher oil content of the ingredients used.
After you have made the switch to shampoo bars from commercial shampoo, you may notice a 'Transition Period' – this is completely normal. Due to shampoo bars being made using natural ingredients, they do not contain the same silicone's and sulphates (SLS) which coat the hair. During the transition period, hair can feel sticky, coarse or dull looking, but within a few weeks this will have completely gone and your hair will thank you for it!
Click here to browse all Shampoo Bars
---
Conditioner Bars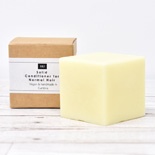 Conditioner – like shampoo – is another one of those products that many of us have come to not live without. For most, after shampoo comes the conditioner to lock in the moisture and nourish hair.
Well as you may have guessed by now…Conditioner Bars exist!
Following the same direction as a shampoo bar, Conditioner Bars can be lathered, applied and rinsed though using the same method.
So you can still get all the benefits of using a conditioner – just without all the negative plastic packaging!
Click here to browse all Conditioner Bars
---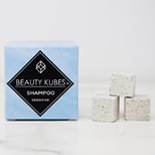 Beauty Kubes
If you don't fancy using a shampoo or conditioner bar and would prefer a more familiar routine when washing your hair – Beauty Kubes to the rescue!
They are still made using natural ingredients and are also supplied in 100% plastic free packaging.
To use them, simply crumble into your hand, add a drop of water and then create a rich lather. Simple as that, then use as normal! 1 cube is enough for 1 wash.
Like most natural shampoo's and Conditioners, there is a selection available for all hair types.
Click here to browse all Beauty Kubes
---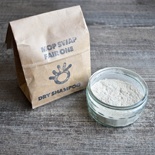 Dry Shampoo
Just because you're going plastic-free, doesn't mean you're going to compromise on dry shampoo – or at least you don't have to!
Handmade with natural vegan ingredients and with 100% compostable paper packaging. Not forgetting to mention it really works.
So how to dry shampoo without the waste? Easy…
They're supplied 100% brown paper packs, which can be easily decanted into a reusable jar or shaker.
Click here to browse all Dry Shampoo
---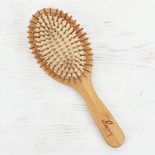 Wooden Hair Brushes
To turn your haircare routine fully plastic free, we need to consider not only the products we use in our hair, but also what we use with our hair such as hairbrushes.
Of course, unless you are specifically looking for one, most hairbrushes are made of cheap plastic.
However you'll be glad to know you can get yourself a bamboo hairbrush with a natural rubber backing. Available in various shapes and sizes, 100% compostable, sturdy and a pleasure to use.
They look nice too but be warned, they have a tendency to 'fall' into your friend's handbags.
Click here to browse all Hair Brushes
---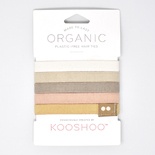 Plastic-Free Hair Ties
Another item on the list has to be Hair Ties! If you use hair ties, the chances are that you have gone through hundreds of them. We buy them, we use them, loose and discard them. But what happens to all those hair ties ones they are out of our hair and mind?
Not to worry…Kooshoo have solved the problem…
Available in a wide range of colours and sizes, Kooshoo have developed and awesome range of plastic free hair ties made using 100% biodegradable materials. Better still, they are made to last!
Click here to browse all Hair Ties
---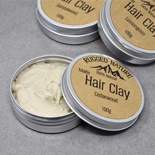 Hair Waxes & Clays
Hair styling products such as hair waxes and clays are notorious for being supplied in single use plastic containers and due to the contents not always being recycled.
If you're interested in a natural, handmade and eco-friendly hair styling alternatives to commercial products, then checkout the full range from Rugged Nature.
Available in easily reusable or recycled metal tins, they consist of a natural recipe to compliment your new natural, plastic-free haircare routine!
Click here to browse all Hair Styling
---
Hair Spray
Last on the list but by no means least is Hair Spray! Just like Dry Shampoo, here's another one you probably was expecting to have to go without. Well, that's not the case as an environmentally conscious alternative has already been created!
'Moo Hair' have put together a luxurious range of natural, handmade and eco-friendly hair spray and styling spray products.
They are supplied in glass bottles and although not 100% plastic free due to the spray nozzle, the spray bottles can easily be reused or recycled once finished.
Click here to browse all Hair Spray
---
So there you have it, our take on the best way to turn your haircare routine plastic free! With the above list, you should be well equipped on your journey to natural and plastic-free haircare.
Have you decided on what you will switch out first? Let us know in the comment section below.
Happy Haircare!