Christmas is an amazing time to start your plastic-free journey (or continue it) with so much opportunity to do things differently! Over the next few weeks, Peace With The Wild will be blogging tips for a plastic-free, low-waste Christmas.
This week's focus is on plastic-free decorations:
A big part of Christmas is sprucing-up (couldn't resist!) the vibe in your home with festive decorations, from special, seasonal ornaments to the showstopping tree.
This year I've made a big effort to look seriously at my decorations and banish plastic for good at Christmas time!
Below are my sustainable, low waste and/or all natural ideas  pursuing eco-friendly decorations this Christmas.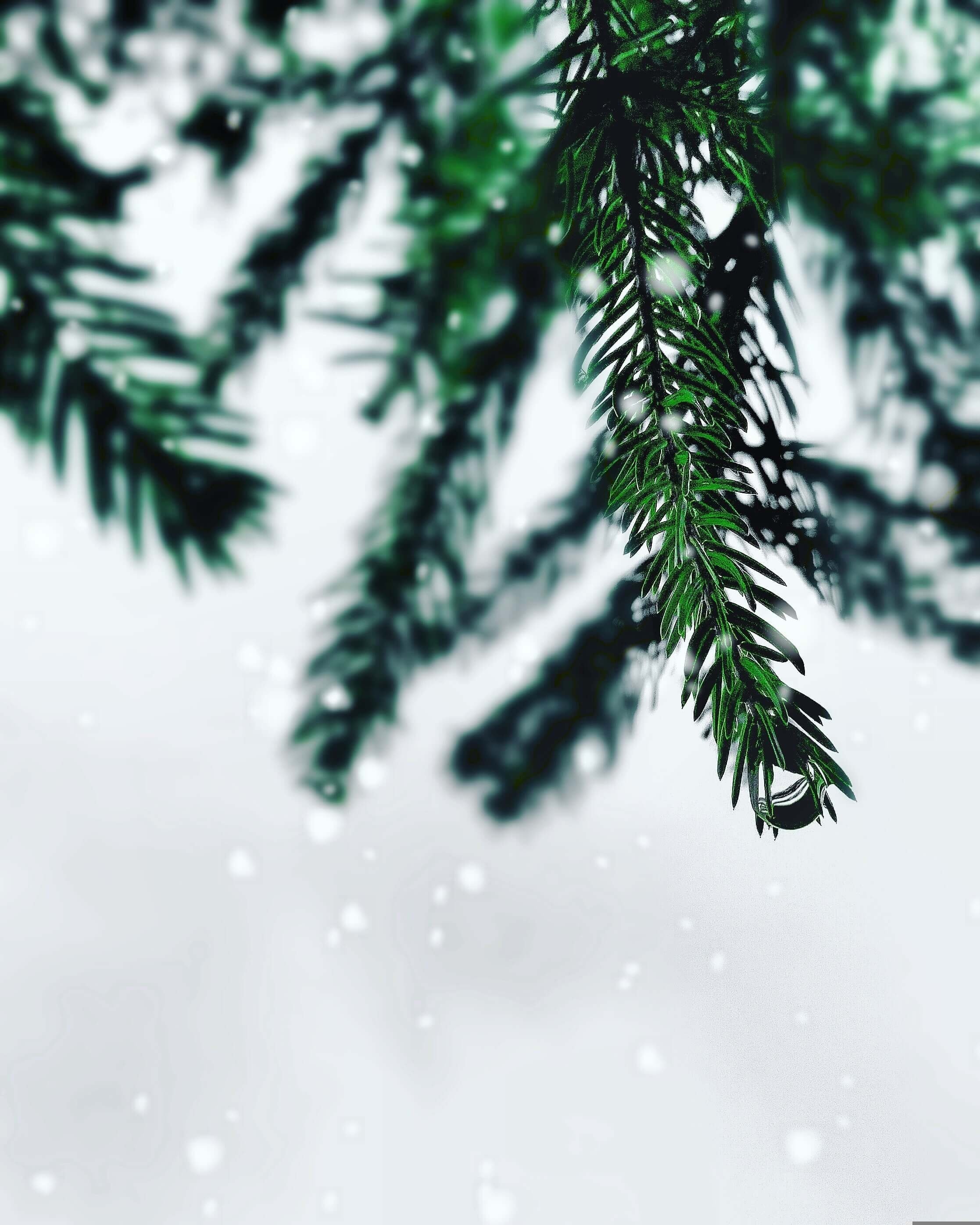 The Tree
Pine is a fast-growing and prolific tree type, meaning that we don't have to feel bad about having a tree this Christmas – as long as it's real! Plastic trees are often seen to be more convenient (they don't shed needles) but, apart from being plastic and therefore a big problem for our planet, they also just don't look as nice as the real thing.
Of course, you don't have to have a tree at Christmas (my sister bought a big Poinsettia this year instead and there's driftwood and pallet trees you can craft) but if you do, making all-natural, handcrafted tree decorations can be a real delight this Christmas time.
Eco-friendly Alternatives to Tinsel
Tinsel is a big thing in traditional Christmas decorations – it's sparkly, versatile and fun, but it's also plastic and terribly harmful to the environment. On top of all the harm it does just being produced, it also sheds easily, and those ribbons don't break down. It has to go.
The great news is there's so many alternative, sustainable options! I've listed my favourite below:
Pom Poms – All natural, 100% wool pom poms are my favourite thing!! Not only does using real wool encourage and support our farmers (did you know that British wool was once one of the most sought after materials in the world?) but there is so much opportunity to mix colours, sizes and strings (between pom poms) that pom pom decorations can be truly unique to you. Go for big, beautifully-scattered balls or string them together to make a garland.
Knitted/crocheted Runners – One of the great things about living a sustainable lifestyle is that it often encourages us to craft! Learning to knit or crochet is a brilliant skill that, like weaving, can take us back to old trades and new, all-natural beginnings. At Christmas time, knitting long ribbons of wool to drape and hang like tinsel can work really well.
Handmade Bunting – collecting scraps of fabric and sewing them into bunting is a fun project, perfect for any rainy days in leading up to Christmas.
Paper Chains – This immediately makes you feel like a child again! So fun!
Pine Cone Chains – feel free to paint the cones, as long as any metallic paints contain true metal particles and not plastic! Cover them in eco glitter for some sparkle.
Mixed Chains – really, if you can attach something festive to a string you have an alternative to tinsel this Christmas. Metal bells, wooden beads, cotton bows, twigs, dried herbs, feathers – experimenting with combinations can lead to some truly beautiful, more rustic decorations.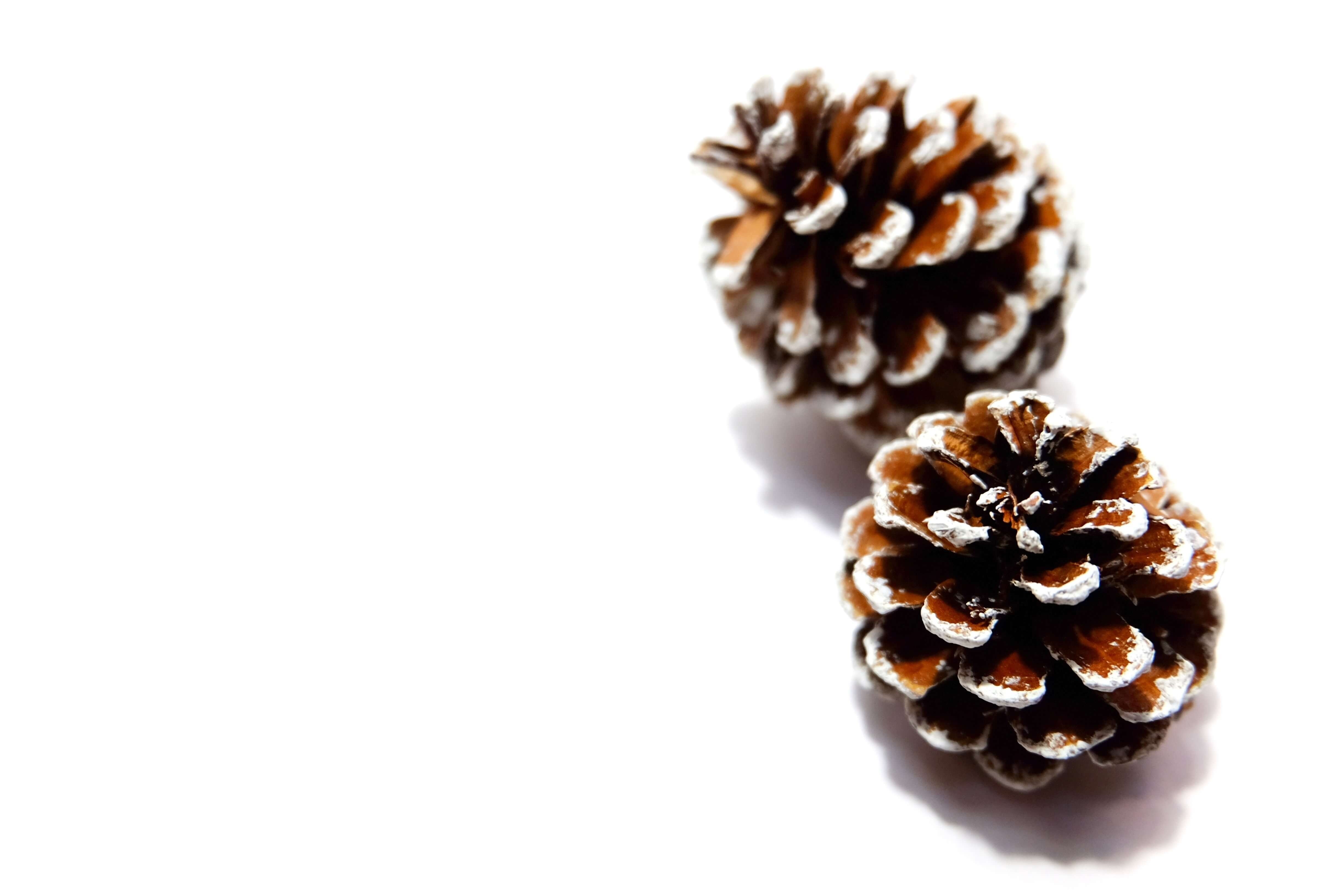 Baubles
Pine Cone Baubles
There's so much you can do with pine cones, it's amazing! For a snowy look, brush the edges with eco friendly glue and sprinkle with Epsom Salts. Add some burlap ribbon or twine and these all-natural, plastic-free baubles are ready to go up.
Tartan Hearts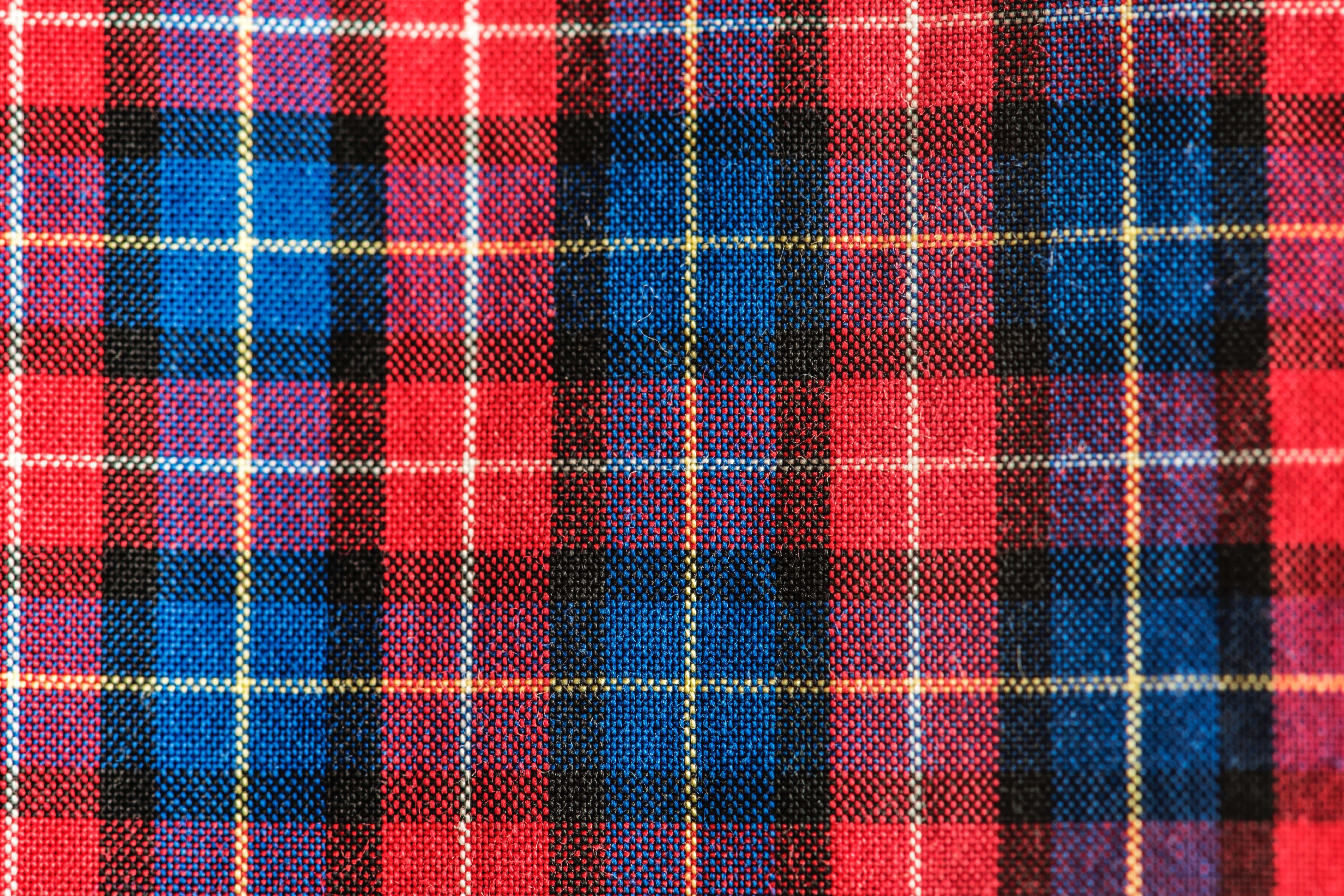 The best thing about these is that you can fill them with anything that smells delicious –  dried herbs like lavender, spices like clove and cinnamon, fabric scraps peppered with essential oils and the last bits of loose tea left in the caddy. Tartan comes in a variety of colours – pick yours to match your style.
1. Cut out two hearts the same size (roughly 7cm diameter – draw on the fabric with tailors chalk and cut out both pieces together) from whatever tweed or fabric you want to use (burlap and cotton look nice too)
2. Pin the outside edges of the hearts together, and turn inside out.
3. Sew the two pieces together roughly 1cm from the outside edge, equally and neatly nearly all the way around, but don't forget to leave an open area about an inch (2.5cm) wide (the stuffing hole!)
4. Remove the pins, turn the hearts outside in and get stuffing – I'd recommend putting equal parts scented material (such as lavender) and cushion stuffing in, to avoid the hearts getting too heavy for the tree and to give them a nice, full and rounded look. Mould the heart with your hands as you go to avoid lumps and bumps.
5. Sew up the stuffing hole neatly and choose your twine or ribbon of choice for the hanging material. Sew it to the top of the heart and hang it up!
Dried Fruit
Dried orange slices hung with bows and cinnamon look so beautiful. There's plenty of tutorials on this, including this one by Thinly Spread!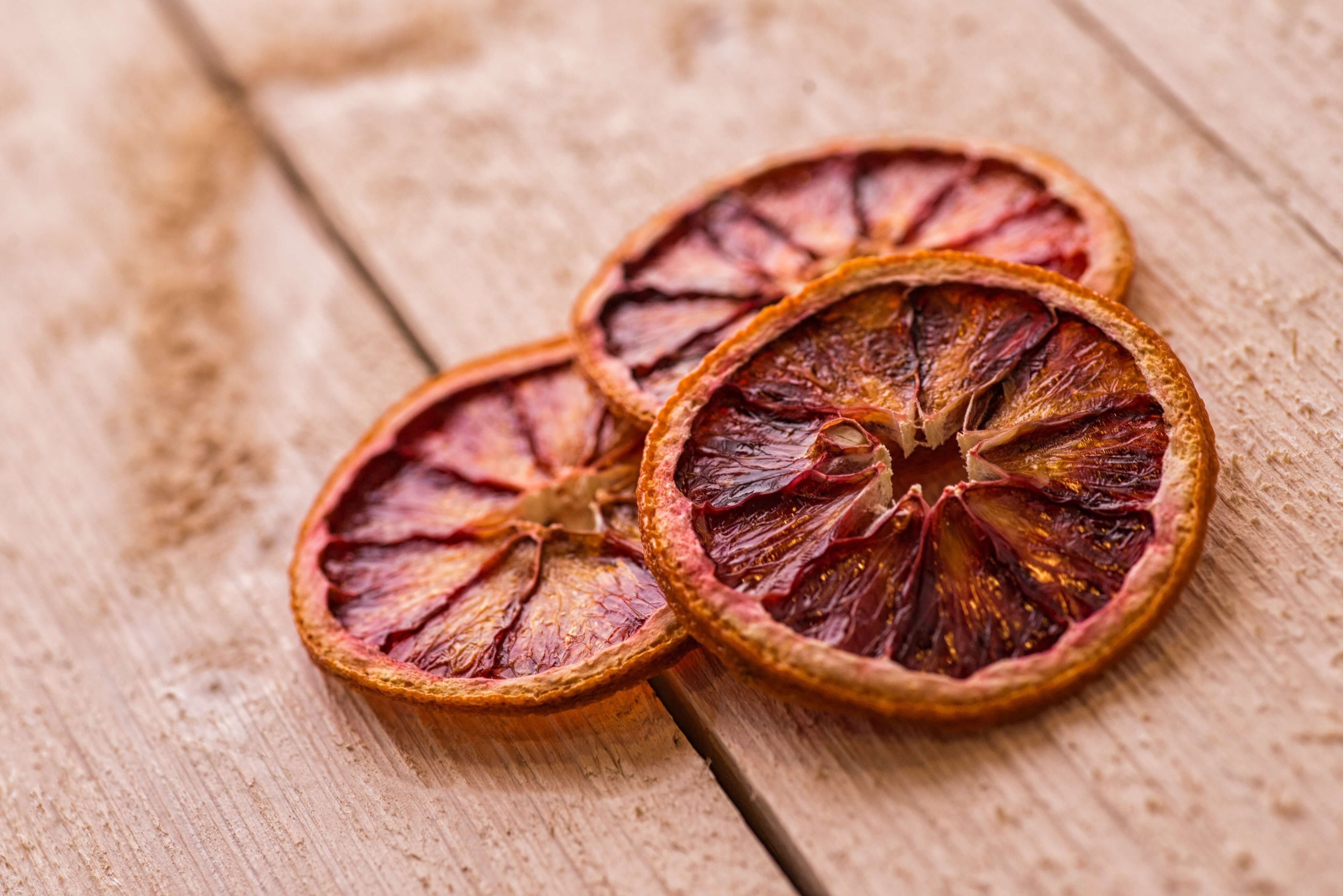 These are by no means the only ideas for plastic-free, natural baubles, just a few ideas!  Old wooden buttons on string also look great, and so does origami, which of course is folded paper and comes in so many lovely prints. Even tying burlap ribbon to individual branches creates a lovely, rustic look.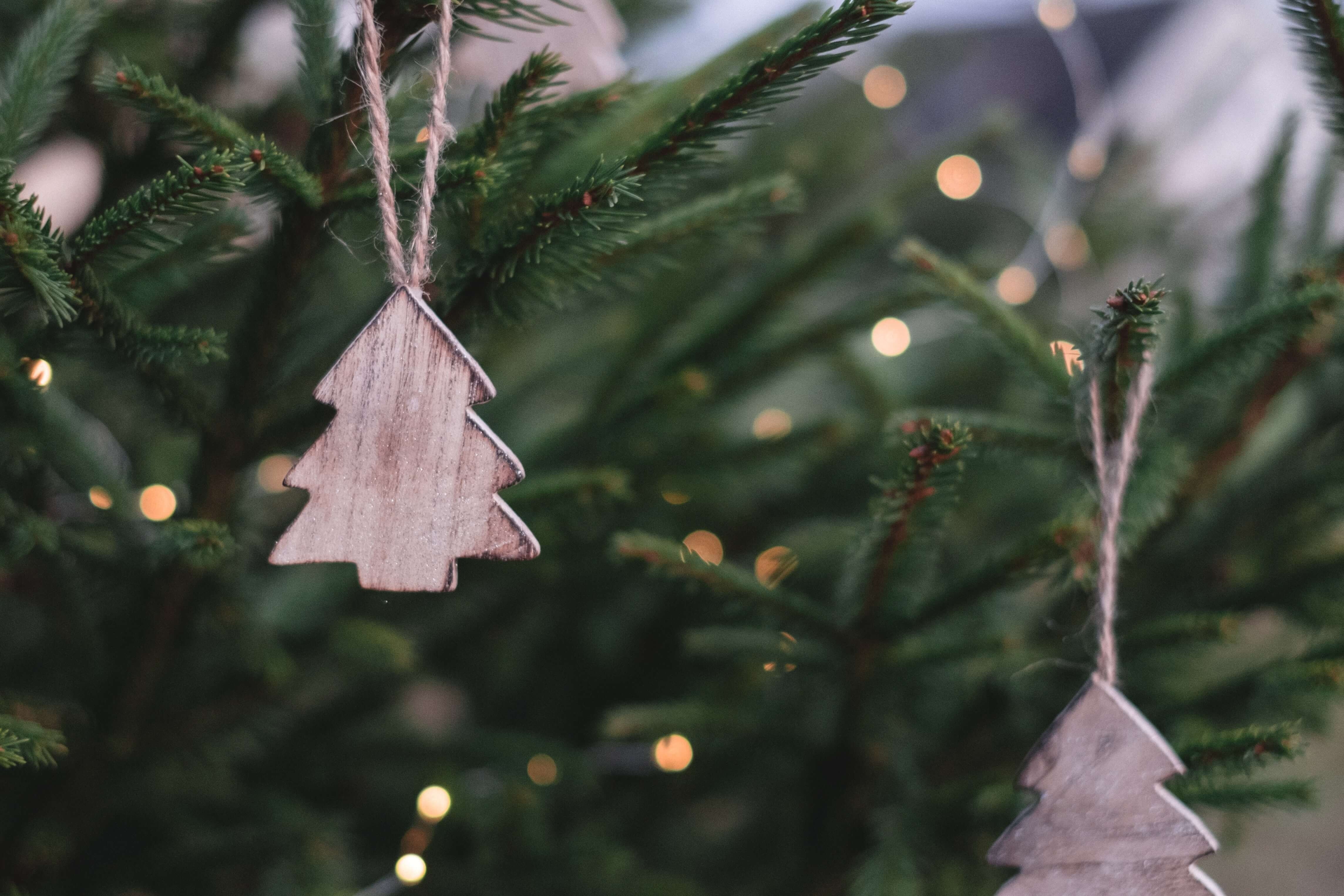 Fantastic Foliage – Mantlepiece Runners, Table Centerpieces and Wreaths
If you're lucky enough to be enjoying Christmas by the fireplace this year, we have some lovely ideas for all-natural mantle decorations harvested straight from nature herself. For me that's one of the best things about starting my plastic-free journey: it's brought me so much closer to the wild, the real and the free!
A trip to the woods (don't forget a canvas tote and pair of shears) is all it takes to forage amazing natural materials for the mantlepiece, table and wreath. On your walk, look for:
Pine cones – so versatile and a traditional Christmas material. Keep them natural or paint them,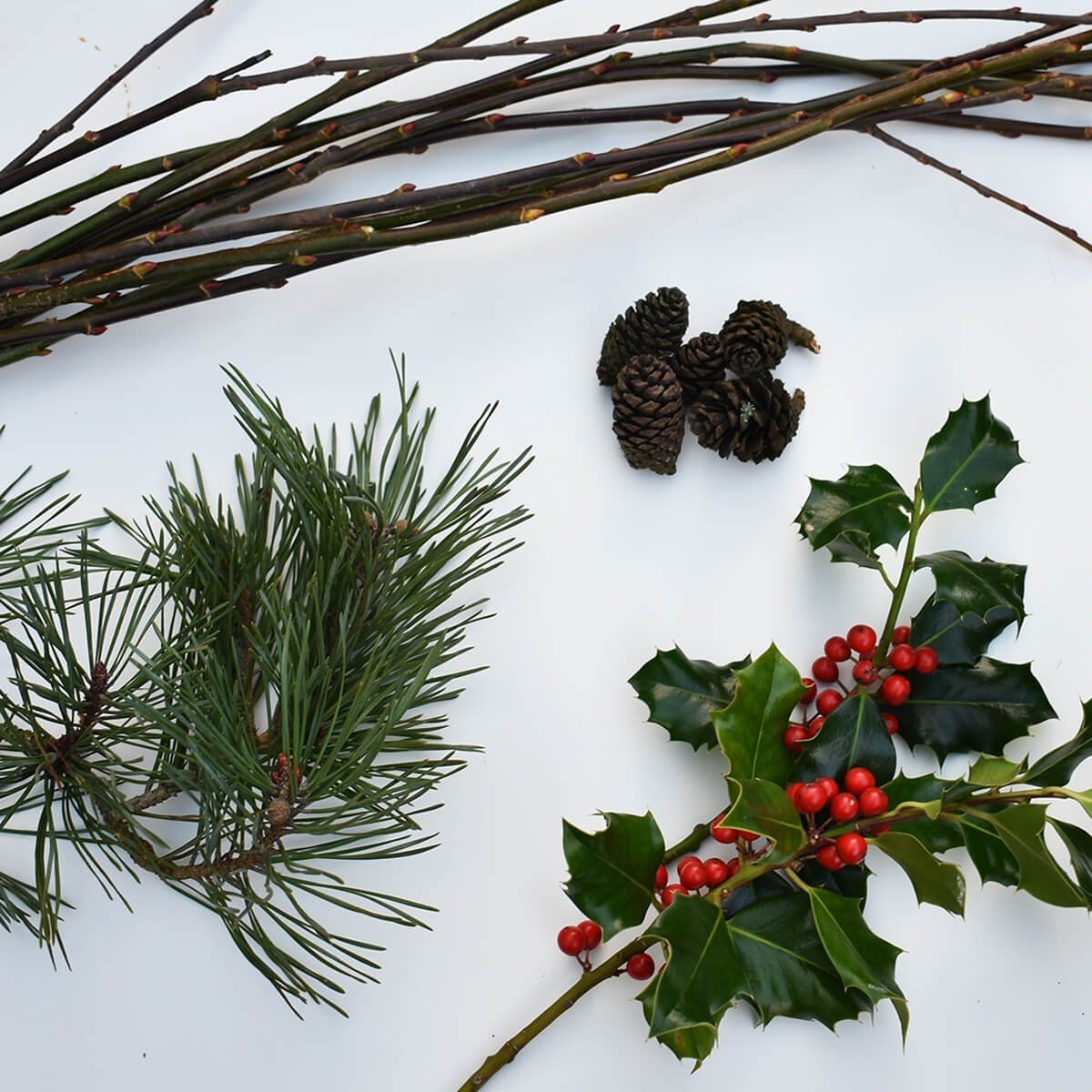 or roll them in eco glitter.
Feathers – Pheasant are so beautiful and perfect for Christmas colours, but even pigeon and magpie can help bring an all natural mantle decoration to life.
Snow Berries and other berries – the little white berries traditionally found on Christmas wreaths (along with holly and laurel leaves, holly berries ivy and pine fronds – all great for wreaths, all brilliant for mantle and table pieces too) add wintry white to any arrangement. There's other options too, with many bushes offering short springs of red or purple berries, any some have coloured branches.
Dry leaves – sycamore and maple (the colours!) are a good size, and the copper sheen of beech and hazel can make for punches of festive warmth.
Mistletoe – you might need to climb for this one! Often found in apple and poplar trees, you can tell it's mistletoe as it grows in round bundles/balls and looks almost like big spots in an otherwise bare tree. Be careful if you're climbing!
Honeysuckle stems – honeysuckle twines itself around other trees and often ends up beautiful even when long dead. The twists and curves of a long stem along the mantle piece can be very effective. You may need to liberate a piece first, in which case gently cut it away from the other tree without causing damage.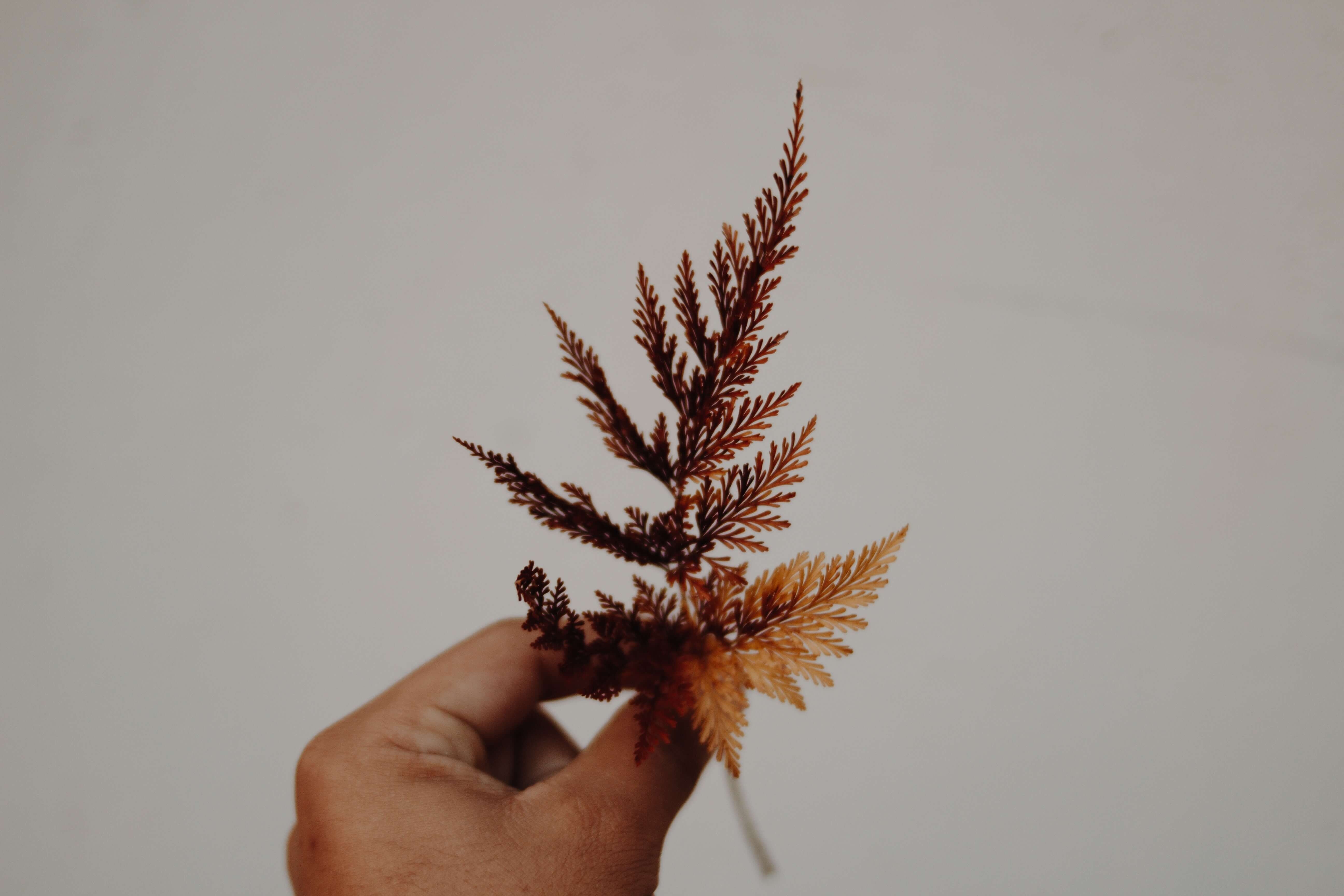 Teasels – teasel heads can make truly magical shapes, and if the dead stems are cut long they too can be laid along the mantle piece.
Bracken – when dry and dead, bracken goes the most amazing copper colour!
Bark – go Scandi style with birch bark or find other interesting pieces.
Herbs – this may be something to source from the larder or a plant centre, not the woods, but fresh and dried herbs are great to use too and will scent the whole room!
Once you're foraging bag is full, lay it all out on a large table and start comp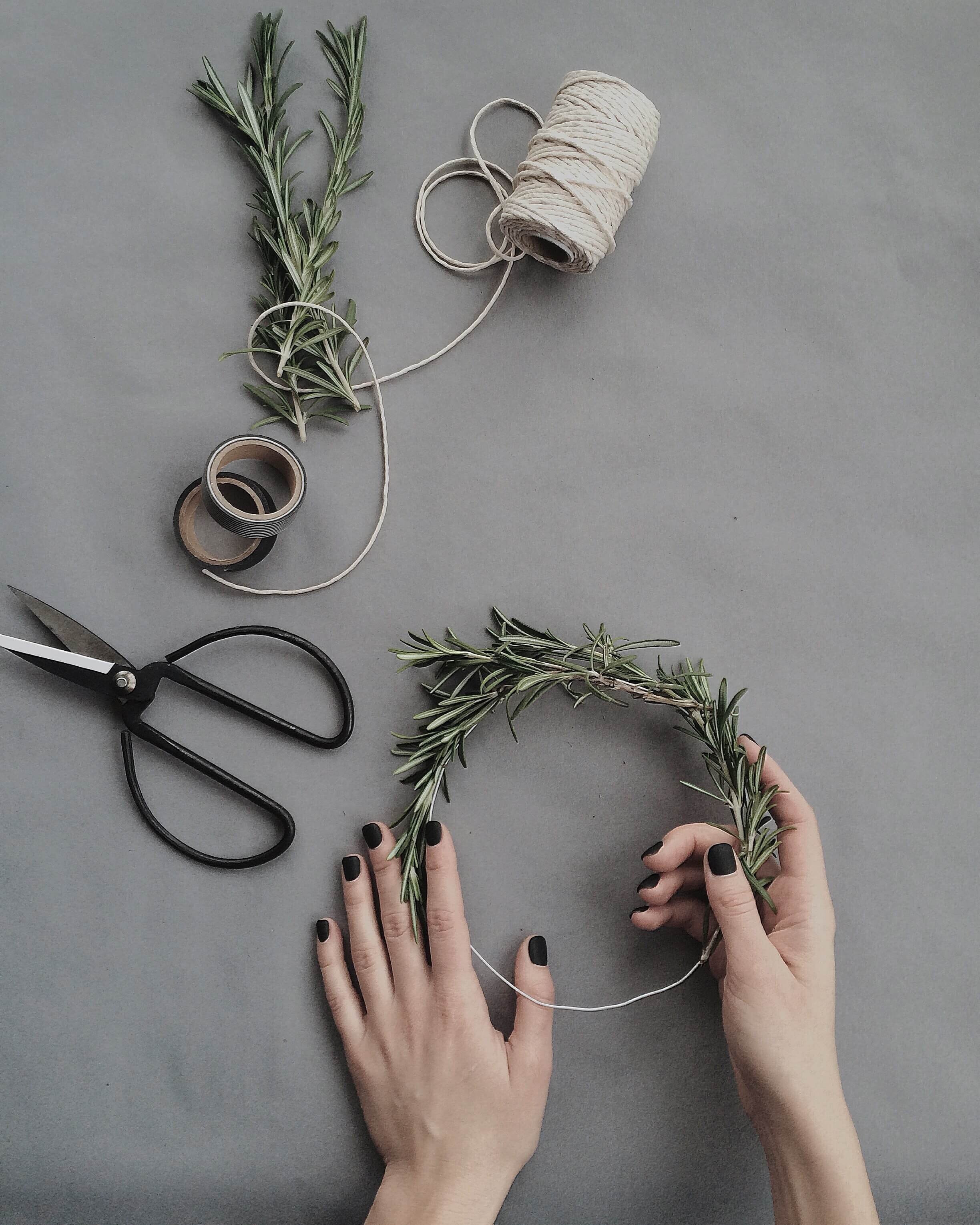 osing. Mantlepiece and table pieces usually have a focal point somewhere in the middle (look at Japanese flower arranging for composition tips!) and graduate outwards – make sure with any mantlepiece decorations that you consider how much you need to hang down the sides of the fireplace.
Use wire and twine (and eco-friendly glue if you need it) to secure the different materials together. I like to create a loose, wire frame first (like in wreath making) and poke all the different bits in, securing them as I go.
– please remember to be respectful to the environment: take only as much as you need, leave enough for wild animals and try not to cause any damage! –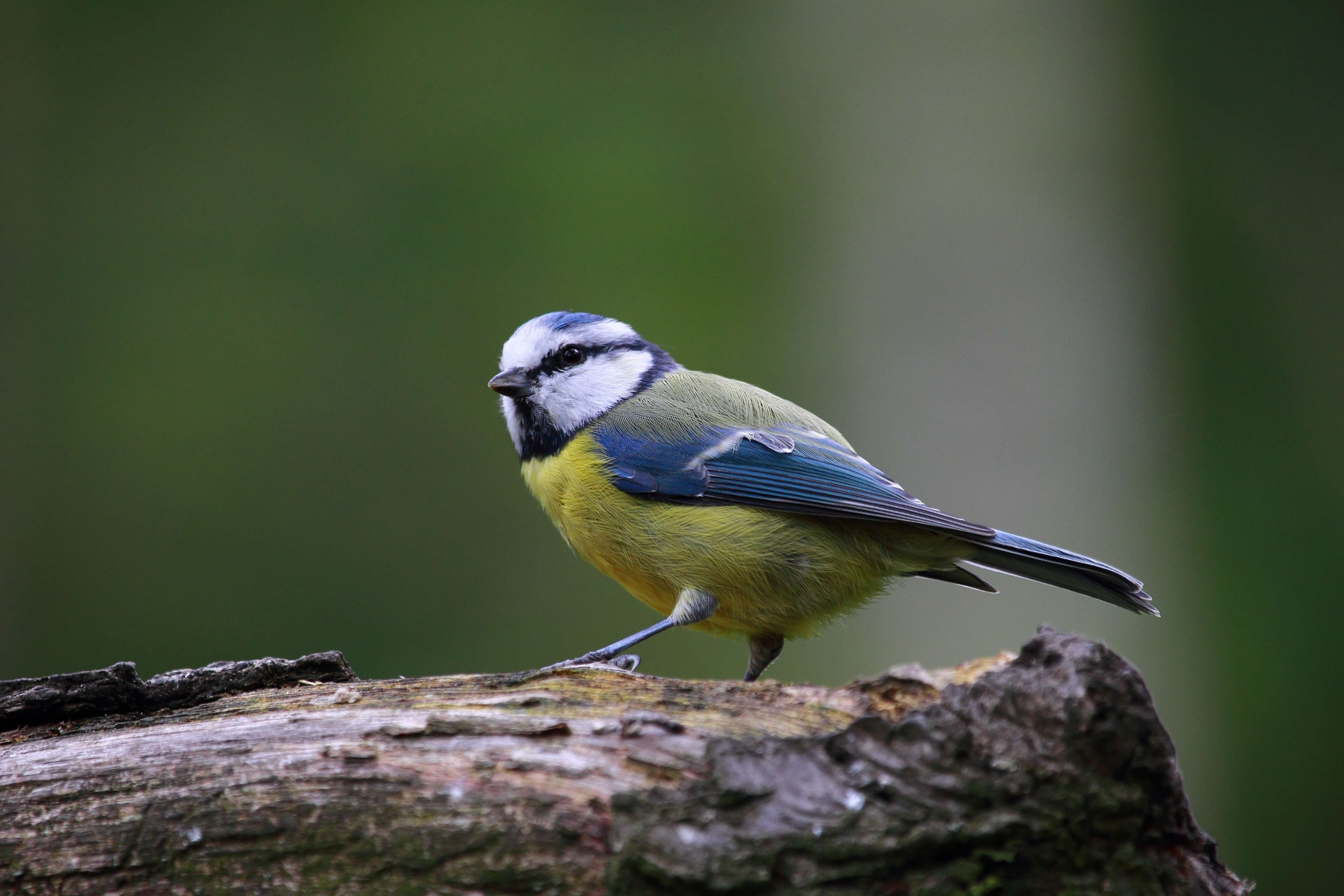 Christmas Card Garlands
I love hanging Christmas Cards! Here are my top three ideas for plastic-free garlands this year:
1. Plain and simple twine – just hanging cards on striped butchers string can be really effective, especially when hung between doorways or from the corners of a book shelf. Little mini pegs (get wooden or metal ones) secure the cards to the string.
2. Felt shapes – this is another great little craft project for a cosy evening in! It's so easy too. Just get some natural felt sheets in Christmassy colours, draw the shapes you'd like (reindeer and holly leaves work well) in tailors chalk and cut out. Using a hole punch, cut a hole in each shape, towards the top – this is where the shape will hang from the string. Cut little bit of string to loop through the hole on each shape and tie to a longer, main piece of string from which each shape (and card will hang). Remember to leave space to loop and hang cards from between the shapes. When you go to hang the cards, punch a hole in the corner of the card (with it shut, so that the hole goes through both pieces of card) and tie to the main bit of string.
Mixing felt with natural materials and wooden pegs can work quite well too!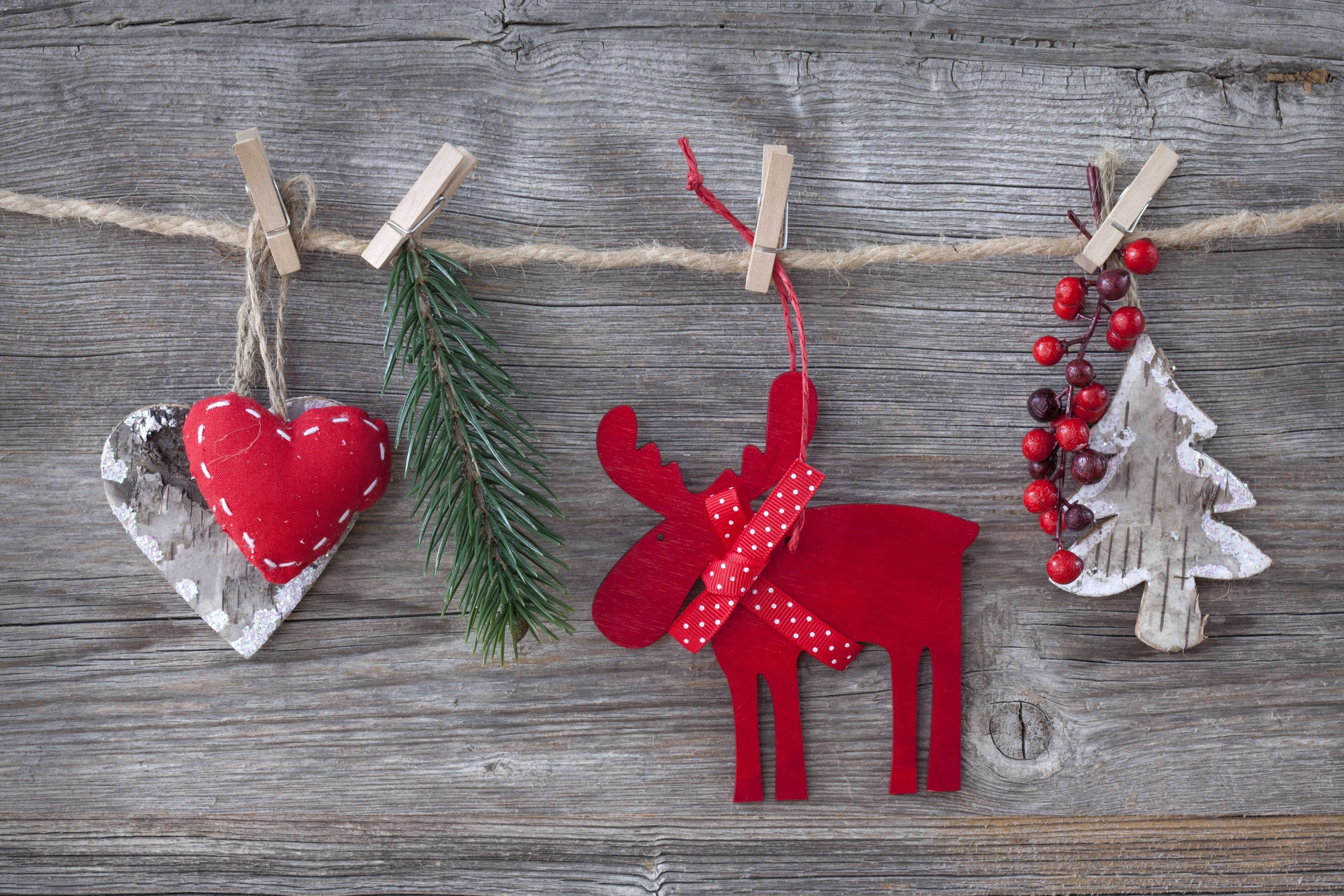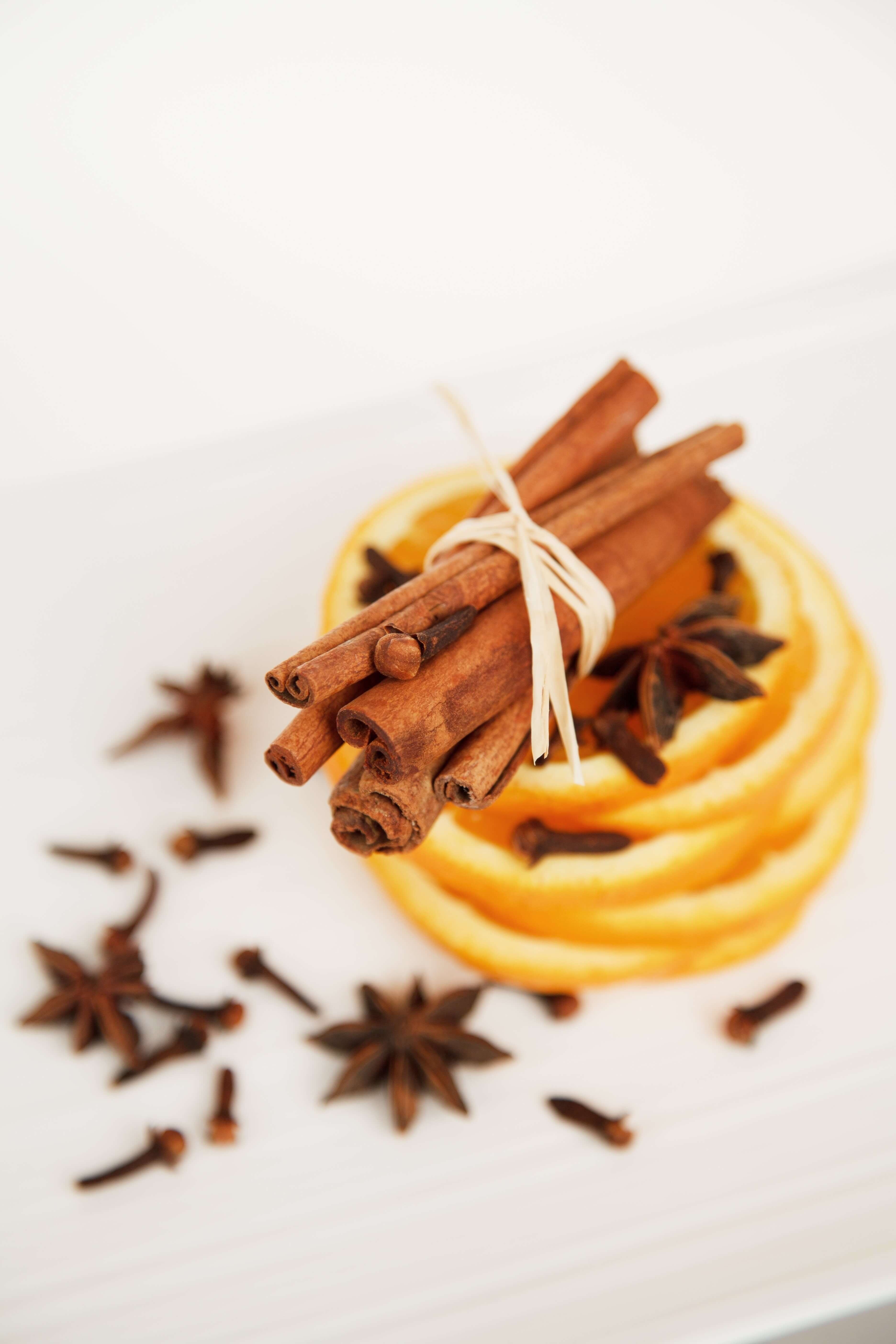 3. Dried fruit & natural foliage – Dry extra orange slices and make a card garland, stringing them together with cinnamon sticks, ribbon, pine cones, dried herbs and anything else that will add to the amazing aroma. You can secure cards by tying them on or by hanging them directly over the garland itself.
Candles
Unfortunately, there isn't yet a sustainable and safe alternative to led fairy lights (which have plastic casings) but candles are the next best thing and smell better! We sell some gorgeous vegan, 100% natural soy wax candles in our shop and they are the most beautiful looking and smelling additions to the home this Christmas.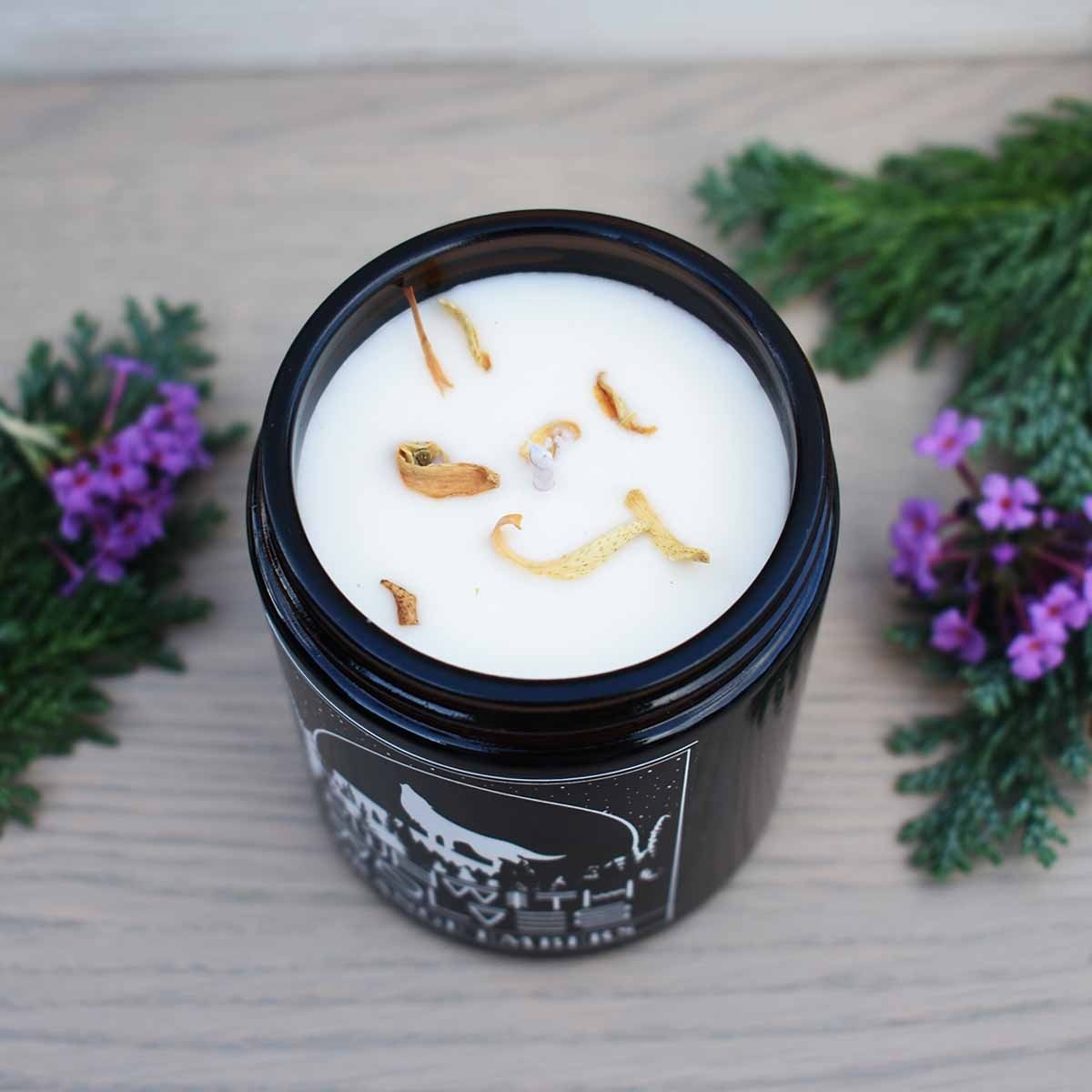 There's so much opportunity to be creative in the crusade against plastic! Christmas is the perfect time. Share your plastic-free, natural and eco-friendly Christmas decorations with us at @peacewiththewild.
Save
Save
Save