Christmas is an amazing time to start your plastic-free journey (or continue it) with so much opportunity to do things differently! Over the next few weeks, Peace With The Wild will be blogging tips for a plastic-free, low-waste Christmas.
This Week's focus is on plastic-free wrapping:

I used to feel so bad about all the wrapping paper we'd stuff into bin liners after we'd opened our presents. Mountains of plastic-coated paper (non-recyclable) used once and then thrown in the bin. Even saving what we could to reuse for smaller gifts next year, all the sellotape meant most of it just got thrown away, and to think of all the families doing the same thing, too!
But we don't have to do it. We don't have to use plastic wrapping, and can choose some really cool ways to wrap eco-friendly – and creatively!
Switch it up
If you feel like you want to keep things traditional and stick with wrapping paper, we know some brilliant alternatives you can straight-swap for the normal stuff:
Lokta Paper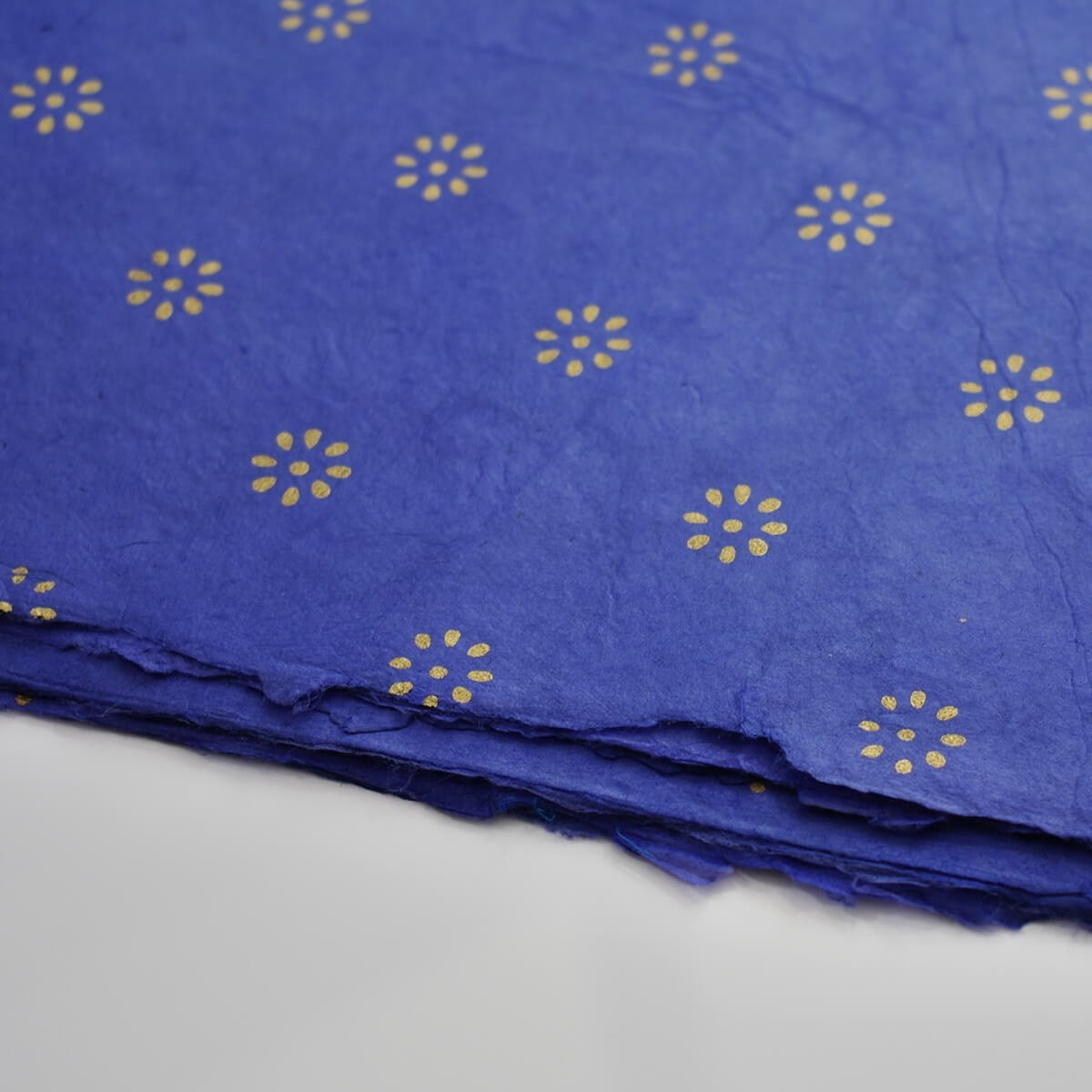 Lokta Paper is just beautiful and comes from the Lokta shrub, which naturally sheds (a bit like a silver birch does) its bark. Sustainable, recyclable and biodegradable, as well as being handcrafted in the Himalayas and free of Azo dyes, Lokta is a little more expensive than normal plastic-coated wrapping paper but well worth it. A clean conscience would be enough, but this paper also gives a pretty special finish to your gift-wrapping. We sell it in several patterns here  – our favourite for Christmas here at Peace with The Wild has to be Handmade Lokta Wrapping Paper – Stars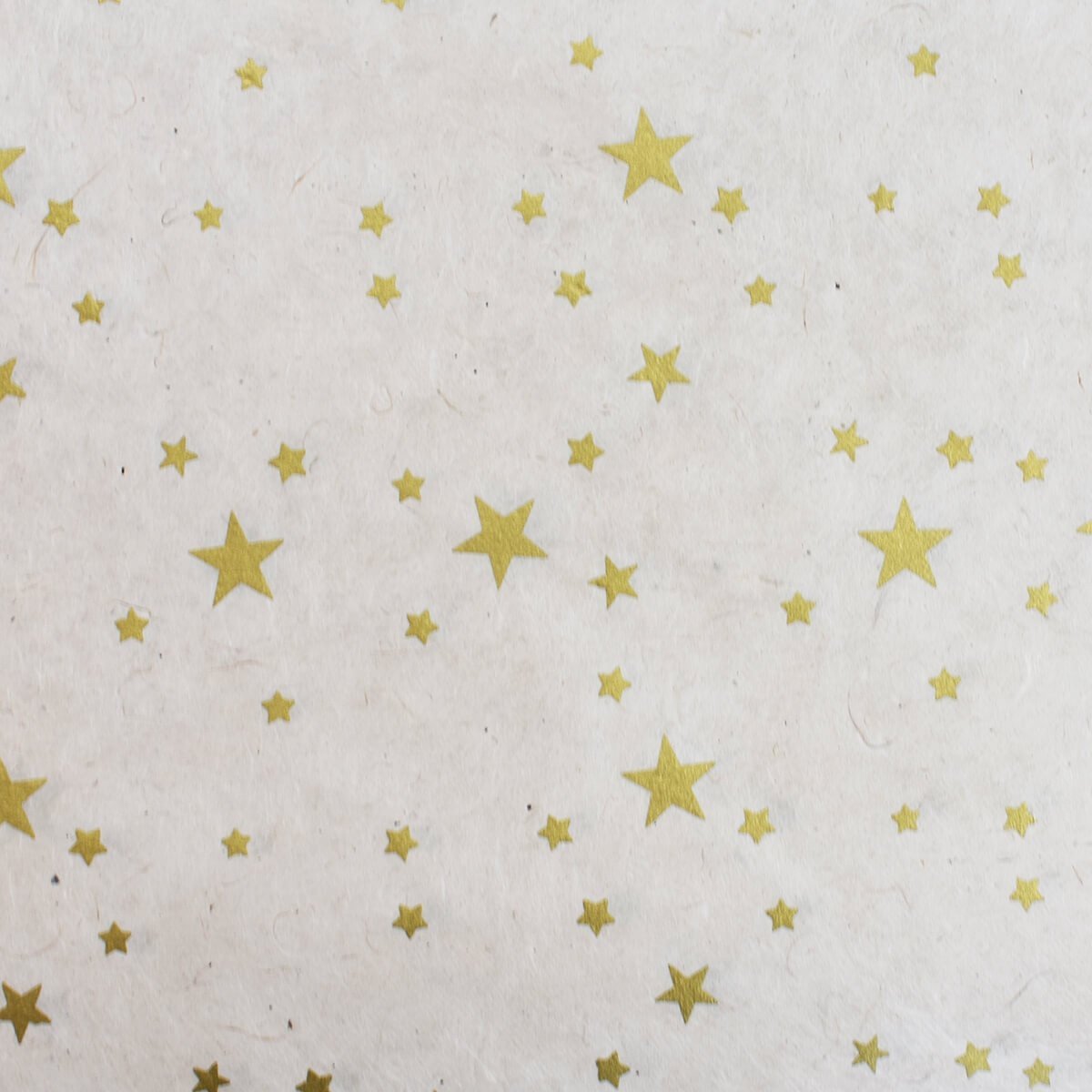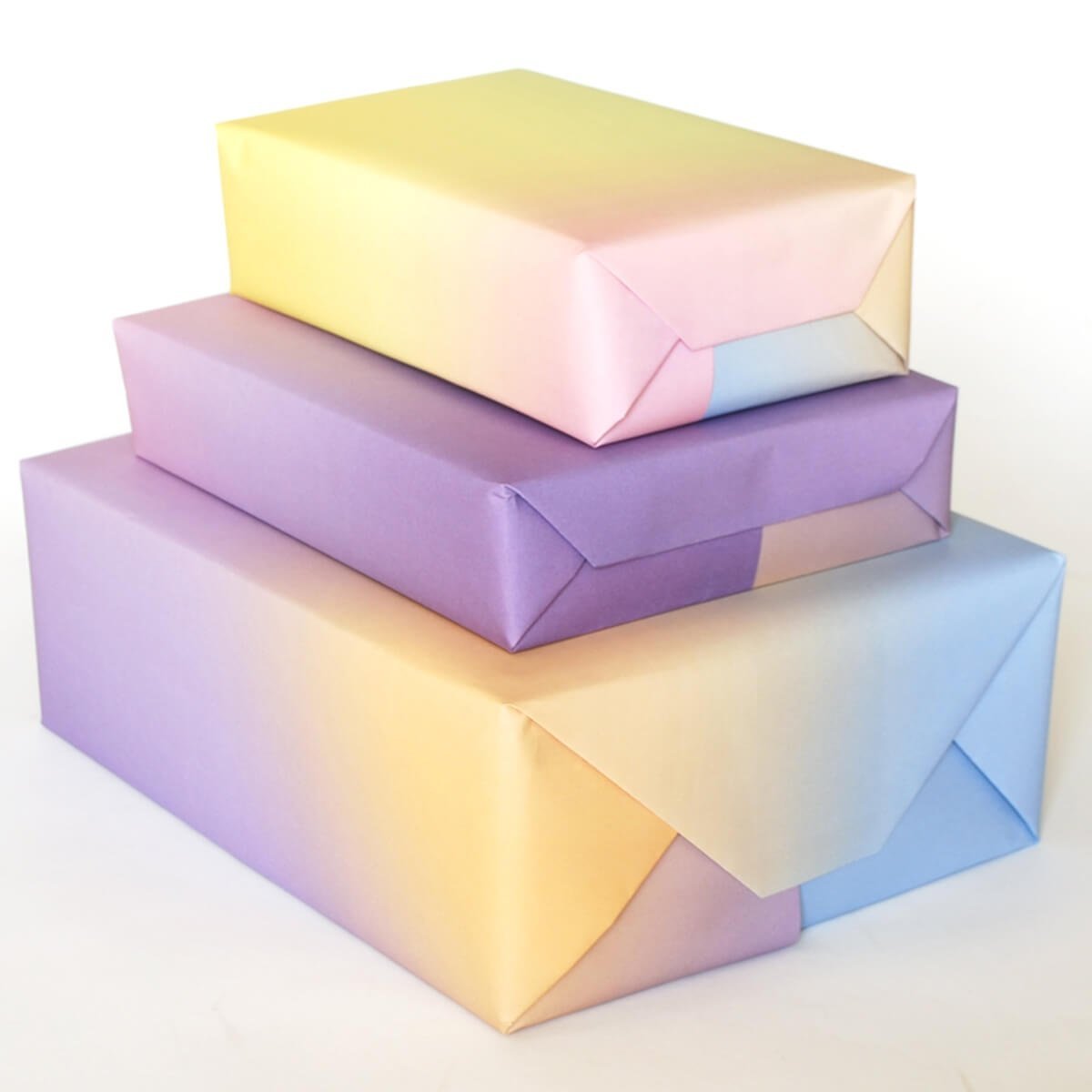 Recycled Paper
Cheaper than artisan paper, recycled paper is still a perfectly good way to go plastic-free with presents. There's plenty out there, but we love the Rainbow print paper in our shop here which works for both Christmas and other occasions. 100% biodegradable and dyed with vegetable-based inks, this paper is made in the UK.
Brown Paper
An all-natural look we love. Just make sure to double-check the brown paper isn't coated in plastic at all, and you're good to go! We'll suggest some lovely decoration ideas further down the page.
DON'T FORGET – sellotape (and other such tapes) are plastic-based and terrible for the environment. Luckily, there are some fun and eco-friendly alternatives to make sure all your gifts are sealed safe.
Natural Twine – giving a great rustic look, twine can be tied into a pretty bow or wound tight to seal.
Paper tape – many paper tapes use non-toxic, eco-friendly adhesives, which makes them a great alternative to the normal, plastic tapes. And, paper tapes such as washi tape comes in a wide range of patterns and colours, meaning you can get really expressive, or keep it subtle, with the style.
Wax seals – as long as you're using a natural wax, sealing your gifts with wax seals can be a gorgeous way to gift-wrap.
Paper clips – paint them different colours or buy patterned ones – these are completely reusable and can make for a really cool style.
Eco-friendly glue – plant-based glues from Onyx + Green mean we can be eco-conscious with our crafting. What's more, all packaging is made from recycled materials and where possible, printed with soy-based inks. They also make biodegradable, 100% natural rubber bands – great for any cylindrical gifts.
Bored of paper? Try fabric!
Still traditional, just not in the West. The Japanese and Koreans have been using fabric as a means of wrapping presents for centuries. Furoshiki (Japanese) is a genius (honestly I couldn't love this idea more) technique we can all learn in our journey for a plastic-free life, a skill going well beyond Christmas!
Fabric squares are used to carry and wrap objects, with the fabric itself part of the gift experience and readily reusable. Much like origami, the fabric is folded in a variety of ways, and Furoshiki has over twenty different ways to create a fabric package. Some even wrap to have handles – it's a truly amazing, utterly simple, gift-giving gem.
Furoshiki can be made from any piece of square fabric – meaning the print styles are endless, and what's more, we can reuse discarded or (clean) old fabric such as scarves, tops, tea towels or cushion covers. All you need to do is cut it to square and hem it to stop it fraying. We'll be doing a blog post in the new year specifically on Furoshiki, but in the meantime, potato-printing Christmas patterns on old pillowcases can make for some really lovely, plastic-free wrapping.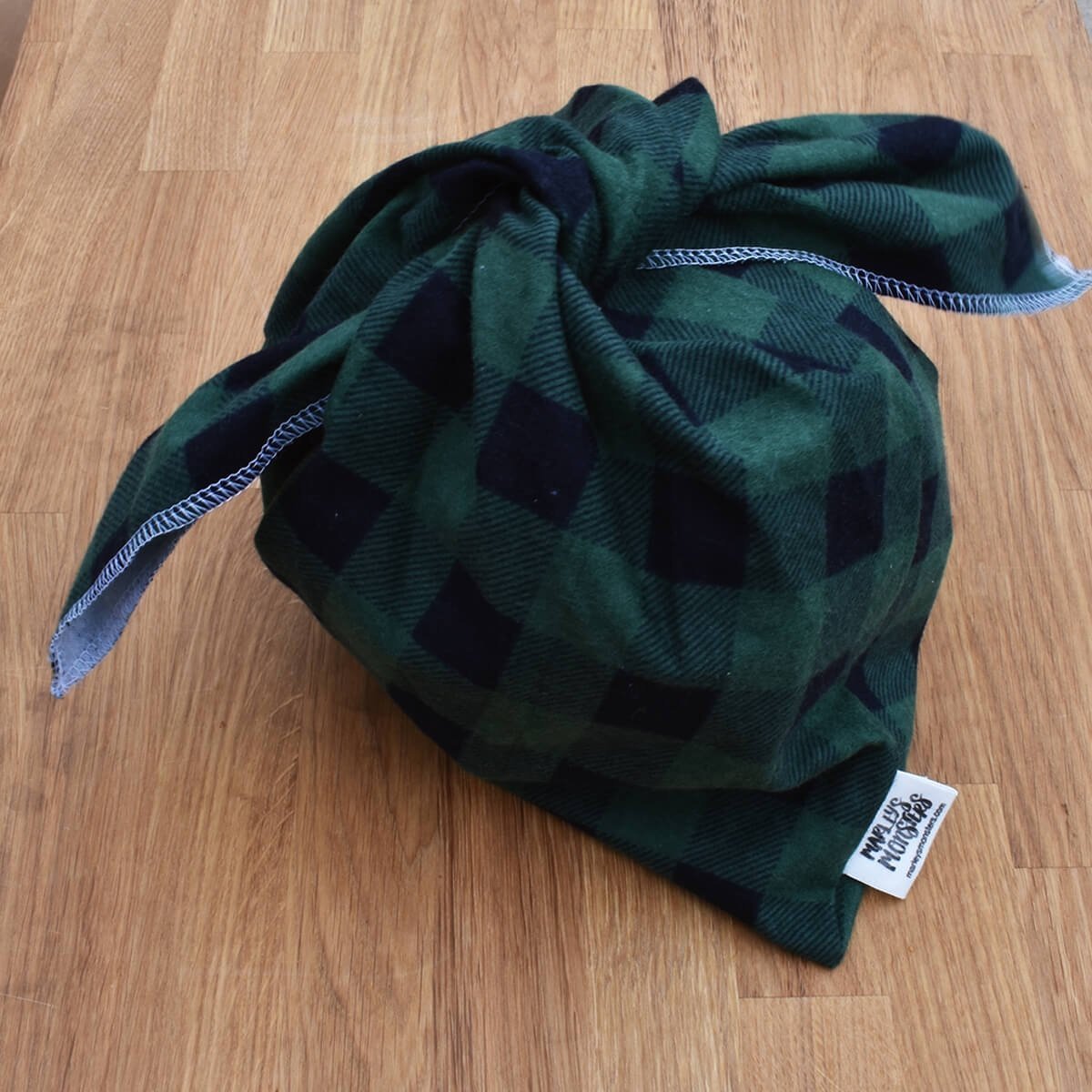 Our Marley's Monsters Bento Bags work in a similar way, which isn't too surprising considering Bento are Japanese too.
Really feeling wild?
A few suggestions straight out of the forest:
Banana leaves – very big, durable and traditionally used to wrap food in several parts of the world.
Coconuts – a coconut full of little gifts, maybe with dried lavender inside too, sounds like the kind of packaging Peace with The Wild likes!
Bamboo – anything thin and cylindrical will fit, like a bamboo toothbrush (here)
Hampers, boxes and baskets: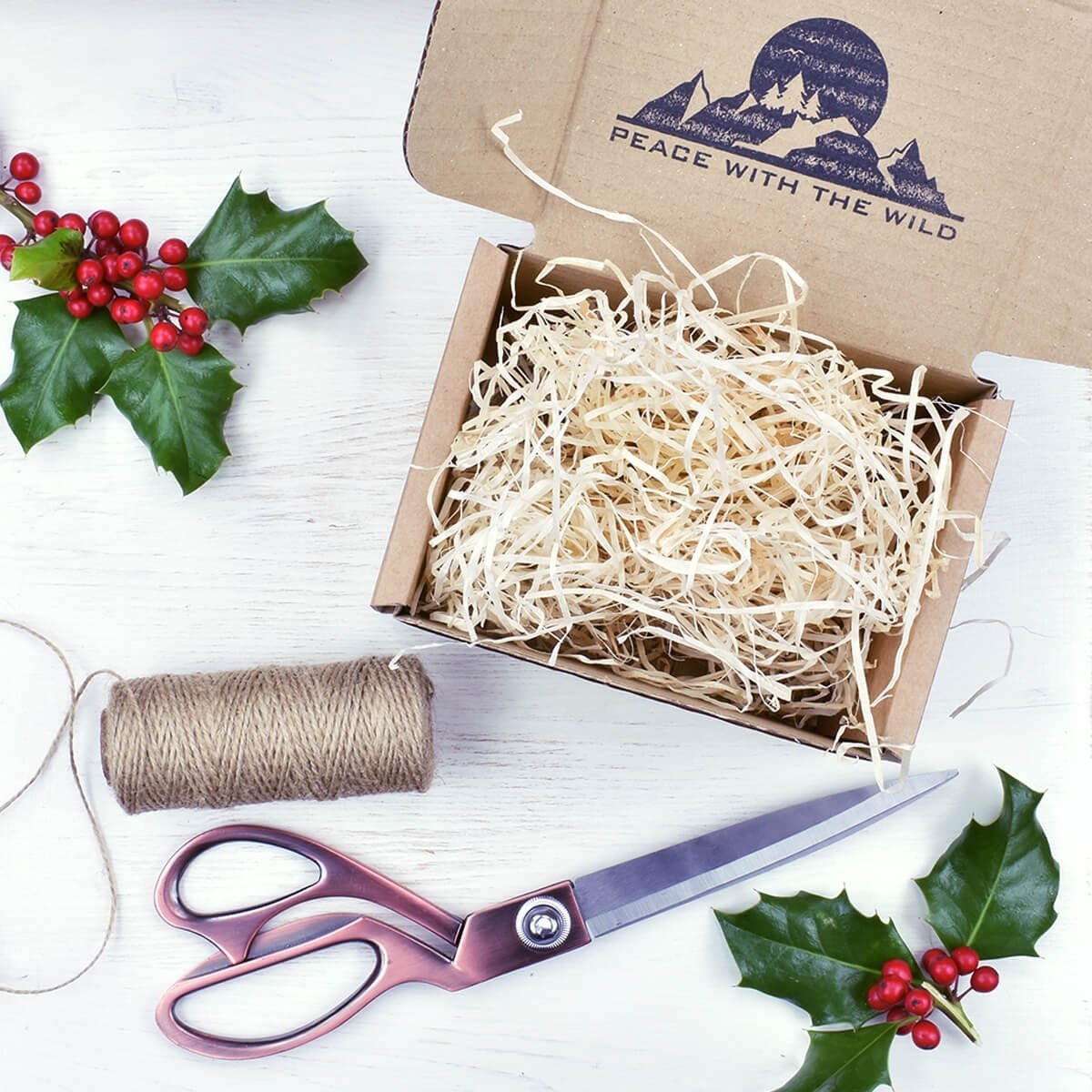 A great way to bundle together many similar-sized gifts is by making your own package with a basket. Straw, seagrass, wicker or woven baskets are all plastic-free (as long as they aren't coated) alternatives to plastic-wrapping, and you can customise them with different paints and/or fabrics.
Don't forget to consider the padding – natural tissue paper, shredded paper (available in different colours) and wood wool are brilliant, biodegradable materials for padding out your hamper. Wood wool is robust enough to be reused over and over and again can be used for a lovely, natural, rustic look. It doesn't stop there though – straw, coconut fibre and even dried petals can be used to help protect and present your gifts together.
And don't forget to have a look at our store – we have lots of little eco-living gifts that work well together!
– Good-looking tins, if you can fit everything else inside them, also cut down on plastic and can be kept long-term in the home –
Nature's materials – decoration
Petals are also just one really lovely example of all-natural decoration. Getting started in the summertime will put you ahead with flowers, but there's a whole world out there full of forgeable things, even in later autumn and winter, that can add that extra touch to a plastic-free present:
Teasel heads – at this time of the year they're dried and preserved, and you can find the most intricate, Cinderella-like swirls and spirals.
Leaves & berries – Holly is traditionally festive, but beech (copper or purple leaves), maple, sycamore, chestnut and oak are just some of the beautiful leaves available. Collect now and protect them inside. Snowberries are usually used in wreaths but can be cut and added to gifts, too.
Pine needles & cones – a little bulky but used well, these look lovely. Fresh needles work well as inner confetti.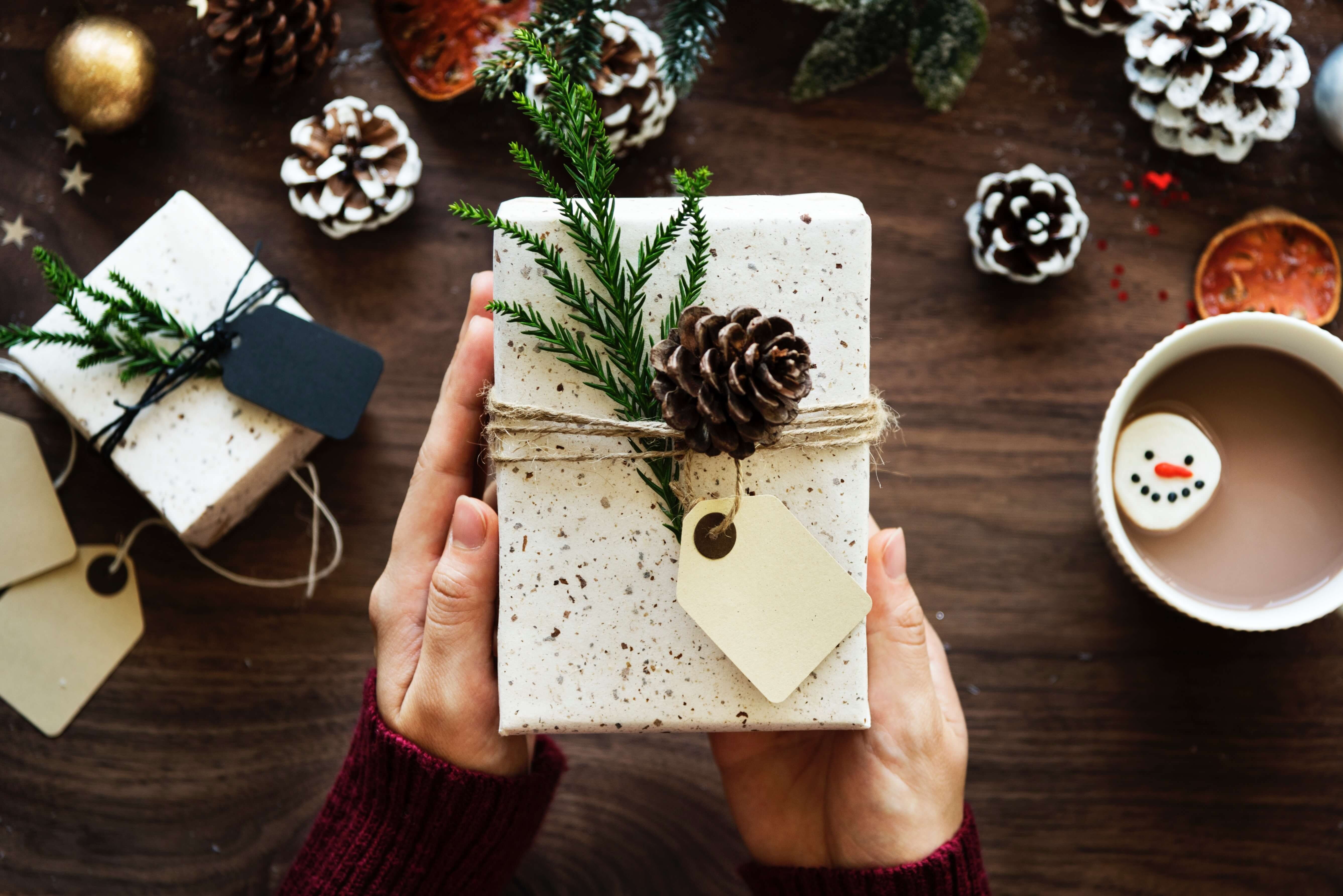 Bark – silver birch is my favourite, and can almost be used as a wrapping material in itself. Strips of it added to a package and tied with twine looks brilliant.
Feathers – give the hard ends a gentle wash and tie with twine, or poke them down the side. Pheasant and Jay are stunning.
Dried Herbs – Rosemary works well. Lavender left with the stalks on can be added for outside decoration on a parcel, or inside as potpourri/confetti if stalkless. Chamomile may spread yellow pigment so be careful.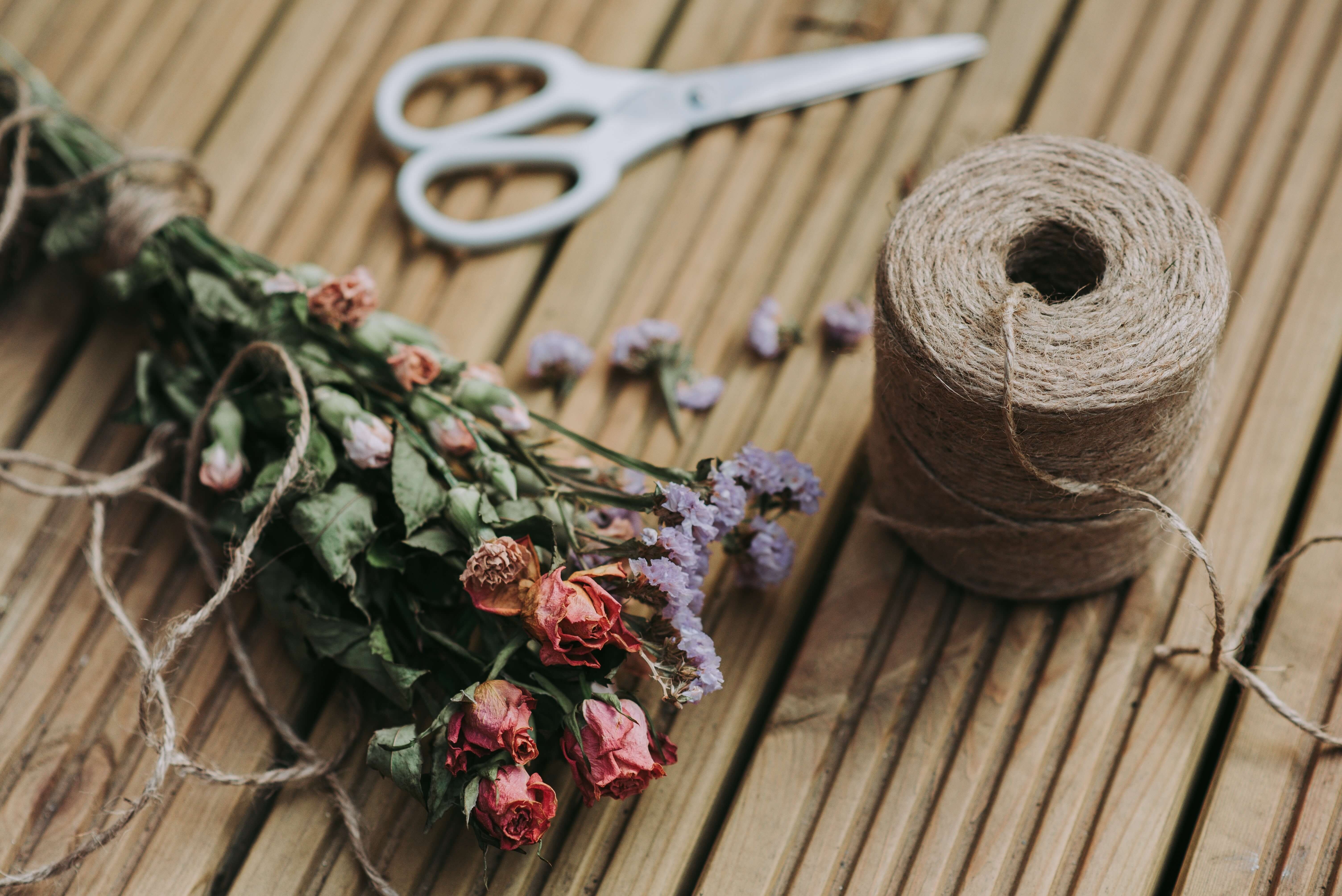 Dried Petals – rose petals are my favourite!
Pressed flowers – beautiful!
Desiccated coconut – as long as the gift itself isn't absorbent.
Spices – Cloves and star anise add a hit of Christmas aroma, especially if added to orange peel.
Tags & Christmas Cards

Tags can be made out of anything from hemp paper to leaves. Get creative! We love to reuse bits of old Christmas cards to recycle materials, and the Christmassy part is already done. I love to handmake the cards themselves, too, if I can. If I don't have time, I make sure to source eco-friendly cards.
– We sell some really cute Christmas cards, printed sustainably on recycled card in our shop –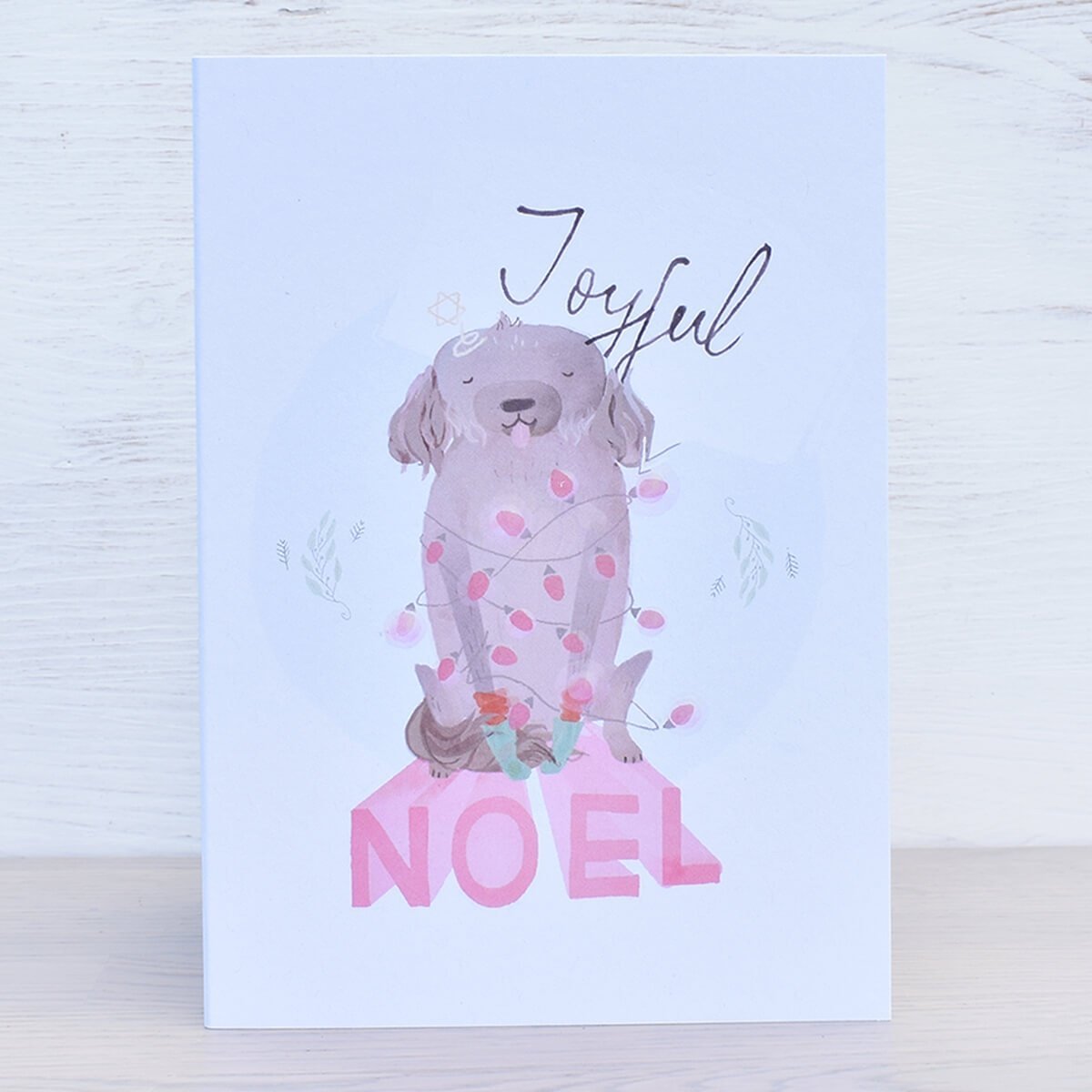 That finishes up our top tips for plastic-free wrapping this Christmas!
Christmas is all about charity and love, so let's show a little kindness to our big blue bauble this year and do what we can to cut down waste.
By choosing to wrap plastic-free, we can make a big difference. Be sure to share your gift-wrapping ideas and pictures for all to enjoy! Tag us in your plastic-free posts @peacewiththewild
Save
Save
Save
Save
Save