Natural Chemical Free Household Cleaning
Household cleaning is a very important part of our lives, it can be extremely rewarding when we have made the house look lovely and clean!
The issue is that many if not most cleaning products contain harmful chemicals that travel down our drains into the water system and ultimately end up in the sea. If not in the sea then they are still released into the environment where the chemicals can have damaging and serious effects on wildlife and the planet, not to mention our us too!
I want to talk about natural ways you can clean the house that is safer for your health and our planet, there are so many options and sustainable alternatives that we can switch to reduce waste and chemical pollution.
I have found these tips and advice invaluable when cleaning my home, I have cut down so much plastic waste and I am no longer breathing in harmful chemicals!
Soapnuts
Soapnuts have incredible cleaning properties which is why they make such a great natural laundry
detergent however they can be used for so much more than that! There are a number of ways you can use soapnuts for household cleaning…
Soapnuts laundry: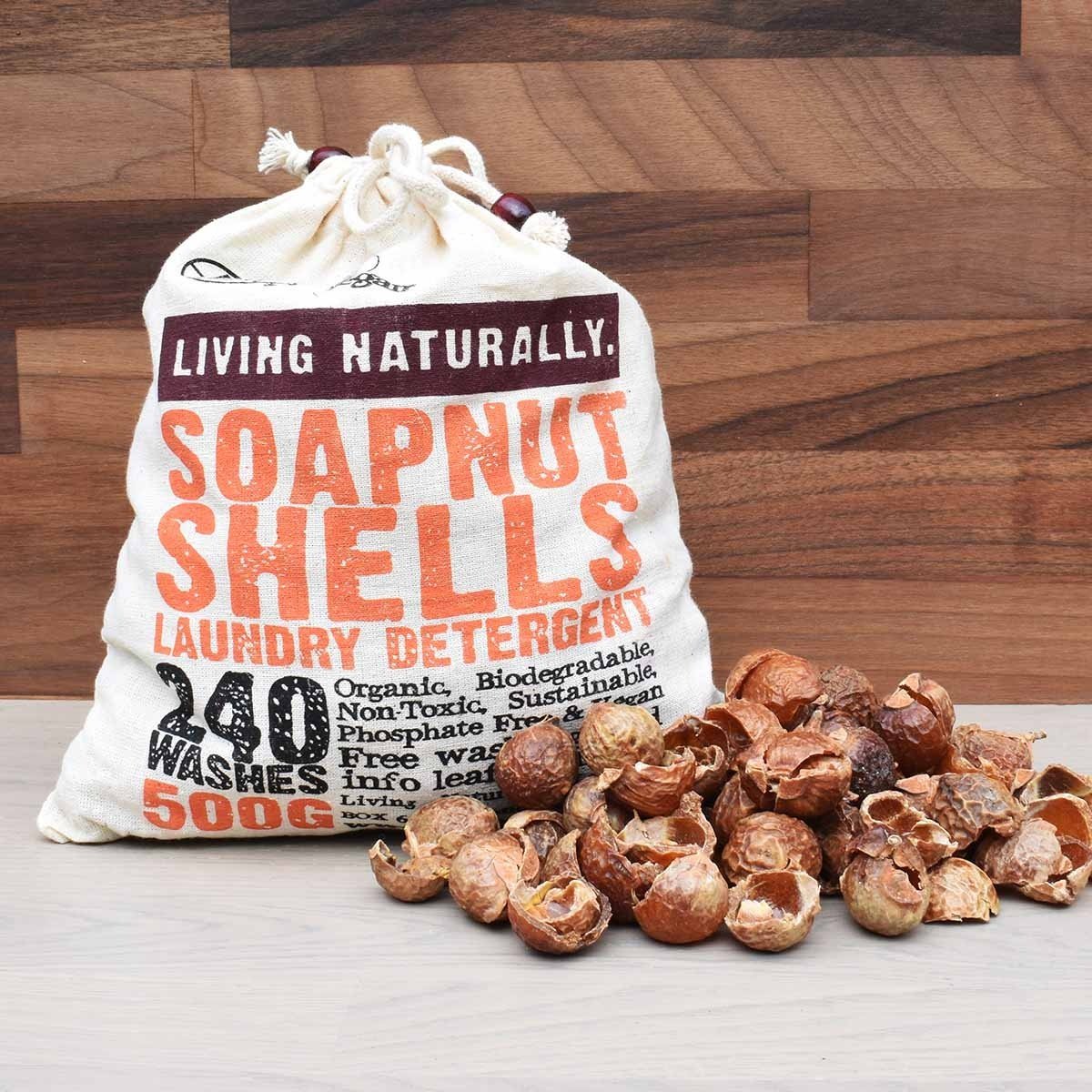 We stock these particular soapnuts on our store.
1. Use a small muslin bag (ours come with one) and place 5 soapnut shells inside.
2. Then place this small bag of soapnuts into the washing machine with your clothes.
3. You can add your own essential oil to add scent if you wish.
4. Wash clothes as per fabric instructions or as normal.
5. Reuse the same soapnut shells 4-5 more times.
Add 1 cup of bicarbonate of soda to brighten whites.
Soapnut liquid detergent:
1. Pour 2 litres of water and 50 grams or approx 15 soapnut shells into a pan.
2. Boil for 10 minutes, turn off the heat and cover.
3. Once cooled, strain the liquid and pour into a bottle or jar to store in the fridge.
4. You can reuse the same soapnuts and repeat this process at least three times so keep them in the fridge too!
Add 1 cup of soapnut liquid detergent to your washing machine drawer and wash clothes as normal.
Use 2 cups for really dirty clothing.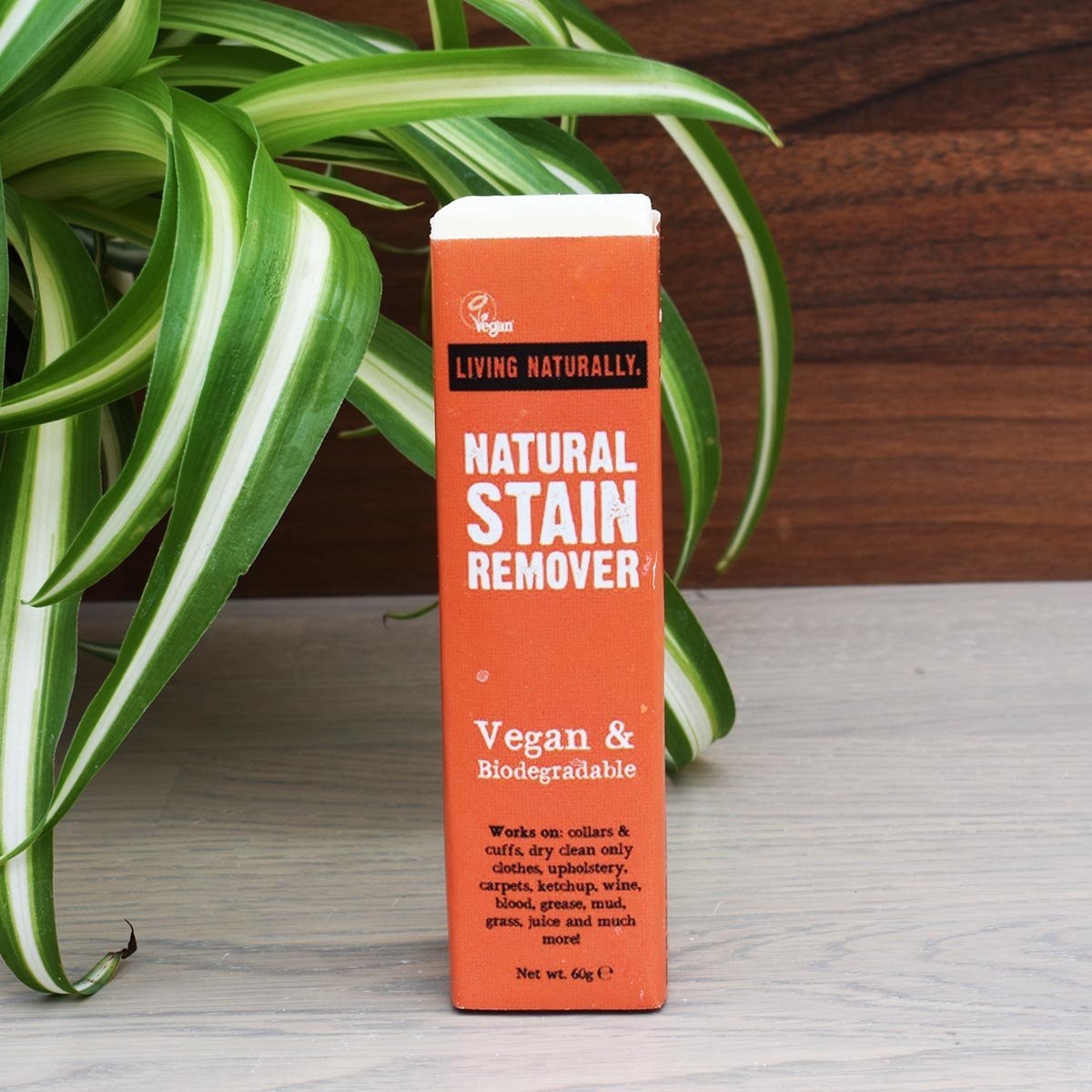 Tips:
Add 1 cup of bicarbonate of soda or to brighten whites.
Add 1 cup of lemon juice to help remove stains.
Our natural stain remover is recommended for stains such as grass, blood, red wine, ketchup, grease and many other tough stains!
You can now use your soapnut liquid detergent as a base for the multi purpose cleaner below.
Soapnut Multipurpose Cleaner:
1. Mix 400ml of your soapnut liquid detergent, 100ml of white vinegar and 10ml of your prefered essential oil.
2. Pour into an empty spray bottle and use all over the house for general cleaning.
We suggest using naturally anti-bacterial essential oils such as lavender, orange, rose, tea tree, lemon and eucalyptus.
White Vinegar
White vinegar is naturally acidic which is why it is so good at lifting stains, cleaning windows and much more. However it's acidity also means it can damage certain materials, keep reading to find out what it can and can't be used for.
Carpet Stain Cleaner:
1. Mix 1 tbs of white vinegar, 1 tbs of soapnut liquid detergent and 2 cups of warm water.
2. Use a clean unbleached cotton cloth and apply to stains.
3. Lift the stain by blotting frequently with a dry cloth until the stain disappears.
Windows:

1. Mix 2 tbs of white vinegar with 4 litres of water.
2. Use a spray bottle to apply straight to window and use a dry cotton cloth to wipe off.
3. If you don't have a spray bottle, pour a tiny amount onto a dry cotton cloth and wipe over window.
Dishwasher: 
1. Place 2 cups of white vinegar on the top rack (on its own without crockery)
2. Run the dishwasher as normal without any detergent and no heat dry.
3. This will give your dishwasher a thorough clean.
You can even sprinkle some bicarbonate of soda in there for an extra clean.
DO NOT Use Vinegar For:
Cleaning natural stone or wood surfaces, the acidity can damage the material.
Egg stains or spills, when mixed with the acidity from vinegar it can actually make it harder to get out.
Grass stains, blood and ink won't come out using vinegar. We actually stock an effective natural stain stick here.
Bicarbonate Of Soda
A powerful natural deodoriser and scrubbing agent, bicarbonate of soda can be used numerous ways to clean the home. Perfect for degreasing too, bicarbonate of soda will leave you wondering why you haven't used it before!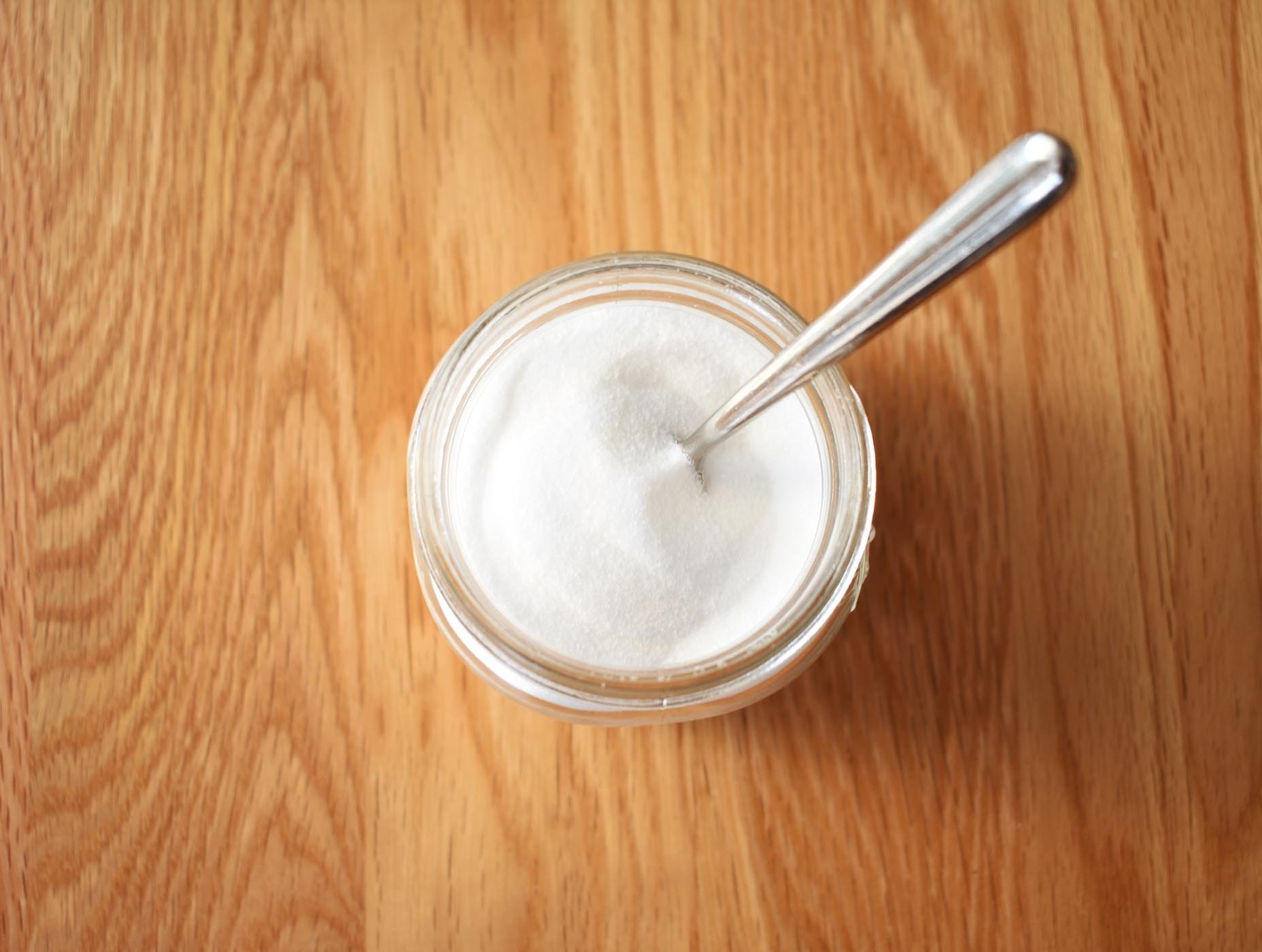 Multipurpose Bathroom & Kitchen Cleaner:
1. Just sprinkle onto any surface including sinks, baths, even down the toilet and scrub with a cotton cloth or cleaning brush.
or
2. Mix 1 tbs of soapnut liquid detergent, 1/4 cup of bicarbonate of soda and a few drops of vinegar to make a paste. A homemade cream cleanser that is natural and non-toxic, you can use this anywhere.
Clean, Refresh Carpets And Sofas:
1. Sprinkle bicarbonate of soda freely onto the carpet or sofa.
2. Leave for 15-20 minutes, for thorough cleaning, leave overnight.
3. Brush off/sweep up or vacuum. Your carpet and sofa will be looking brighter, cleaner and smelling fresh.
Dirty Pans: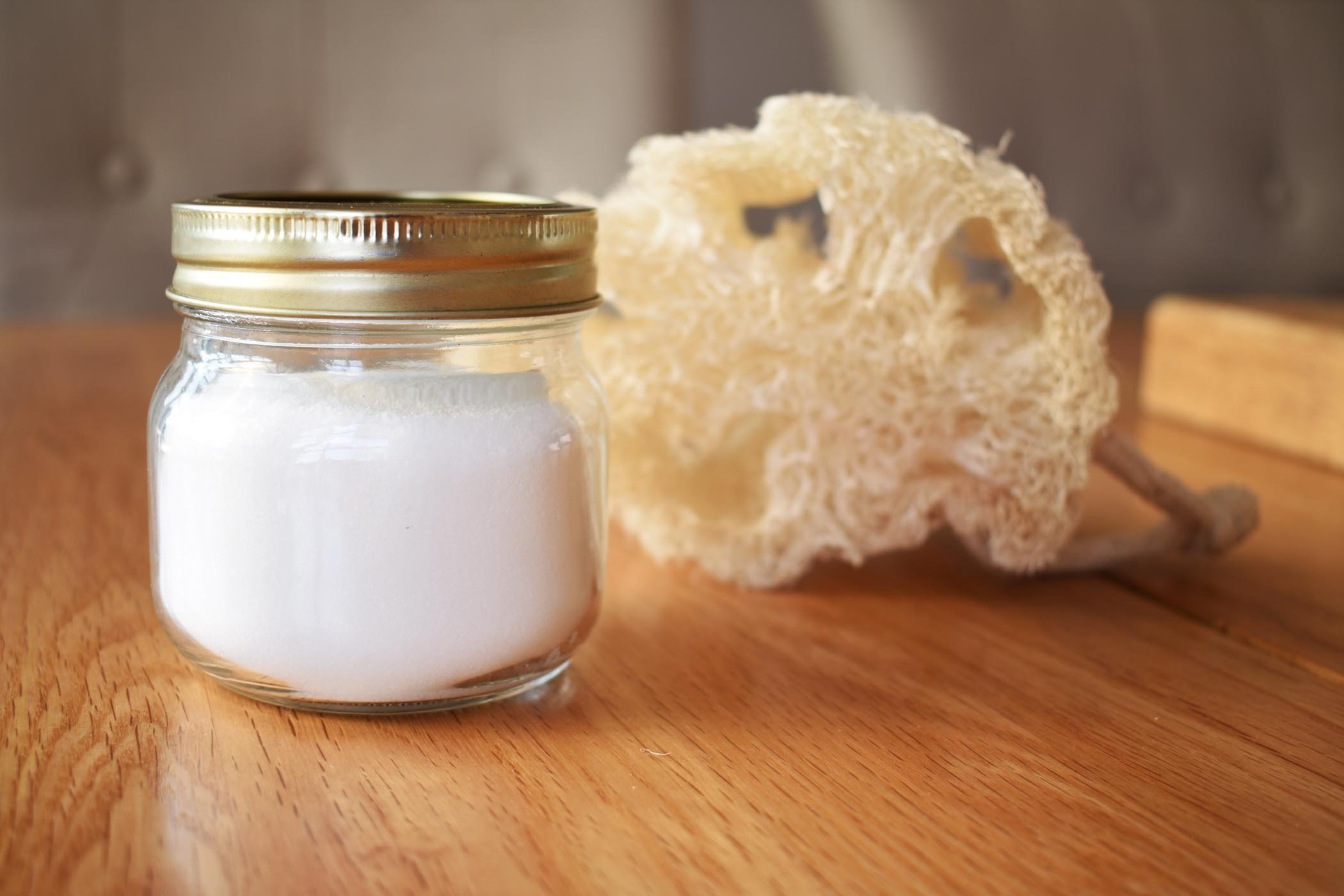 1. Sprinkle bicarbonate of soda on greasy, dirty pans and baking trays then add hot water and some soapnut liquid detergent.
2. Allow to sit and work in for 20 minutes.
3. Clean then rinse.
Deodoriser:
1. Pour hot water into a spray bottle 1/4 from the top.
2. Add 4 tbs of bicarbonate of soda.
3. Mix well by shaking heavily. Allow to cool.
4. Add an essential oil of your choice.
5. Once completely cool you can spray clothes, sofas, carpets and kind of soft furnishings to refreshen.
Extra Tips:
Avoid microfibre – Synthetic cloths and sponges actually release microfibres when used and washed!
Instead use natural and reusable cotton cloths, none sponges or loofahs.
Bicarbonate of soda – is perfect for refreshing your natural clothes and sponges.
Lemon juice – is a natural bleaching agent, rubbing lemon on chopping boards, using lemon juice to soak tea-stained mugs or mixing a cup in with your laundry will brighten and help remove stains.
There are lots of ways you can start cleaning your house in a more sustainable and eco-friendly way. It's so easy and far cheaper than buying chemical cleaners, it has saved me so much money and waste switching to natural cleaning methods.
Why don't you give some of these methods a go and let me know how you get on. If you have any other tips and tricks please let me know in the comments below, I would love to hear from you.
Next week we will be finishing off Plastic Free July with a blog on natural makeup and biodegradable glitter…. stay tuned.