Three Solutions for Eco-Friendly Periods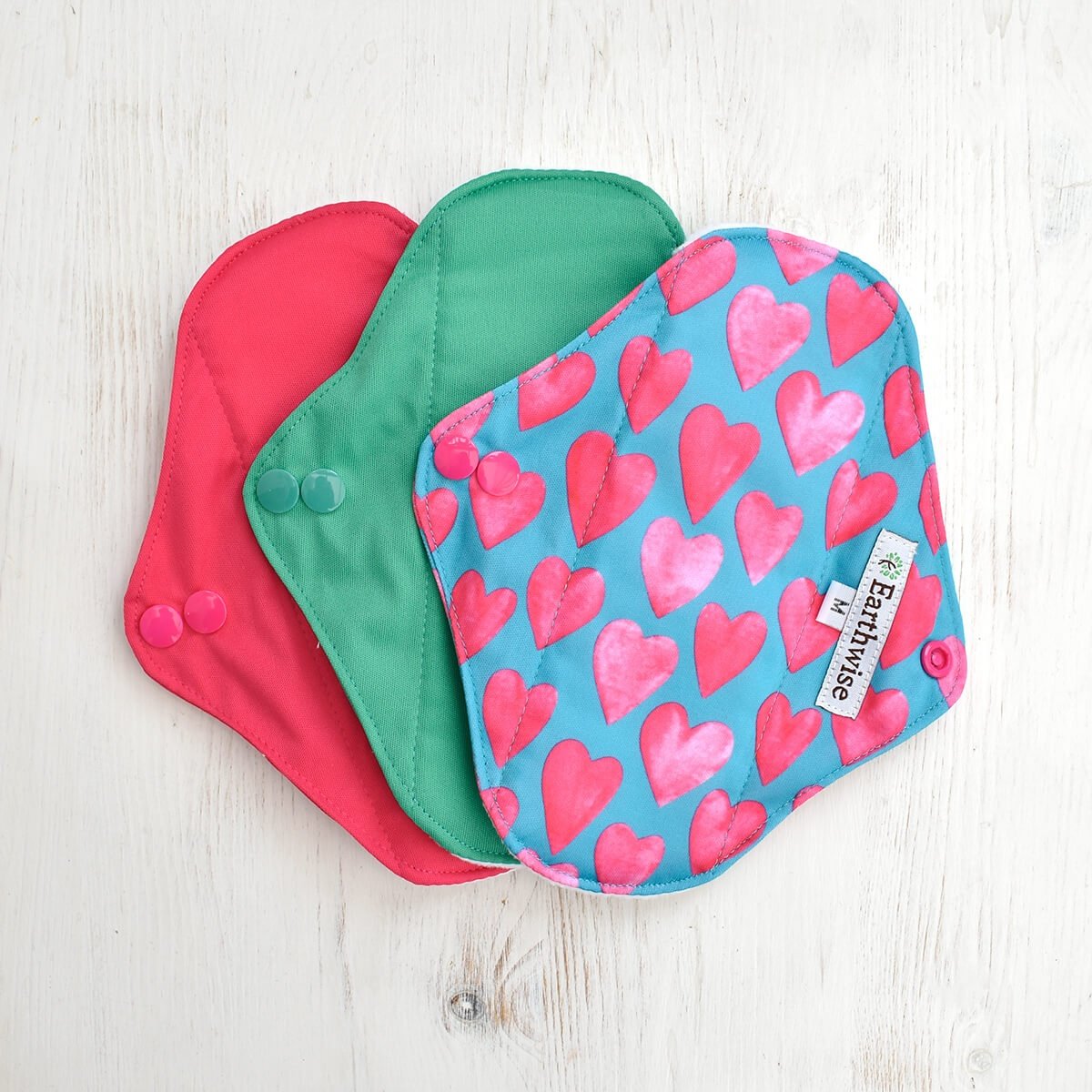 For many women, periods are an inevitable part of life. For around a week, each month we are cursed, or blessed (depending on how you look at it) with a reminder that our womb is there and very much in working order. During this time, most resort to sanitary pads or tampons to stay fresh but these products contain plastics that linger in the environment for between 500 and 800 years.
Some estimates say that the average person will throw out some 136 kg of period products during their lifetime, most of which is never recycled. But did you know it doesn't have to be this way? There are now a number of sustainable, eco-friendly, reusable options that are not only better for the environment, but that can be better for your as well.
So what are your options?
Let's not beat around the bush- here is the Peace With The Wild guide to an eco-friendly period!
Reusable Period Pants
For those that prefer not to use reusable sanitary pads or anything internal, sustainable, reusable period pants are a great eco option. We have just started stocking these beauties from Wuka that come in heavy, medium, and light flow.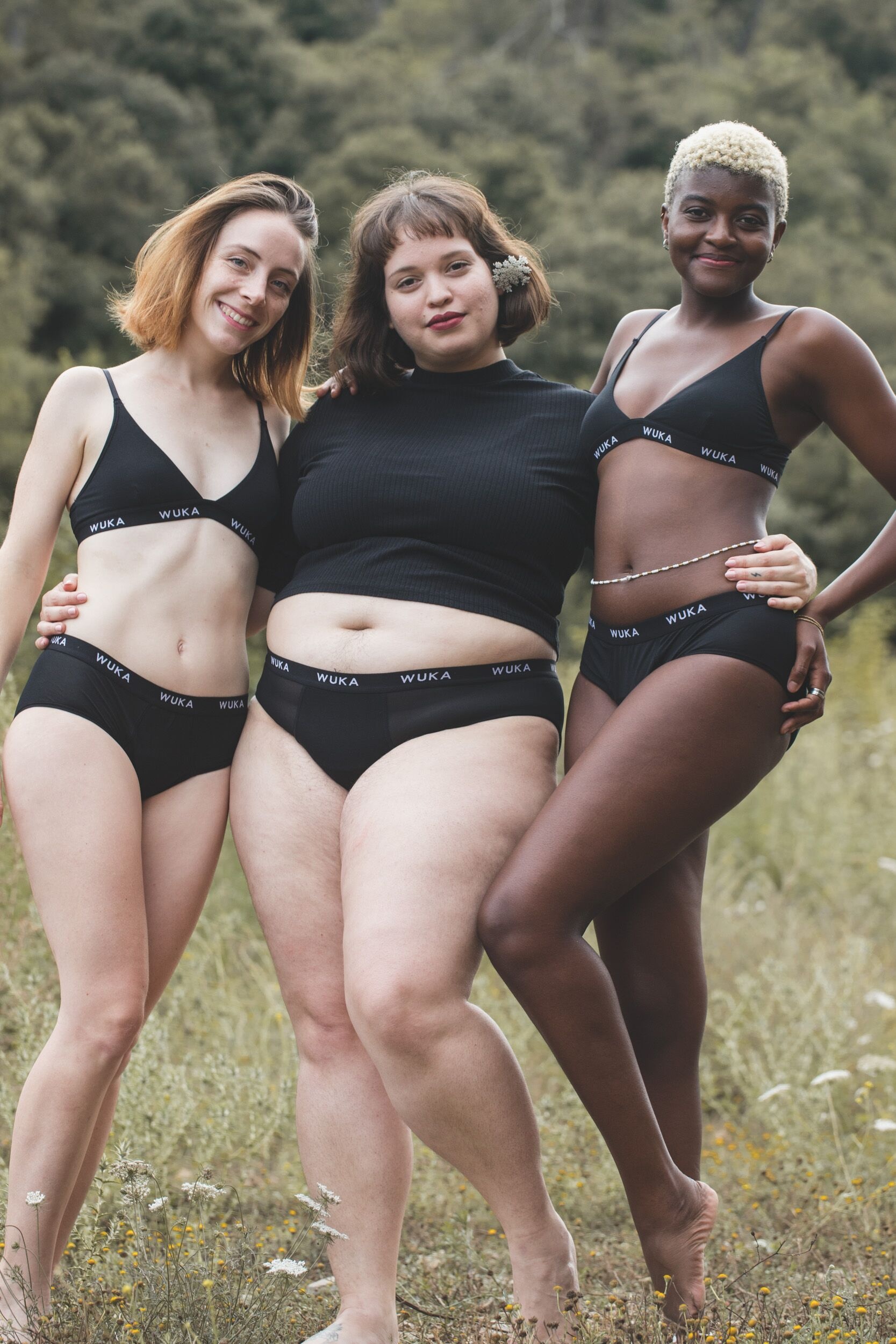 A sustainable and reusable option for your menstruation needs, they are soft, stretchy and totally eliminate the need to throw anything away at "that time of the month".
These reusable period pants hipster briefs come in black and not only look great but they prevent any untoward odours due to the Lenzing ® MicroModal fabric which is not only super absorbent but fights the growth of bacteria as well. They are totally vegan- approved by the Vegan Society, and hold 20ml of period flow which equates to the same as four tampons. This means you can wear these reusable period pants all night, or for between 4 to 8 hours, depending on the heaviness of your flow.
Eco, reusable period pants are great eco-friendly feminine hygiene products that are perfect for teenagers who don't want to deal with pads, those who worry about ruining their "normal" underwear, and those who just want to whip them off and put a new pair on without having to faff around positioning and securing a pad.
Reusable Sanitary Pads
For those who prefer to wear their usual underwear and just change out a pad every few hours, we have a great eco selection of reusable sanitary pads.
These eco friendly, zero waste, reusable sanitary pads / reusable menstrual pads from Bloom & Nora come in irresistible, brightly coloured designs and have a lifespan of between three and five years, depending on how you care for them. Machine washable, reusable,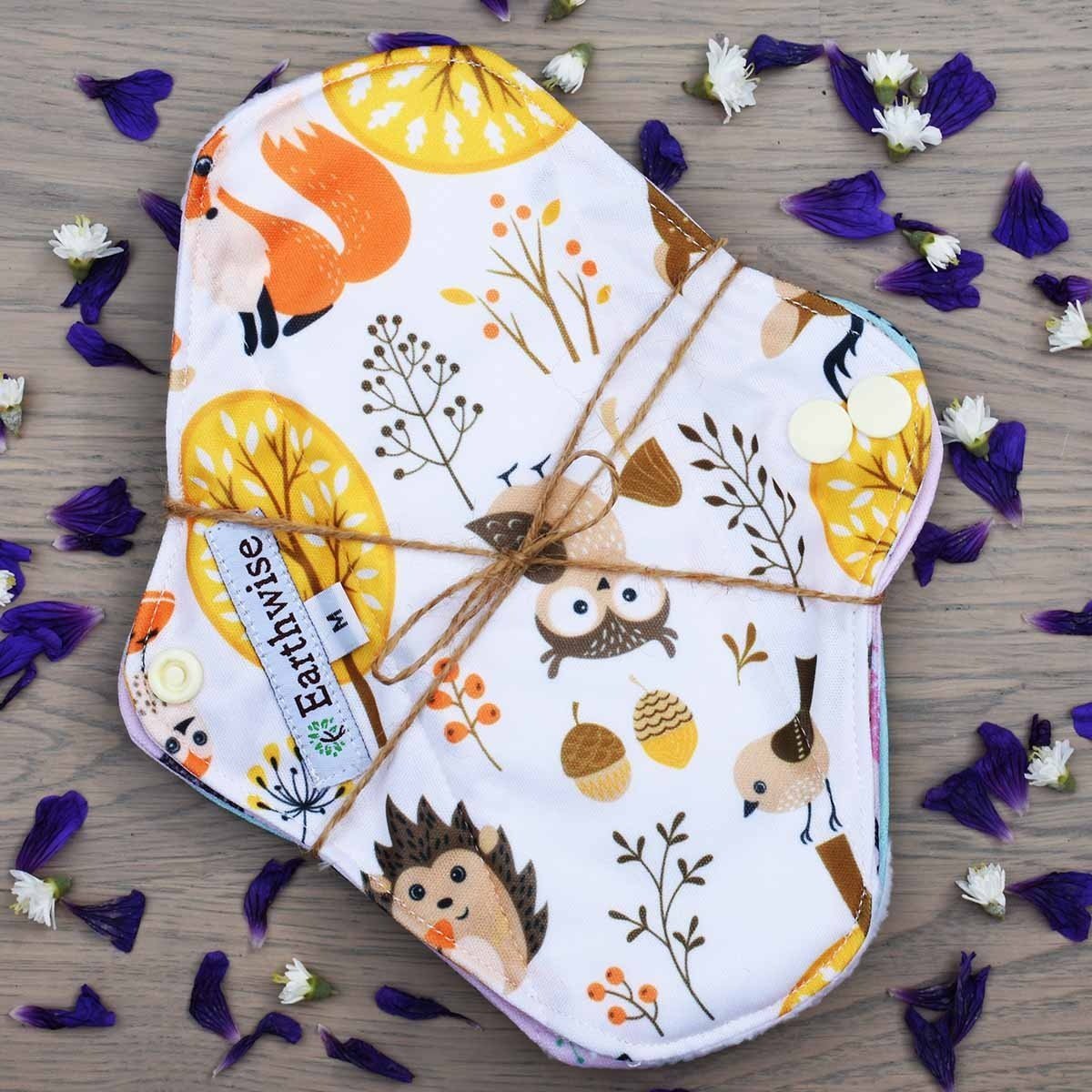 and plastic free, they benefit from a waterproof exterior and have a soft, absorbent microfibre core.
Alternatively you can try these eco-friendly feminine hygiene products that are winged from Earthwise Girls. Coming in two sizes- small and medium– they are made with a leak-proof PUL backing and a soft, stain resistant core. They come in plastic-free packaging and air dry quickly.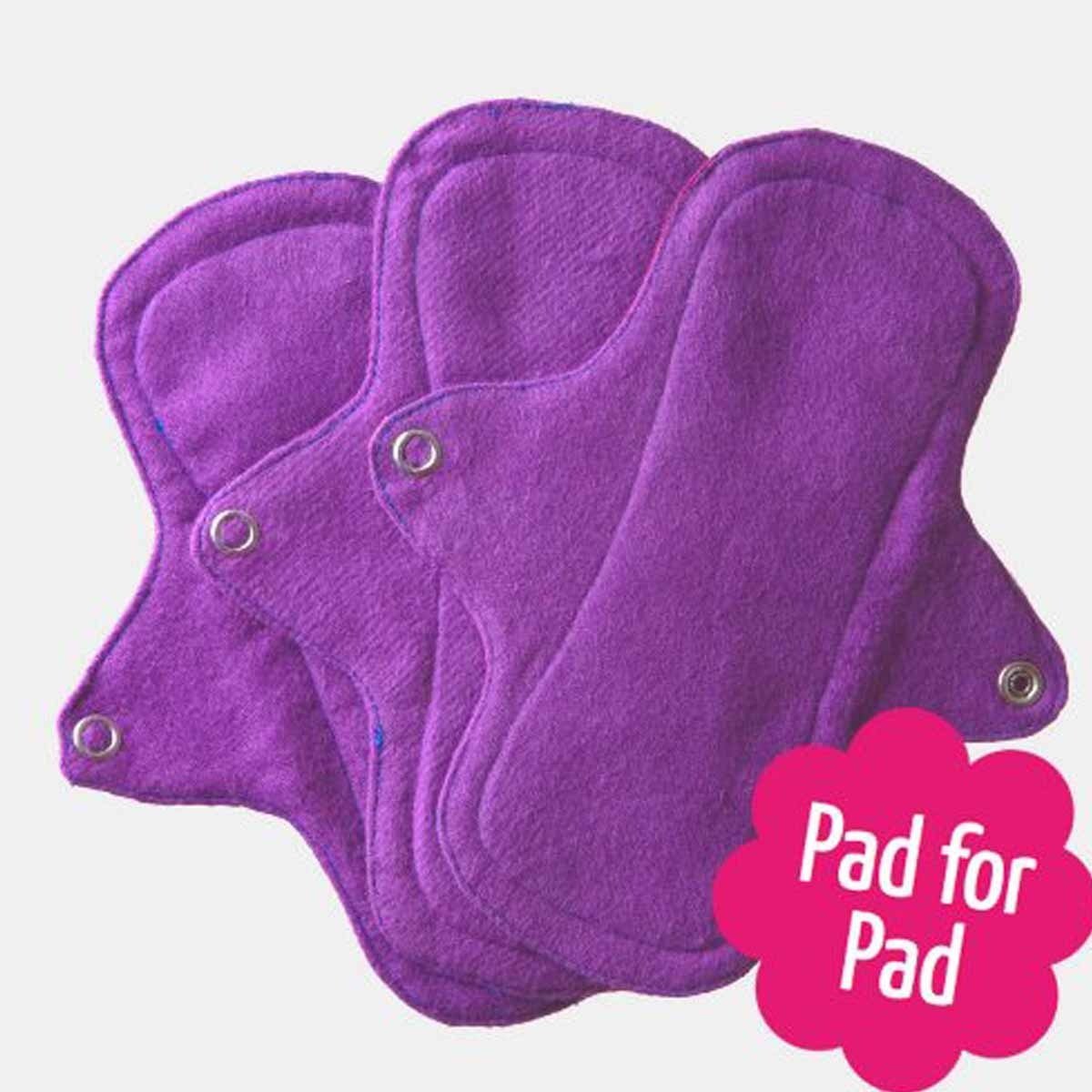 Last but not least, Eco-Femme have come up with a lovely range of natural, organic cotton panty liners and reusable sanitary pads for day and night time use. These sustainable, eco-friendly feminine hygiene products are ethically handmade in India by a women's collective, they are a part of the Pad For Pad programme which provides women and girls around the world with clean, alternative menstrual products. The programme also gives advice and provides answers to questions that they may not have otherwise been able to access. 
Reusable Menstrual Cups
For those that prefer to use tampons or who are looking for an alternative to sanitary pads or pants, a reusable menstrual cup is a great, sustainable, zero waste, eco-friendly feminine hygiene solution.
Sustainable, reusable menstrual cups are folded and inserted into the vagina with a small tab left pointing downwards to make for easy removal. Once in place, they unfold and collect menstrual fluid, preventing any leaking onto clothing or underwear. Made from medical grade silicone, they come in a bell shape with a stem and the flexibility of the silicone allows for the cup to seal against the vaginal wall, just below the cervix. Every 4-12 hours, the cup is removed, emptied, rinsed, and reinserted- once it is in place, you would not even know it is there!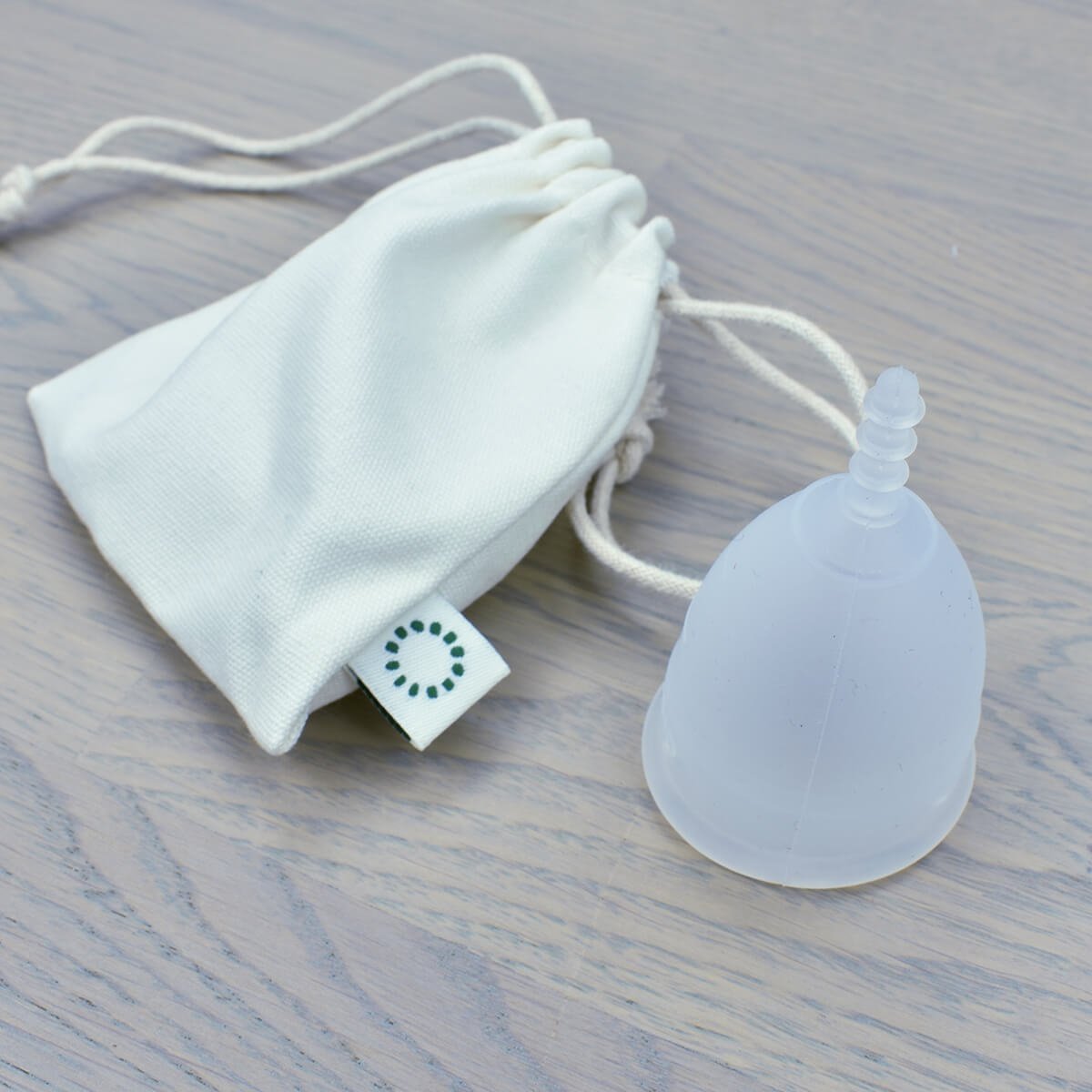 Eco, reusable menstrual cups generally have a lifespan of over five years, come in a range of sizes (for teens, those who have given birth vaginally, and those who have not), and are easy to take care of- you just boil them for five minutes after the end of each period.
If you are looking for a super-eco-friendly, zero waste and sustainable method of managing periods, the reusable menstrual cup is up there with the best eco-friendly feminine hygiene products. It requires no machine washing and is healthier, greener, BPA & latex free, and allows you to save a lot of waste, and money.
We stock the Organicup eco, reusable menstrual cup which comes in a cotton travel pouch with instructions on how to insert it, remove it, and care for it correctly.
Some might be put off by the shape or method of using a reusable menstrual cup but once you get to grips with it, we can assure you that you won't look back!
Eco-Friendly Toiletry Bags & Reusable Wet Bags
If you are out and about at work, school, or just socialising in general, you might be wondering what on earth to do with used reusable period pants or reusable pads when you change them. Instead of hunting around for a plastic bag, get your hands on these gorgeous eco-friendly toiletry bags and reusable wet bags from Marley's Monsters.
With a waterproof interior and a bright, printed cotton exterior they are cute, durable, plastic free, and most importantly, washable and reusable!