Alternatives to disposable plastic that simply work
Gareth and Nicola, an Anglo-Scottish couple who currently reside in South Stoke, Oxfordshire are both originally from coastal towns and are keen travellers.  Having seen the efforts to reduce ocean plastic pollution first hand they became passionate in alternative items that eliminated plastic!
No Plastic, No Problem
Non plastic Beach help you eliminate single-use plastic one easy swap at a time, as they believe a lot of people removing one item from their lives will have a bigger impact than a few people eliminating every single bit.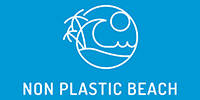 No products were found matching your selection.